Always Have a Reception
By Sarah Carlos
Why do you need a reception? Well, without a reception, tying the knot would be all about the formality and not about the celebration – not to mention tradition.
While some may prefer to stick with a civil ceremony and be only in the presence of a Superior Court clerk, county clerk, judge or magistrate, rather than families and friends – the rest of us will want to celebrate, have our first dance as a married woman, cut the cake and dance with our dads (or other relative).
The thing is, regardless of how many guests your mom and dad want to invite – or not – you can have a reception, regardless of your budget. And receptions are great ways to thank your guests and celebrate the happiest day of your life.

Budget basics
It's a fact: Your wedding reception will most likely be the most expensive component of your wedding. There is so much to consider – the venue, food, beverages, cake, band, decorations and favors. In fact, according to WeddingChannel.com, the average couple spends over $27,000 on their wedding – 50 percent of that total cost is spent on wedding receptions. This means the average couple is spending $13,500 so they can celebrate with their closest friends and relatives.
While you may feel the expenses piling up while planning, it doesn't have to be that way. Now with the help of event planners and specialists, you can have your celebration in a garden or an expensive wedding facility. Whether you are on a tight budget or have some room to spend, here are ways to save and splurge on the major aspects of your wedding reception so that you can celebrate exactly the way you want.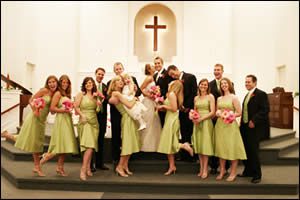 Venue
Most wedding planners and specialists will tell you that the first way to cut the overall cost of your wedding reception is to cut your guest list in half – which most certainly affects where you choose to hold your reception and almost every other aspect of the party. More bodies equal a bigger venue, which could ultimately result in a banquet hall, 4-star hotel ballroom or the country club.
"While the bride and groom certainly need to be fair about balancing out the guest list – if the bride's parents want to invite their business partners, then the groom should feel free to do the same – you certainly don't want to be surrounded by a lot of people that you don't know," says Alice Hendry, owner of Alice Hendry Wedding and Event Planning. "It's a celebration among close family and friends and therefore should be intimate."
Downsizing the guest list is one surefire way to cut down on the expenses for the reception venue but choosing an inexpensive location doesn't hurt either. Locations such as historic homes, museums, aquariums, parks, vineyards, gardens and boats are just a few examples that will not only save you dough but will also add a touch of personal flair and individuality to the whole shebang.
If you have a few extra bucks, go all out – choose something exotic like a destination wedding in Turks and Caicos, and let the resort take care of the reception. Or opt for a country club or popular hotel banquet. The Wyndam Union Station, located in downtown Nashville, offers 12,000 square feet of event space and will handle every detail, from the menu, linens and seating plans, to photographers, decorations and even audiovisual needs … all of which means less stress for everyone involved. You can focus on having the time of your life on one of the most important days of your life, rather than worrying about whether your guests are enjoying their sea bass.
Food/Beverages
Food is certainly another important part of any reception, and it is directly related to the guest list, primarily because the cost is per-person. One way to reduce the cost of food is to have a sit-down style reception, rather than a buffet reception. A sit-down reception will not only make your guests feel as though you are catering to their needs, but you purchase less food than you would for a buffet style. And let's face it, if food is there, people will eat it! But if you limit the choices and options, you lower your costs.
"When you have a sit-down reception, the guests have once piece of meat, one salad, one piece of cake – everything is accounted for," says Hendry. "You should also spend that time taking care of your guests, and a sit-down style reception is one way you can make them feel honored – thank them for coming."
Another way to reduce the cost of food at the reception is to change the time of the reception – choose an afternoon or mid-morning reception as opposed to an evening reception – and don't offer a full bar.
"Afternoon wedding receptions are more about hors d'oeuvres, cake and punch, and you generally feed guests lunch at mid-morning receptions, but it is less expensive than dinner," says Stefanie Rose Miles, owner of Custom Occasions. "I have also found that guests don't need a full bar – beer, wine and champagne are enough."
Obviously, if you want to splurge on food, it isn't going to be that difficult. Choices are endless – lobster, shrimp, oysters, caviar – the sky is the limit, and if you give your guests their choice, that's even better. Increase your courses if you want to give your guests star treatment that they'll be gabbing about for years. And, of course, there's always the full open bar – guests order whatever they want under the sun and are guaranteed to love you for years to come.
Cake
For many couples, the wedding cake is an item worth splurging on. A "symbol of the union," wedding cakes can cost anywhere from $450 to several thousand, according to WeddingChannel.com. For those of you who wish to save, you are in luck – the possibilities are endless.
More and more couples are choosing wedding cake alternatives, such as cupcakes, donuts, chocolate-dipped strawberries and pies instead of the traditional three-tiered wedding cake. You can attempt to bake your own or have a relative take over the job, which can be difficult but extremely inexpensive. Eliminating the groom's cake has also become a trend, according to Miles, who says that the groom's cake isn't as important as it used to be. Another option is to avoid ordering a piece of cake for every single guest – unless your reception is a sit-down affair – as only 75 percent of your guests will even try your wedding cake.
While these are just a taste of the many ways to reduce the cost of that special confection, experts advise that mixing things up and minimizing the over-the-top presence and expense of the cake is fine, as long as you don't eliminate the wedding cake – or its alternative, entirely.
"The bride is the focal point of the ceremony," says Hendry. "And whether it is on a conscious level or subconscious level, when your guests walk into a wedding reception, they are looking for that wedding cake – it is the focus of the reception."
If cost is no object, adding tiers and choosing fondant icing over butter cream can be really nice. Or consider dressing yours up a little bit – work with your florist to adorn your cake with fresh flowers, have solid chocolate ones made specially and consider investing in porcelain or ceramic cake toppers. The more you add, the higher the rates will climb, but the presentation will be amazing, and your guests are sure to agree that it looks as good as it tastes!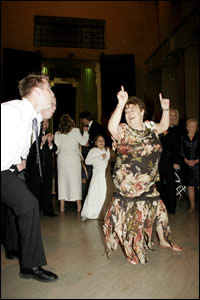 Music
The music you choose for your reception will set the tone for the entire celebration, so keep your guests in mind.
A reception should be your way of thanking them, and they will want to tap their feet to something, so get in there – book the perfect band, make the perfect mix or hire a DJ to handle everything. Set the stage for how you want to celebrate with friends and family on your wedding day – just don't forget their feelings, or their ears. As with cakes, there are many options available when it comes to choosing your music, so you will have no problem finding something in your price range without having to sacrifice class and elegance.
"It's very important to shop around when it comes to the band at your wedding," says Miles. "A DJ is definitely more economical than a band, but you can mix things up, like having, for example, a jazz trio play during cocktail hour and then have a DJ take over, so you can have a band play for a little while – just not the entire evening."
Days of the week can make or break your wallet when it comes to many aspects of your wedding, and booking a band is no exception. According to Miles, Fridays and Sundays are typically the best days to book.
"A small band can be just as nice as a larger band, and you won't have to pay the larger fee that comes with booking the larger six to ten piece band," explains Miles.
If you have the urge to splurge, booking a well-known group or large jazz band will certainly add up, but it all depends on the mood you wish to have and the formality of your wedding reception. Keep in mind when planning your budget that typically only 10 percent of your wedding budget should be spent on the band, according to WeddingChannel.com, but do remember how important music is. Music brings people together, so forgo the cheesy 80s band that only four people will enjoy, opting for something that everyone will want to move to. Stick with the classics, and you can't go wrong.
Décor
The décor partners with music in creating the overall mood for your celebration, so be sure to pay attention to the little details. There's no reason why you should spend extra on florals and fabrics, unless you want to – fresh potted flowers or a small arrangement of candles are simple, classic, affordable centerpieces.
If you have a wedding theme, such as Southern, art deco, western, etc., then you have your work cut out for you and creativity is key. If not, something as seemingly simple as professional lighting is an important element to consider and may be one of the only things you need to create a strong ambiance for the two of you – and your guests.
"The more you add, the more potential there is that your additions will detract from the overall elegance of the reception," Miles explains. "Lighting, often overlooked, can set the tone without breaking the bank. Also, choosing the right venue can alleviate some of the stress brides and their families face when it comes to décor – there are already touches of simple elegance. There's no need to add on."
If you'd like to spend more on the décor, consider purchasing plants to place all over the location, hundreds of colored balloons, hanging fabric, add more tables adorned with linens and elaborate, professional flower arrangements for everyone to enjoy: "Flowers are extremely important at the ceremony and the reception – they are wonderful – everyone enjoys them," says Hendry.
Don't forget about tradition….
Regardless of your budget, you have to participate in at least some time-honored wedding reception traditions, or it is just any other party . While some older traditions such as the tossing of the bouquet and garter belt may have somewhat died out, the following traditions are deemed essential by most wedding experts – and are still alive and well.
First dance: No matter what song you choose, your first dance with your new husband is sure to leave you weak in the knees! All eyes will be on you as family and friends cheer you on and support your commitment to one another.
"All of the guests really enjoy watching the first dance because everyone loves to see the new couple interact with one another – they are sharing a very special moment with the new bride and groom," says Hendry.
Favorite songs: Favorites for the first dance include "At Last," by Etta James, "Can't Help Falling in Love" by Elvis Presley and "Wonderful World" by Louis Armstrong.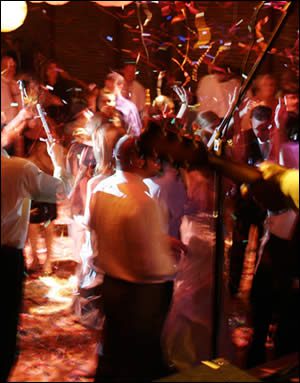 Dancing with Dad (or other relative): Good old Dad – he's been there through it all. This will be a very emotional moment for the two of you. Enjoy this precious moment – you won't ever forget it.
"Dancing with Dad is always a special moment for the bride and the father of the bride," says Miles. "Dancing with Dad is a little way of saying goodbye, but also is a way of saying, 'I'm still Daddy's little girl.' The guests always enjoy it."
Toasts: Considered one of the celebration's most cherished traditions, toasting is an opportunity for key players in the wedding party to say a few words to the adorable couple – and for the adorable couple to say a few to one another.
"I have found that couples are bringing the order of the old traditions back, like the best man's toast, followed by the groom's – who toasts his bride and welcomes, thanks guests for attending," explains Hendry. "And brides just love it for their groom's to toast them – it's very sweet."
Cutting the cake: If the cake is the "focal point" of the reception, then you can imagine how big the cake cutting is – no one wants to miss it! Usually the band announces the cake cutting. The bride places her hand on the handle of the cake knife and the groom puts his hand over hers. They cut the first slice together from the bottom tier of the cake – if you choose to have a traditional cake – the groom feeds the bride the first bite, and she feeds him the following bite. The rest of the cake is taken in the back to the kitchen and cut for the guests.
Send-off: The send-off symbolizes that the bride and groom are leaving the reception to begin their honeymoon, which is also a signal that guests are free to leave. Formerly, it was customary for the bride to disappear and change into her traveling clothes. The bride and groom would then bid farewell to their guests and were whisked off to the getaway car of their choice. Guests would wait outside and toss rice, rose petals or even blow bubbles on the newlyweds.
As is true with almost every element of the wedding reception, you are free to expand on the older traditions and make them your own. The old standard was that a couple would flee to a car parked outside the reception hall adorned with a "Just Married" sign on the back and aluminum cans tied to the bumper. Today, you can do anything, from hot air balloons, to horse-drawn carriages – it's up to you. Have the reception you have always wanted – let it complete the day of your dreams.
In sum
Regardless of your budget or how big or small you would like for your reception to be, you have to celebrate the commitment you have just made with your spouse – and of course, share your special day with family and friends. Without the celebration, you lose all tradition, and tradition is what keeps this day special and different from any other day. Congratulations!
Editor's Note: Special thanks to Alice Hendry, owner of Alice Hendry Wedding and Event Planning, 615.423.2325; and Stefanie Rose Miles, owner and operator of Custom Occasions, 615.330.2754.