Advice for the Best Man
By Dave Schroeder
This is the time you have been waiting for. You have been selected by your best friend to be his comrade in arms and provide sword and shield for protection as he prepares for the biggest day of his life. You are Q to James Bond, Legolas to Aragorn, Riggs to Murtaugh, Ponch to Jon Baker, Barney to Fred Flintstone, or Alfred to Batman. You are the ultimate wingman. Without you, your best friend isn't who he is!
There are a lot of details to keep track of with what is required to be a best man. But more important, there are a lot of ways to set yourself apart!
Highlights of Responsibilities:
1. Plan the Bachelor Party
Most men either drool for or freak out at the thought of this responsibility. But, keep in mind that it is a special duty to be organized. Most grooms trust their best men too much with this and it becomes everything they didn't want. The problem is that this is usually discovered too late. Begin by having a good "man talk" beforehand to see what your groom wants. Make it fun but harmless. Keep in mind that the groom is about to spend the rest of his life with this one woman he loves to don't put him in an awkward situation. Do something creative, unique and personal! Provide an escape for the groom and groomsmen. Take the guys to his favorite baseball stadium to see his team play, his favorite place to hike, his favorite camping ground, go on a vacation together, play golf, whatever he wants! Just make it something beyond the ordinary! This is your group of friends' last chance to hang out with the groom while he is single.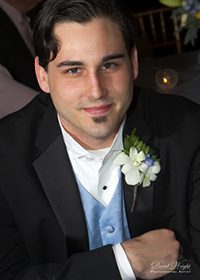 2. The Ring
No, I'm not talking about a ridiculous American horror film remake from 2002. I'm talking about the wedding ring. You've seen all of the movies where some idiotic best man loses the ring. Don't be that guy. It's the easiest task in the world. Tie it to your own finger, put it in your wallet, put it wherever on your person where you know you won't lose it.
3. You are the Cash Man!
The groom is off in "lalaland" during his wedding day and will forget about anything else. Be sure to keep plenty of cash in hand to tip people during the event. You also are the one to make sure the check gets to the officiant.
4. Get your James Bond on!
Typically you and the groom venture out to pick the tuxedos. You should pay for your own tuxedo, but you should also be the one to make sure that the rest of the grooms don't forget about anything. You don't want the mother-in-law on your case because "Nate Dogg" forgot to wear matching cuff links.
5. The Toast at the Rehearsal Dinner!
Surveys have said that people fear public speaking before death. Well, unless you excel in the art of public speaking, this can be that difficult. You've seen Wedding Crashers and the rules to a good speech. Keep it personal but not too personal. Let the audience know who you are and your connection to the groom. Have fun and feel free to be yourself. But, practice it a few times in front of another friend to make sure you are able to communicate what you want.
6. Getaway Car
Yes, if the groom allows it, you are the man to arrange a means of transportation for the bride and groom to exit the reception. Whether it be a corvette or a carriage, make sure you have consulted the maid of honor for good taste and please for crying out loud, no prophylactic balloons!
7. Sign the Marriage Certificate (you're officially on the books!)
This one is simple…get your John Hancock on and you are now you are a legal witness to your best friend's marriage. Pretty cool, eh?
Word of warning, don't be the "worst man" and do every thing that you want. You may be the life of the party, which is funny to some, but keep it to a drink or two. Too many weddings get ruined by groomsmen and bridesmaids who get out of hand. Remember, this day is not about you. It is about your best friend, so keep it real and be the best friend you always have been!
Photograph by David Wright Photography