Predators give great gift!
The Williamson County Child Advocacy Center was presented with a check in the amount of $2500 from the Nashville Predators Foundation. The WCCAC is an organization that combats child abuse by coordinating services to children and their families in crisis and providing community education focused on prevention and early intervention. Gerry Helper, Nashville Predators Foundation President and Gnash presented WCCAC Executive Director Kelly O'Connor with the check.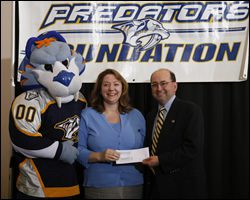 "We are grateful for the Predators Foundation's support of the Williamson County Child Advocacy Center," said WCCAC Executive Director, Kelly O'Connor. "Their support allows us to provide much needed services to child abuse victims and their families."
In addition to serving Williamson County, the WCCAC serves the entire 21st Judicial District which includes, Hickman, Lewis, and Perry Counties. Since opening in September of 2000, the WCCAC has served over 540 victims of child abuse, 471 from Williamson County alone. For additional information about the Williamson County Child Advocacy Center and the services provided, please visit www.williamsoncountycac.org.