1st Annual Legacy Ball Quilt
Friday, March 21, 2008, First Tennessee Bank hosted the Quilt Preview Party for the Child Advocacy Center.  The quilt will be auctioned off at Legacy Ball on April 5, 2008 at the Embassy Suites in Franklin, TN.  It is the 1st annual Legacy Quilt.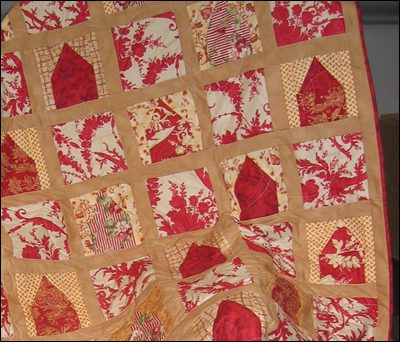 The quilt came together by the generosity of Stitchers Garden, Campus Quilts, and Friends of the CAC.  Myra Nickolaus of Stitchers Garden in Franklin donated her time to produce the professionally sewn and designed quilt. Friends of the CAC underwrote the cost of materials.
The quilt is made up of gold and red colors with a white elegant patterned underside.  The fabric is soft to the touch and machine washable.
Sealed bids are being accepted at First Tennessee on the Franklin Square through Friday, April 4th.  Sealed bids will be represented by volunteers during the live auction at the Legacy Ball.
All proceeds from the Legacy Quilt and the Legacy Ball will benefit the Child Advocacy Center and support services to abused children.  Last year, the CAC provided over 800 services to 368 NEW clients.
The Williamson County Child Advocacy Center combats child abuse by coordinating services to children and their families in crisis and providing community education focused on prevention and early intervention.
The Center serves Hickman, Lewis, Perry and Williamson Counties.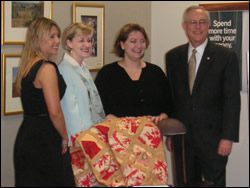 For additional information about the Child Advocacy Center and the services provided, please visit www.williamsoncountycac.org.