10 Best Places to Picnic in Franklin & Williamson County, Tennessee
Have you been looking for an excuse to get outside and enjoy the Spring weather? Franklin and Williamson County, Tennessee offer many options when it comes to great picnic spots! With a variety of parks and green spaces to choose from, we have compiled a list of some favorites!
Learn more about local dining experiences, entertainment, shopping, and more at
Enjoy the beautiful Spring weather at Arrington Vineyards, complete with shaded picnic areas on the vineyard's sprawling 95-acre property. Dubbed as "Nashville's Wine Country", the venue offers wine by the bottle or flight, along with frosé and snacks. Along with the gorgeous scenery and delicious wine, Arrington celebrates every weekend with Music in the Vines. Treat yourself to a picnic with loved ones accompanied by live jazz and bluegrass music, paired with their vast selection of wine! 
The Park at Harlinsdale Farm has 200 acres of land with a 4-acre dog park, a 3-acre pond, and plenty of room to have a picnic in Franklin! This large, scenic farm is the perfect place to enjoy a meal and people watch in the warm weather. 
Located in the Cool Springs area of Franklin, Aspen Grove Park has 14 acres of land as well as a trail along Spencer Creek. The park includes a large pavilion with a grill and restroom, so if you are looking for a peaceful spot to unwind, this is the one for you! 
Crockett Park is a 164-acre park in Brentwood with a number of attractions including the Eddy Arnold Amphitheater, the Cool Springs House event venue, sports fields, nature trails, open meadows, and a playground. There are plenty of areas to lay out a blanket and set up an outdoor meal at this historic park! 
With the Harpeth River to the west and Fort Granger to the north, this 34-acre Franklin park is the most used passive park in the Franklin park system! It features 3 pavilions, 2 playgrounds, grills, and a 1 mile walking trail with informational signs about Fort Granger. Head to this park if you are looking for an engaging picnic experience! 
The Deerwood Arboretum & Nature Center is located on 27 acres bordering the Harpeth River and hosts a variety of wildlife! You can explore the native wildlife with their bike paths, jogging trails, ponds, and wildflower meadow. With over 60 species of animals and over 69 species of trees, there will always be something new to see on a picnic at the Deerwood Arboretum!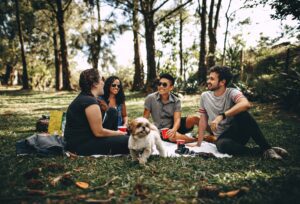 This 58-acre park in Franklin features tennis and basketball courts, baseball and football fields, walking trails, a skate park, a pond and, of course, picnic tables. Feel free to work up an appetite with all of these activities before settling down for a nice picnic with the warm Spring sun! 
Morning Glory Orchard is a peach and apple orchard in Nolensville! You can book a 2 hour picnic with this orchard and receive an artisan charcuterie board, cold slushies, fruit-infused water, delicious samples, and more! All you need to do is gather your friends and family to show up and enjoy a fulfilling picnic with picturesque views.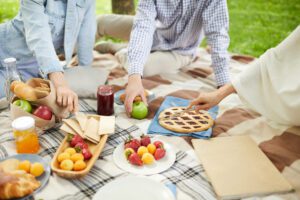 Timberland Park is located in Franklin at milepost 437.2 of the Natchez Trace Parkway and encompasses 72 acres of land. This wooded park features 6 picnic tables for you to sit and enjoy some food while observing the large diversity of wildlife found here! 
Bowie Nature Park is located in Fairview with over 700 acres of wildlife! Featuring a nature center with exhibits and art as well as 17 miles of trails and lakeside picnic areas, this park is the perfect place to spend a day outside with the Springtime air and some snacks. 
Looking for something fun to do this weekend? Shopping for antiques or curious about a
restaurant? Wanting to volunteer your time with a non-profit, or just stopping by
downtown Franklin, TN for the day? Access it all on FranklinIs.com. We encourage you
to browse through the Living, News, Entertainment, Family & Kids, Real Estate, Visit,
Resources and Events Calendar sections. There is something for everyone!
FranklinIs a website dedicated to all things Franklin, TN and Williamson County!
Supporting local non-profits, businesses, residents and visitors, FranklinIs the go-to
place for all your Franklin and Williamson County needs.