Your Guide to the Pilgrimage Music & Cultural Festival in Franklin, TN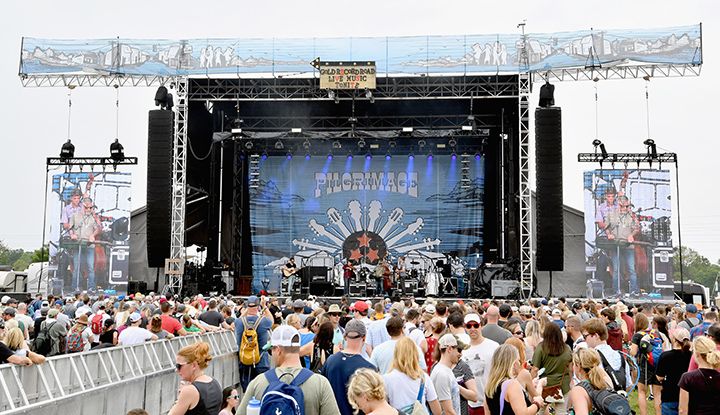 The Pilgrimage Music & Cultural Festival is Franklin's own music festival, hosting renowned and diverse musical acts every September at The Park at Harlinsdale Farm! The 2023 Pilgrimage Festival will have The Lumineers headlining on September 23rd and Zach Bryan headlining on September 24th, along with dozens of other musical acts. Keep reading to learn more about this local festival! 
Learn about local dining experiences, entertainment, shopping, and more at FranklinIs.com.
The Pilgrimage Music & Cultural Festival is entering its 9th year of hosting world-class musicians and thousands of attendees with their 6 stages, local food trucks, artisan booths, lounge areas, and activities for all ages! The Pilgrimage Music & Cultural Festival began with three lifelong friends partnering to create a music festival in Franklin, Tennessee, among the rolling hills of The Park at Harlinsdale Farm's 20 acres, with a mission to bring out the diversity and spirit of the region by showcasing local businesses. Co-founder and Franklin local Kevin Griffin even plays at the festival every year with his band Better than Ezra! 
Saturday's lineup will play from 12:05 pm- 9:55 pm and Sunday's lineup will take place from 12:10 pm- 9:55 pm. This local festival is decorated with garland, various works of art, hammocks, and more to create the festival's unique and one-of-a-kind environment. Some of this festival's attractions and activities include the Franklin Fun Farm, the Americana Triangle Experience, the Lil' Pilgrims Area, the Farm to Turn-Table park, the Makers' Village, the Craft Beer Hall, and their Culinary Program! 
PILGRIMAGE FESTIVAL LINEUP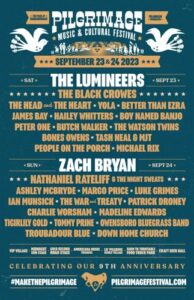 The Pilgrimage Music & Cultural Festival has 3 stages:
Midnight Sun: This stage is set in the farm's largest natural amphitheater and will play host to a national lineup of talent on both festival days and will feature design elements inspired by Harlinsdale Farm. Midnight Sun was the Champion Tennessee Walker stallion who stood for 25 years and who is buried at Harlinsdale.
Gold Record Road: This stage is set in a beautiful, rolling natural amphitheater and will also play host to a national lineup of headliners on both festival days. With featured design elements of Harlinsdale and of the music history of the region. The Gold Record Road is a route of connected highways and backroads that courses through New Orleans, the Mississippi Delta, Tupelo, Memphis, Helena and through Nashville to Franklin. It is this very road that fronts Harlinsdale Farm!
Americana Music Triangle: The Americana Music Triangle is where we've brought to life the culture of some of the world's premier music tourism destinations, right here at the Pilgrimage Music & Cultural Festival! Now in its second year, the Americana Music Triangle is a dedicated space where attendees can immerse themselves into world famous music landmarks, tucked away hamlets and one-of-a-kind stops along the Gold Record Road. Located inside the AMTE tent is the Antique Archeology Storytelling Stage. This stage features a carefully curated lineup, including performers and musical storytellers that best represent each of these historical places.
PILGRIMAGE FESTIVAL MAP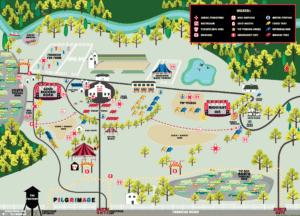 The Pilgrimage Music & Cultural Festival will take place in Franklin at The Park at Harlinsdale Farm with 3 stages.
PARKING MAP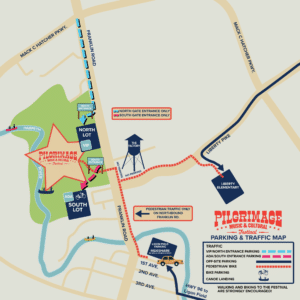 Gates for parking will open at 11am and festival doors will open at 12pm. The festival suggests walking or biking, as there is limited parking and heavy traffic is anticipated.
PILGRIMAGE FESTIVAL VENDORS
The Franklin Fun Farm is an area with over 10 activities to explore! The Electric Lounge features a Music Mixing Lab and Oculus VR for older children to experiment with music mixing stations and virtual reality games! Younger kids can create a take-home craft at the Bach to Rock tent, and anyone can have fun with the E-Sports Gaming Center, Craft Corner, CMHOF's Musical Petting Zoo, and flying aerialists!
You can find the Americana Music Triangle Experience inside a tent decorated by American Pickers and Antique Archaeology, featuring church pews, exhibits, and a photo wall full of history. This backdrop depicts southern culture and educated speakers will talk about the timeline of American Music with stops along the Americana Music Triangle, featuring the states of Alabama, Arkansas, Mississippi, Louisiana and, of course, Tennessee.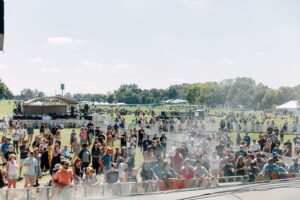 The Lil' Pilgrims Area enhances the festival's family-friendly atmosphere with various age-appropriate activities, music, and more!

Farm to Turn-Table is a food truck park that offers food trucks, shade, seating, food and fun activities!

Makers Village is Pilgrimage's marketplace with local and regional makers offering handcrafted goods!

The Craft Beer Hall features a range of regional and local brews on draft as well as LED TVs playing NCAA and NFL games all weekend!

The Pilgrimage Music & Cultural Festival's Culinary Program features more than 40 local and regional eateries offering a wide range of food and drink options!
The Pilgrimage Foundation is Pilgrimage Music & Cultural Festival's non-profit entity that aims to raise funds through donors and ticket sales for local parks, education, musicians, artists, The Park at Harlinsdale Farm, and more in order to give back to the community. Their non-profit partners include Brightstone, Dark Horse Institute, Friends of Franklin Parks, GraceWorks, Heritage Foundation of Williamson County, High Hopes Development Center, I Am Second, J.W. Couch Foundation, Mercy Community Healthcare, and Recording Academy Musicares. 
You can meet these partner organizations at the Pilgrimage Community Village to learn more about how you can support their important causes. Meet them, hear their stories, and become inspired to join their missions of supporting quality education, healthy ecosystems, and locals in need.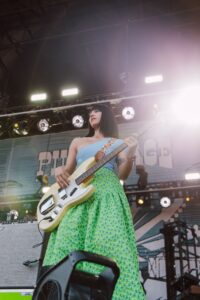 General Admission and VIP tickets are still available! VIP tickets include express entry, exclusive parking, stage-front viewing, cocktail parties, air-conditioned restrooms, water stations, and more! The VIP Village Pavillion invites VIP guests to enjoy their table games, live football screenings, comfortable seating, and more. Secure your tickets now for a weekend of music, culture, activities, and philanthropy in beautiful Franklin, Tennessee! 
Looking for something fun to do this weekend? Shopping for antiques or curious about a restaurant? Wanting to volunteer your time with a non-profit, or just stopping by downtown Franklin, TN for the day? Access it all on FranklinIs.com. We encourage you to browse through the Living, News, Entertainment, Family & Kids, Real Estate, Visit, Resources and Events Calendar sections. There is something for everyone! 
FranklinIs a website dedicated to all things Franklin, TN and Williamson County! Supporting local non-profits, businesses, residents and visitors, FranklinIs the go-to place for all your Franklin and Williamson County needs.