Wine Down Main Street Tickets are on Sale!
Tickets to the seventh annual Wine Down Main Street are now available at many shops along Franklin's Main Street, as well as on our website at www.winedownmainstreet.com. Tickets are $75 per person and available at The Cellar, Character Eyes Eyecare & Optical (on Church Street), Faye Snodgrass Gallery, Yarrow Acres, Vue Optique and What's In Store. Tickets are also available at Hallmark Volkswagen in Cool Springs and at the two-area Tennessee Bank & Trust locations, Carothers Parkway in Cool Springs and Hillsboro Road in Green Hills. Tickets may also be purchased at the Boys & Girls Club at 129 West Fowlkes Street in Franklin.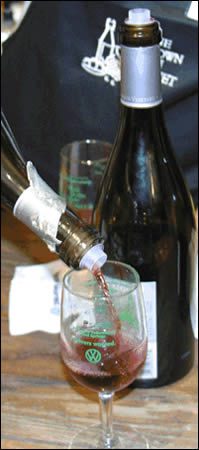 On November 2nd from 7 to 10 p.m., Wine Down Main Street truly is the best night out all year. Wine Down Main Street is a unique wine tasting that takes place along Historic Main Street in Franklin, Tennessee. More than 40 shops play host to some 200 wines from around the world. Taste wines, shop, sample food from 25 area restaurants, listen to music from many live acts and enjoy your wine down Main Street.
Since 2001, Wine Down Main Street has grossed more than $410,000 for the Boys & Girls Club of Franklin and Williamson County, and has sold out every year. At last year's event, people came from 20 states, setting an attendance record of 1,300 people.
Hallmark Volkswagen presents Wine Down Main Street in conjunction with Franklin's Main Street Merchants. Sponsors include Fifth/Third Bank, Lipman Brothers Distributors, Tennessee Bank & Trust, Telco Solutions III, Publix Supermarket Charities, Regions Bank, Meridian Cool Springs, Jamison Station, Carpet Den Interiors, VIP Franklin, The Williamson Herald, Nashville Lifestyles, Franklin Is and One Woman Show Design.
For additional information about Wine Down Main Street, please call 615/599-9706 or go to www.winedownmainstreet.com. To read more about Wine Down Main, click here.
Below is a complete list of Wine Down Main Street Ticket Outlets:
THE BOYS & GIRLS CLUB
129 West Fowlkes Street – Franklin – 794-4800
THE CELLAR
324 Main Street Franklin – 790-9803
CHARACTER EYES EYECARE & OPTICAL
407 Church Street – Franklin – 599-1800
THE FAYE SNODGRASS GALLERY
344 Main Street – Franklin – 595-0833
HALLMARK VOLKSWAGEN
620 Baker's Bridge Road – Cool Springs – 236-3200
TENNESSEE BANK & TRUST
9000 Carothers Parkway – Cool Springs – 771-7802
TENNESSEE BANK & TRUST
4007 Hillsboro Road – Nashville –298-8000
VUE OPTIQUE
436 Main Street – Franklin – 591-4191
WHAT'S-IN-STORE
407 Main Street – Franklin – 794-7560
YARROW ACRES
424-A Main Street – Franklin – 591-7090