Williamson County Parks and Recreation Opens Tennis Complex at Maryland Farms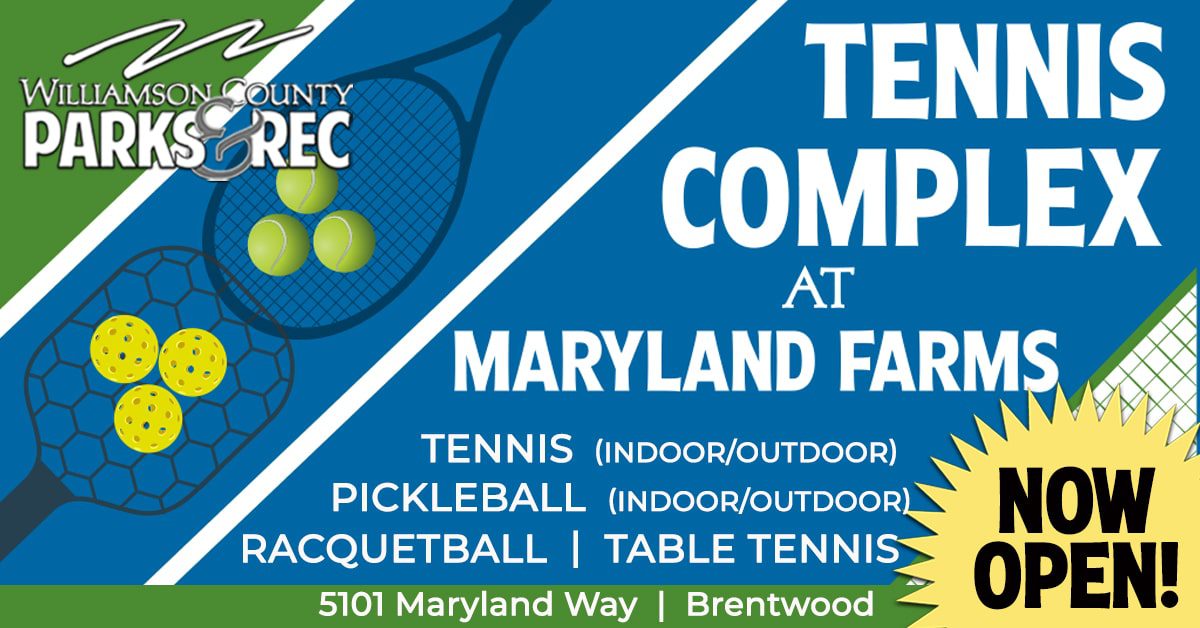 The Williamson County Parks and Recreation Department (WCPR) is proud to announce the opening of the Tennis Complex at Maryland Farms in Brentwood. The facility will host an extended open house through Saturday, September 16, 2023, waiving all facility and reservation fees, for individuals to tour the amenities; pre-purchase facility and sport passes; and enjoy free open play sessions for all racquet sports.
The facility, located at 5101 Maryland Way in Brentwood, is the site of a former YMCA, which closed in May 2023. The facility was purchased by Highwoods Properties, who later approached WCPR about the possibility of keeping a portion of the property open to the public until such time as when the company would have definite plans for future site development.
With the approval of Williamson County Mayor, Rogers Anderson, WCPR staff begin negotiations with Highwoods over the summer, and preparations have been made for reopening tennis and racquetball areas; as well as adding pickleball courts and a table tennis area.
Williamson County Parks and Recreation Director, Gordon Hampton is excited about adding the Tennis Complex at Maryland Farms to the department's facility inventory stating, "With the closing of the Maryland Farms YMCA, we knew there would be a need in the community for racquet sport players; especially during the upcoming winter months. I am so happy we were able to make arrangements with Highwoods Properties to meet these needs for the immediate future and offer more tennis, pickleball, racquetball and table tennis opportunities for the public."
The facility features indoor and outdoor tennis courts; indoor and outdoor pickleball courts; indoor racquetball courts and indoor table tennis for open play, private court reservations, and programming options including contract time, leagues and instructional programs for youth and adults.
For additional information on facility hours of operation; court reservation policies and fees, and future programming options, visit our website at www.wcparksandrec.com.
####
Williamson County Parks and Recreation (WCPR) is a public organization benefitting the community.  Anyone may register for and participate in the department's programs, classes and events. For program registration, pass purchasing or additional information, visit www.wcparksandrec.com. You may also receive department information by "liking" Williamson County Parks and Recreation on Facebook; following us on Twitter at @wc_parksandrec or Instagram at @willcoparksandrec or on Pinterest or YouTube.