Where to Celebrate the Super Bowl in Franklin & Williamson County, Tennessee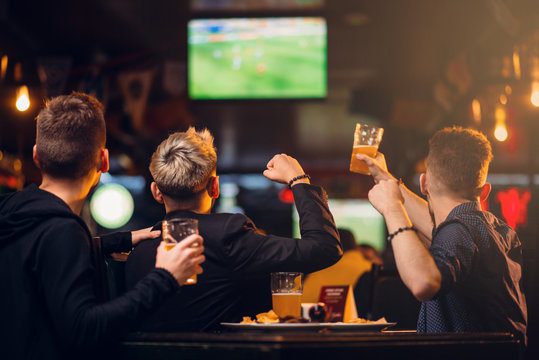 This Sunday, the Kansas City Chiefs and Philadelphia Eagles will go head-to-head at the 57th Super Bowl! There are plenty of sports bars and pubs in Franklin and Williamson County, TN that are celebrating this American tradition with food, drinks, friends, and big-screen TVs. Keep reading for suggestions on where to spend game day! 
Learn more about local dining experiences, entertainment, shopping, and more at
Brewhouse South is a quintessential sports bar with craft beer, game rooms, and over 30 big-screen TVs! Watch the game with new and old friends as you enjoy their signature Bushwacker and All-American menu! Serving a variety of foods, 70 beers on tap, and daily drink specials, this laid-back neighborhood bar is a perfect place to gather on Super Bowl Sunday! 
Buffalo Wild Wings is the go-to sports bar for many, and it's clear why. With a variety of food and drinks to choose from and flat screen TVs covering the walls, it's an ideal spot to watch a game! To top it all off, they will be carrying on their tradition of offering free wings to everyone in the United States on February 27th if the Super Bowl goes into overtime. Whether you're rooting for your favorite team or free wings, there will be something to celebrate at Buffalo Wild Wings! 
The Bunganut Pig Bar & Restaurant
Referred to by locals as "The Pig", this restaurant and bar offers delicious food and drink as well as great service! This would be a very lively choice for Super Bowl Sunday, as they regularly incorporate live music, dancing, games, trivia, and daily specials into their evenings! Styled after a classic English pub, watching the big game at Bunganut Pig would make for an entertaining night! 
Corner Pub in Cool Springs is celebrating the Super Bowl this year with a party! Their pre-game festivities will start at 4:15, giving you plenty of time to prepare for the game at 5:30 p.m.. This pub even offers take-out and delivery options of ready-to-cook meats, prepared sides, drinks, and other ingredients. Whether you are looking to go out or stay in, Corner Pub has you covered with Super Bowl festivities and supplies. Make sure to RSVP for their special event or delivery and to-go services soon! 
This family-owned sports grille has quality food and service, as well as over 45 screens to watch the game! Jonathan's Grille offers a variety of All-American food and daily specials. This go-to sports bar & grille is sure to be the hot spot for a Super Bowl watch party, so consider joining in on the festivities this Sunday! 
​
Kings Dining & Entertainment will be hosting a Super BOWLing party on game day! With bowling, big screen TVs, and buckets of beer, what more could you ask for? You could win a free pizza every month for a year, along with a Bud Light Cooler, just by signing up for Kings Rewards and making your reservation for the watch party! They'll even give you an extra entry if you order a Bud Light Seltzer. Reserve your spot now for this free event! 
The Legendary Kimbro's Pickin' Parlor is a great place to tune into the Super Bowl if you're looking for a more low-key environment. Located in a historic house just 2 blocks from Franklin's Main Street, this is the place to be for some good food, good beer, and a good game! 
Specializing in Nashville hot chicken and local brews, Party Fowl is the spot for a Super Bowl party! With TV-covered walls, a creative menu full of classics and originals, and a bunch of football fans, this is where the fun will be! Enjoy one of their signature Boozy Slushies and get ready to root for the team of your choice at Party Fowl in Cool Springs! 
Tony's Eat & Drink was created so that locals would have a place to eat delicious food, enjoy draft beer and specialty cocktails, and have a good time with new and old friends! With 18 TVs and games like Skee-Ball, Hoop Fever, and Golden Tee, this is a great option when it comes to a lively and entertaining place to watch the Super Bowl! Luckily, the game will be on during Happy Hour.
Von Elrod's Beer Hall & Kitchen in Nashville serves all the gameday classics including chicken wings, nachos, chips, and beer. They will even be offering half-priced smoked wings during the game! With smoked wings and steins of beer at their communal tables for optimal seating and socializing, Von Elrod's has you covered this Sunday!
Looking for something fun to do this weekend? Shopping for antiques or curious about a
restaurant? Wanting to volunteer your time with a non-profit, or just stopping by
downtown Franklin, TN for the day? Access it all on FranklinIs.com. We encourage you
to browse through the Living, News, Entertainment, Family & Kids, Real Estate, Visit,
Resources and Events Calendar sections. There is something for everyone!
FranklinIs a website dedicated to all things Franklin, TN and Williamson County!
Supporting local non-profits, businesses, residents and visitors, FranklinIs the go-to
place for all your Franklin and Williamson County needs.