Toby Mac
Story by Will Jordan
Photography by David Dobson
It's 3 p.m. on a Thursday, and Kevin Michael Mckeehan, known to most of the world as TobyMac, is finishing up a few things before heading off on the first leg of his Portable Sounds Tour. The tour bus leaves town at midnight and his wife, Amanda, wants him home for dinner with the kids before shipping out.
Before he heads home, he's committed some time to local press to discuss his latest exploits, and a CCM interviewer is waiting in the lobby. He's relaxed, despite all of this, and has a calm attitude, which puts anyone who's in the room with him at ease. He smiles a lot, is inquisitive and genuinely seems to care about this moment.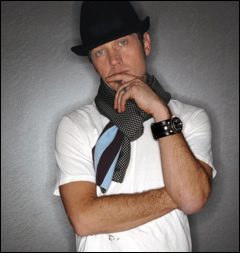 TobyMac has piercing blue eyes, which flicker under the brim of a stylistic fedora. He wears a constant five o'clock shadow and dons hip clothing. His wedding finger has a tattooed band around it – a testament to the devotion he has for his Jamaicanborn wife, Amanda. He's soft spoken, but deliberate and has an air of knowing how things "get done."
TobyMac grew up in the Washington, D.C., area and while attending Liberty College formed a bond with Kevin Max Smith and Michael Tait. Officially in 1987, the three formed a Christian hip-hop group that became known as DC Talk. DC Talk's then pioneering style, which combined rock, pop, rap and positive messages, rocketed the trio to success. Their fourth album, Jesus Freak, reached double platinum status, selling more than two million copies. The band released its final album as a collective in 2000, and since then, each member has pursued his own solo career.
TobyMac maintains that the four-time Grammy Award winning DC Talk never formally broke up and is just taking an extended hiatus, but he's obviously been pouring all of his energy into his solo career with ForeFront Records, which continues to transcend industry expectations. As it neared its dissolution, DC Talk crossed over to pop rock; but as a solo artist, TobyMac brought back his familiar urban hip-hop sound, which is clearly his most comfortable niche. Portable Sounds, released in February, sold 50,000 units the first week and landed the number 10 spot on Billboard's charts.
"The record is just killing it beyond anyone's expectations," TobyMac says with a wide smile. "It's hard to gauge what people's reactions will be after months cooped up in a studio. To see [audiences] singing along with it and tearing up, that's the ultimate experience as an artist. I love to drop the joy bomb on them."
TobyMac recorded the entire album in two Franklin studios, one that he owns on Franklin Road and another on Columbia Avenue, owned by TobyMac's described "soul-mate producer" Chris Stevens. The unassuming stucco building on Franklin Road that once was home to one of Franklin's first Mexican restaurants, El Palacio, is hardly recognizable after TobyMac put his hands on it. It's now a modern, soundproof recording facility that is constantly bustling with people hoping to crack open the music industry.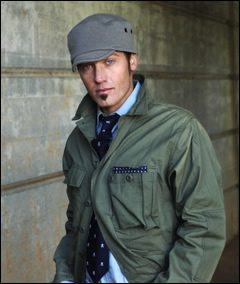 Just down the road is TobyMac's house, which is currently undergoing intense renovation. It's so extensive that TobyMac has temporarily relocated his family to another in downtown Franklin. For a decade, 1994-2004, DC Talk recorded all of its albums at this location, but that studio is now filled with other voices.
"It was a studio for a decade but now has been turned back into a home," TobyMac explains. "I've moved the whole family into 1,500 square-feet. It's a zoo right now."
To be clear, "the whole" family is quite large. TobyMac and Amanda have five children: Truett, Moses, Marlee, Leo and Judah. Moses and Marlee are 4-year-old twins and were adopted in 2002. Leo was born in 2004. Judah was born in 2006. Truett (8) appears on the albums Momentum, Re:Mix Momentum, Welcome to Diverse City, Renovating Diverse City and Portable Sounds as emerging rap artist truDog.
"We try to maintain as normal a life as we can under the circumstances," TobyMac says. "I try to just do around 100 shows a year, typically on weekends, and try to be home for dinner as much as possible. That's the luxury of having my own studio. There are no day rates, and I can get home around six most nights to hang with my kids."
Toby is also the president of record label Gotee Records, which he started with his cousin Joey Elwood. Gotee features artists such as DJ Maj, Relient K and John Reuben. The partners will be moving their operations downtown soon.
"We've got about 10 or so artists on our roster right now," he says. "I can't wait to move downtown. Those cats will probably spend a lot of time walking the sidewalks of Franklin before too long."
While TobyMac considers himself a devout Christian, he's not pushy about his religious beliefs and is humble about the monikers he's received over the years. One distinguishes him as "one of the 50 most evangelical leaders in America."
"That's a heavy description," he says. "By no means am I worthy of any of that. I fail every day and struggle with the things that we all struggle with, but if this music that people see breathed through me is causing people to talk about God and how he relates to them, then I'm ready to walk in those shoes.
"My faith in God plays a massive role in my life, but I want my music to fall on open ears. I don't feel music has to be subcategorized. I make music for everyone who's living on the same earth I'm on."