The Tuxedo
Renting a tuxedo for your wedding can be almost as stressful as your bride's search for the perfect dress. So much can go wrong and there are so many details to consider. As with every aspect of planning your wedding, it can be hard to know where to begin. The bottom line is you want to get married and look good doing it, so let's take this one step at a time.
The Store

Your first job is to find a store (well in advance!) that is up-to-date and will suit all your needs. It is best to rent from a store that can provide you with all of the accessories you will need (cummerbund, bowtie, cufflinks, suspenders, or even shoes) to avoid stress when you are renting, and confusion when you are returning.
It is also essential that you and all of your groomsmen rent from the same store to avoid mismatches. One store may have a different idea of blue than another and you do not want to end up with awkwardly mismatched groomsmen on your big day.
Writing down important details like deposit amounts, return dates, and fines is always a good idea. Returning the tuxedos is your best man's job.
The Style

When choosing your style of your tuxedo, don't get distracted (or panicked) by the amount of options; you will have many. Do you want single breasted or double breasted? How many buttons? Do you want a notched lapel or a peaked lapel? Can you wear tails? And what about accessories?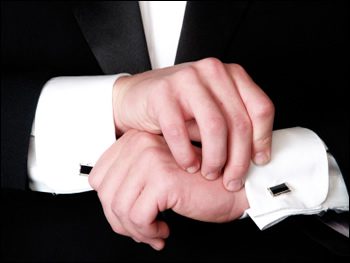 The first thing you want to consider is your body type. Make sure you choose a style that will show you to your best advantage on your big day.
You will also need to choose a style that will be appropriate for the time of day (not to mention time of year) of your wedding. The time of year of your wedding will have the most affect on color. Your bride will most likely be picking her bridesmaids colors based on the season, and any color in you and your groomsmen's ensembles needs to match her choice.
The Fitting

Make it a group outing with all of your groomsmen and get fitted together. If some of your groomsmen live out of town or can't make it, get their exact measurements so you can reserve their tuxedos for them at the same time.
Getting measured properly is also critical to renting the right tuxedo. Don't count on knowing your size; it is always a good idea to get measured.
It is also absolutely essential that you (and your groomsmen) try on the tuxedo that you will be wearing before the wedding day itself. Do not rely on measurements alone! This is especially important for groomsmen who are coming from out of town who couldn't make it to the fitting. At some point before the day of the wedding, they need to try on their tuxedos.You do not want to be stuck with a tuxedo that doesn't fit on your wedding day, trying to tape up pant legs or safety pin inseams.
The Timing
Finally, make sure that you reserve your tuxedo (and your groomsmen's tuxedos) as far in advance as possible. Many places recommend that you reserve with at least six months to spare. Three months before the wedding is the longest you can safely postpone your tuxedo rental.