The Right Flowers for the Right Time
By Steve McLellan of Garden Delights
You popped the question and she said, "Yes!" Congratulations and Mazel Tov! Now what?!
The coming months hold lots of planning and choices about everything from shoes and sashes to posies and punch. An overall theme can really make your celebration memorable. Many of your decisions can be made easier by basing your choices around a central idea. It can influence where you want the reception, how the invitations look, what the arrangements are made of, etc. It should be an expression of who you and your future spouse are.
Do you have a common love of the oldies sung by Ella Fitzgerald and Louie Armstrong? What a terrific theme … reception in an old ballroom with lots of candlelight … a Big Band playing light jazz during the cocktail hour then letting it rip with fabulous blues and swing for dancing … the tables full of white orchids and frosted votive candleholders sharing their glow and a CD with your favorite standards for guest favors.
A creative core theme can really lessen the burden and stress of planning and help give continuity to the evening. The thought of a theme wedding may be a little intimidating or seem unnecessary but it doesn't need to be.
As a professional florist, I always tell my clients that color is great place to start and serves as one of the simplest ways to make an impact. Choose colors that speak to you. Passionate reds and purples, carefree hot pink, yellow and lime green. Are you pensive and thoughtful? Perhaps cream with muted shades of pale pinks and lavenders.
Unsure about your floral knowledge? Don't be.Think about the flowers you already know. Do remember the way your grandfather's roses grew full and fragrant or the large abundant hydrangea bush at your great aunt's home. Nostalgia and family should be apart of this day and why not a part of your wedding flowers.
Any professional floral designer has access to many sources and can find the right hues to create fabulous floras for your party. Seasonal accents can provide the next layer of expression for your floral plan/theme.
The massive pallet that flowers and other design materials provide is wonderful way to give your event a distinct and unique flare. If you are planning spring nuptials, urns full of blooming forsythia branches, pots of daffodils on the tables and bouquets of yellow parrot tulips will give any day a cheerful blessing. Or, if you are planning on marrying in autumn, using the bounty of the season with small suckling pears, rosemary herb foliage and St. John's Wort berries can give your wedding day its full measure of bliss.
The seasonal touches in your flowers add yet another dimension and help the designs have a "sense of the moment" about them, like sunflowers and opening roses in July with your bridesmaids' summer tans in full force, or white tulips and brilliant red berried branches on a snowy day.
The first two suggestions of color and season are enough to provide most with everything you need to get going with the choices before you. And for those who aren't faint of heart, there is the next level … attitude.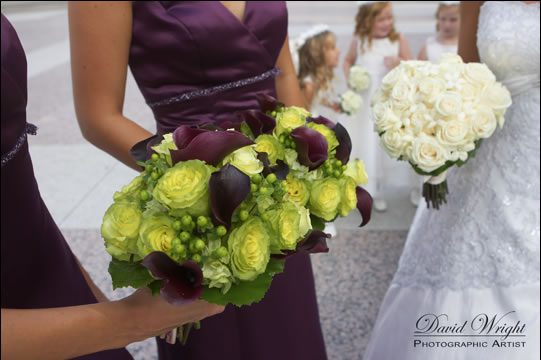 Some of these bolder options might include:
Modern/Cosmopolitan/Sleek color choices may be Black and White and flowers maybe Monochromatic (all one color), Monobotanical (all one flower…shades of roses) or both (all red roses).
Elegant/Romantic/Garden (my personal favorite) Color possibilities include pinks, lavenders and creams … opening and fragrant peonies, lilacs with ivy vines gathered together with a simple organza bow.
Informal/Carefree/Wildflower could be bright vivid colors of Hot Pink and Yellow Gerber Daisies along with slender blades of bear grass or a casual gathering of many small bloomed flowers like heather, asters, Shasta daisies and Queen Anne's Lace for a fresh from the field look.
Avante Garde/Funky/Architural are usually very design-driven and could be very minimalist such as a short cylinder vase with a single lime green cymbidium orchid bloom resting on a bed of black polished river stones. Or, they can be over-the-top outrageous like an Alice in Wonderland theme with centerpieces of teapots, top hats and cakes which are covered with all kinds of floral paraphernalia.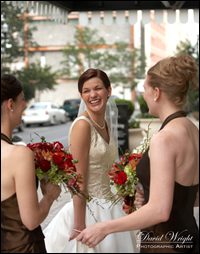 Before meeting with your floral designer, there are a few additional items you should have figured out. The date and time of day, your location of ceremony and the reception, and the quantity of wedding party participants (i.e. number of bridesmaids, ushers, flower girls, etc.).
I also find that it is helpful to see the bride's choice of dress. Most brides put a tremendous amount of thought and emotion into their choice of gown and that can provide great insight into her overall desired "feel" for the wedding celebration.
On a side note: With all of the planning before you, it could be easy to forget the romantic pursuits of life. Be sure you and your loved one have at least one date a week where the wedding plans are off limits.
To the guys: Planning an event is a tremendous amount of work and stress. Don't forget to tell her you appreciate her efforts and continue to pursue and persuade. Surprise her with a gift card to her favorite coffee shop. Pick up a couple stems of flowers in bright colors and drop them off at work/school. Now is a great time to learn that the results from spontaneous flower giving are much more effective than attempting to use them as a key "out of the doghouse."
Photographs by David Wright Photography