The Profile: Billy Ray Cyrus
Story by Harry Chapman
I have never seen such a buzz around music row as I did in the early 1990s. The "hat acts" were basking in the glow of stardom when a tall, handsome guy with a mullet hair cut hit the charts like a comet with a song called Achy Breaky Heart.
That song and Billy Ray Cyrus took the country and the world by storm. The performance and song won the CMA Awards in 1992 for Single and Song of the Year. Billy Ray was nominated for a Grammy Award for Record of the Year. In 1993, he was named favorite new artist by the American Music Awards and Achy Breaky Heart was named favorite single.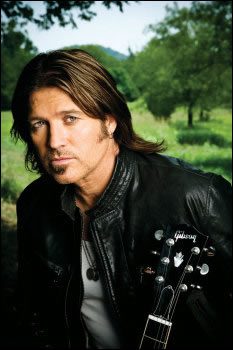 The many who did not know Billy Ray were wondering where he came from – was he an overnight sensation?
No. In fact, his story was quite the opposite. Twelve years before he generated such excitement on Music Row, Billy Ray was playing clubs in his native Kentucky, as well as Ohio and West Virginia, four sets a night, five nights a week. He was opening for everybody from George Jones, REO Speedwagon, Charlie Daniels and Reba.
"We had a very serious following in that area because of the songs that I would write," Billy Ray says. "Those fans knew that my music was real."
Music was a part of Billy Ray's life from its very beginning. His dad played in a gospel quartet, and his mom played a lot of gospel and bluegrass music. At first, Billy Ray had dreams of baseball and being the next Johnny Bench. He won a baseball scholarship to Georgetown College. But the pull of music was too strong for him to resist.
"Everybody played by ear," he says of his younger years. "It was just playing what you feel. A common denominator around our household was to go out and play what you feel. And that's what I try to do now. I play what's real and what I feel."
Because of Achy Breaky Heart, Some Gave All and some five other hits from that debut album, folks all over the world found out that Billy Ray Cyrus was the real deal. "Some Gave All" sold more than 9 million copies in the U.S. and more than 20 million worldwide. It debuted atop both the Top Country Albums and the Billboard 200, staying at No.1 for 34 and 17 weeks, respectively.
Yet there was some resistance, especially in the Nashville community, to accept Billy Ray.
"You know, I was caught up in the music," he recalls. "I was living what I was singing and singing what I was living. I was focused on keeping up with a dream that I had worked a lifetime for. I really didn't have time to focus on what anybody else was thinking."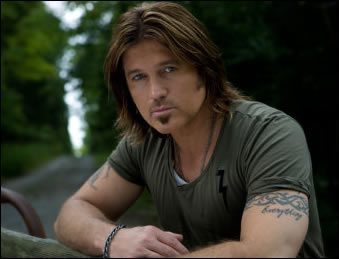 As we talked and reflected back on those days in the early '90s, Billy Ray says that what he is going through right now is a lot like that time. He's incredibly busy. Then, it was all about the music. Now, its about the music, the television show "Hanna Montana" with daughter Miley, as well as hosting "Nashville Star," CMT Music Awards and "Dancing with the Stars."
"My life," he says, "is playing out right there in front of the world."
Billy Ray Cyrus says he doesn't try to take himself too seriously.
"I had a great time (on "Dancing with the Stars")," he says. "I cannot believe that a hillbilly like me got to be on that show!"
It is sometimes hard for him to believe that a guy from Flatwoods, Ky., has had the chance to do all the things that have come his way. He is a singer, songwriter, television host and actor. And, he would add, a father. Not just any father, he's the father of one of the biggest teen stars around.
Billy Ray says that his dad had a dream that his son should branch out – be more like Kenny Rogers or Dolly Parton. He asked his dad, "Well how do you do that?" The reply was to get into television and film. It was through that conversation that inspired Billy Ray to audition for David Lynch and the film Mulholland Drive. He got the part as Gene, a pool cleaner who had been having an affair with the homeowner's wife.
"On the strength of that, David Lynch told me I could be a good actor," Billy Ray recalls. "So, I prayed to God that if he wanted me to be an actor to open the doors. And, shortly after that, I got the part as the lead actor in the television show 'Doc.'"
"Doc" went on to great success for several seasons on PAX Television. Billy Ray says there is a reason the show was so successful.
"I think people were hungry at the time, and they probably still are, for good entertainment that the whole family can enjoy. I think that's why 'Hannah Montana' is so popular. It's positive and the whole family can watch it."
He says that what excites him, as an actor, is the chance to work with Miley on the "Hannah Montana" show where he plays her television dad, Robby Stewart.
"It's art imitating life," he explains. "Entertaining art, that is real to both Miley and me. We both get to do two things we are passionate about – singing and acting."
When Miley left for California, it was not the easiest time for Billy Ray. He dealt with her move by writing the song "Ready, Set, Don't Go." The song was first released as a single then later as a duet with Miley. The second version increased the song's airplay and reached No. 4 on the country charts.
"I just wrote the song out of the honesty of watching Miley leave for California to reach her dreams," he says. "Then a year later they wrote an episode of 'Hannah Montana' about it, and it just played out before the world. And, that's what country music is supposed to be about."
This spring and early summer, Billy Ray and Miley worked in middle Tennessee on Hannah Montana, the Movie. Billy Ray is thrilled that the movie was filmed in Tennessee. He says he feels that it will be a box office hit when it's released next May.
In addition to the actors in the film, you'll also see some familiar faces like Dolly Parton, as aunt Dolly Stewart, plus appearances by Taylor Swift, Rascal Flatts and Bucky Covington.
"Disney put their 'A' team on the script," Billy Ray says. "And, I am really excited about the direction they took."
The film's storyline takes Hannah, at the urging of her father Robert, to make a trip to her hometown of Crowley Corners, Tenn., to get some perspective on what matters in life the most.
In addition to his acting, Billy Ray is about to release a new album on Lyric Street Records, titled Back To Tennessee. That record comes out on Nov. 18 and was produced by Mark Bright. This will be Billy Ray's 11th album.
"The album comes at a good time in my life," he says. "It gave me the chance to come back to Nashville and reflect on what I had been through over the last few years. Where I have been, where I'm at and where I'm going."
The first single off the album was penned by hit songwriters Craig Wiseman and Neil Thrasher, "Somebody Said a Prayer." It is a very powerful song with an equally strong video that features a cameo by Billy Ray's son, Trace, who is the lead guitarist for the band Metro Station. Billy Ray is especially proud of the lead single.
"I always prayed that God would give me the wisdom and vision to make music that would touch people's lives," he says. "You come across a song like 'Somebody Said a Prayer,' and it's all there. It is a song of great importance."
There's no question that Billy Ray Cyrus is a survivor. Thru all the twists and turns, he has remained a gentleman with a big heart.
Read more articles like this at www.southernexposuremagazine.com.