The First Dance
The first dance at your wedding is your moment to shine! Naturally, you want it to be perfect. You've chosen your song, now how are you going to dance to it? Many couples choose to take dance lessons to make their first dance even more memorable and special.
Be it to carefully choreograph your song from start to finish, or just to avoid looking foolish swaying back and forth, dance lessons are a great way to make you more comfortable on the dance floor.
So how do you go about taking dance lessons and preparing for this special moment in your wedding? First, and most importantly, you and your fiancé (together!) need to find a dance studio that will suit your needs and listen to your ideas. While they are the experts, they should still work with your ideas for how you want the dance to look. Research dance studios in your area and talk to several before choosing one.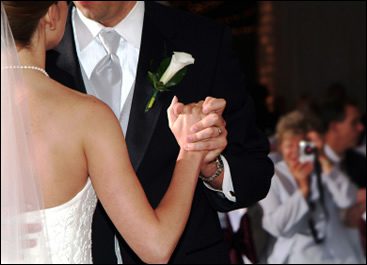 Many dance studios offer special wedding packages designed to prepare you for the big day. These packages are also designed to be affordable, and often studios will offer discount rates for couples preparing for their wedding.
Once you have found a studio and lesson package that fits your needs and schedules, it's time to decide what kind of dance you want to do. Some couples plan extensive choreography for their first dance. While this is a really fun idea, it will take more time and commitment to learn than you might be willing to devote.
For wedding dances, studios will help you learn the right dance for the song you have chosen. They will match the song to a dance for you, and guide you through dancing to your song.
According to Michael Hosale of Fred Astaire Dance Studios, the foxtrot and rumba are the most popular dances he teaches.
"The waltz is typically what people think of when they imagine a first dance at a wedding," Hosale says, "but the music that most couples choose has the beat for a foxtrot or rumba."
So when should you start preparing for the dance? Hosale recommends that couples who want to wow their reception with the first dance start working on it six months in advance. If you just want to look great and feel comfortable dancing in the spotlight, two to four months is plenty of time to practice.
Whatever you do, don't leave your dance preparations to the last minute!