Spring Shoes 2008
By Polly Bibb
Spring is the hottest time to showcase your cute toes in classy heels, flats and wedges. Here is a rundown of what the designers are bringing to the table:
Marc Jacobs
One of my absolute favorite designers has some sassy shoes out there. He has some nude colored heels. In addition he has pulled in some classic black and white pumps with a little twist. Adding to his shoe colour palette he brought in some yellow and burnt red. If that isn't enough for you, here is the big kicker… Marc has designed some spring boots that are sheer with black tips and heels accented with jewels! To view shoes by Marc Jacobs, visit www.MarcJacobs.com.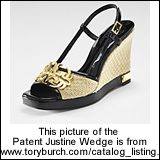 Tory Burch
Tory Burch is bringing the gold accents back to shoes like never before. Her shoes are classic and sophisticated for the stay at home mom, the single party gal and the country club grandmother. This spring she has navies, blacks, greens, some deep pinks, reds, golds, tans, even animal prints with her heels, flats, wedges and other chic styles! To view Tory Burch's collection, click here!
BCBG Maxazaria
BCBG Maxaria is running a spring footwear campaign called "Sole Searching— spring forward into earth tones." They have a huge variety of chunky high and low heels, skinny high heels, and cute flats. With earth tones as their main color wheel, you will find light tans, crèmes, some black, light golds and silvers. They have also added a sherbet and a yellow shoe to the mix as well. My favorite flat is a yellow leather flat with a cute gold buckle! To view BCBG Maxaria's designs, click here.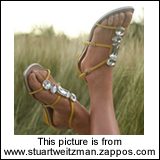 Stuart Weitzman
Stuart Weitzman has an endless selection of shoes for your toe's delight! This spring Stuart Weitzman features golds, animal prints in bronzes and crèmes in sophisticated skinny heels, light green footwear, bright pinks, red and pink combinations in a flirty heel, a cute floral flat, yellows with jewel accents, chic black heels and sexy silver heels, too. To view Stuart Weitzman's spring collection, click here!
Jessica Simpson
Jess's new spring shoes are all about the wedge and cork look. Her colors vary like the colors of the rainbow pulling in greens, blues, pinks, yellows, blacks, whites, oranges, reds and golds. For a fresh, fun spring look Jessica Simpson's shoes are the way to go! To view Jessica's new shoe selection, go to www.jessicasimpsononline.com/.
*The animal print shoe at the top of this story is from www.JessicaSimpsonOnline.com.