SPRING HILL GIRL'S WISH TO HAVE A COW TO COME TRUE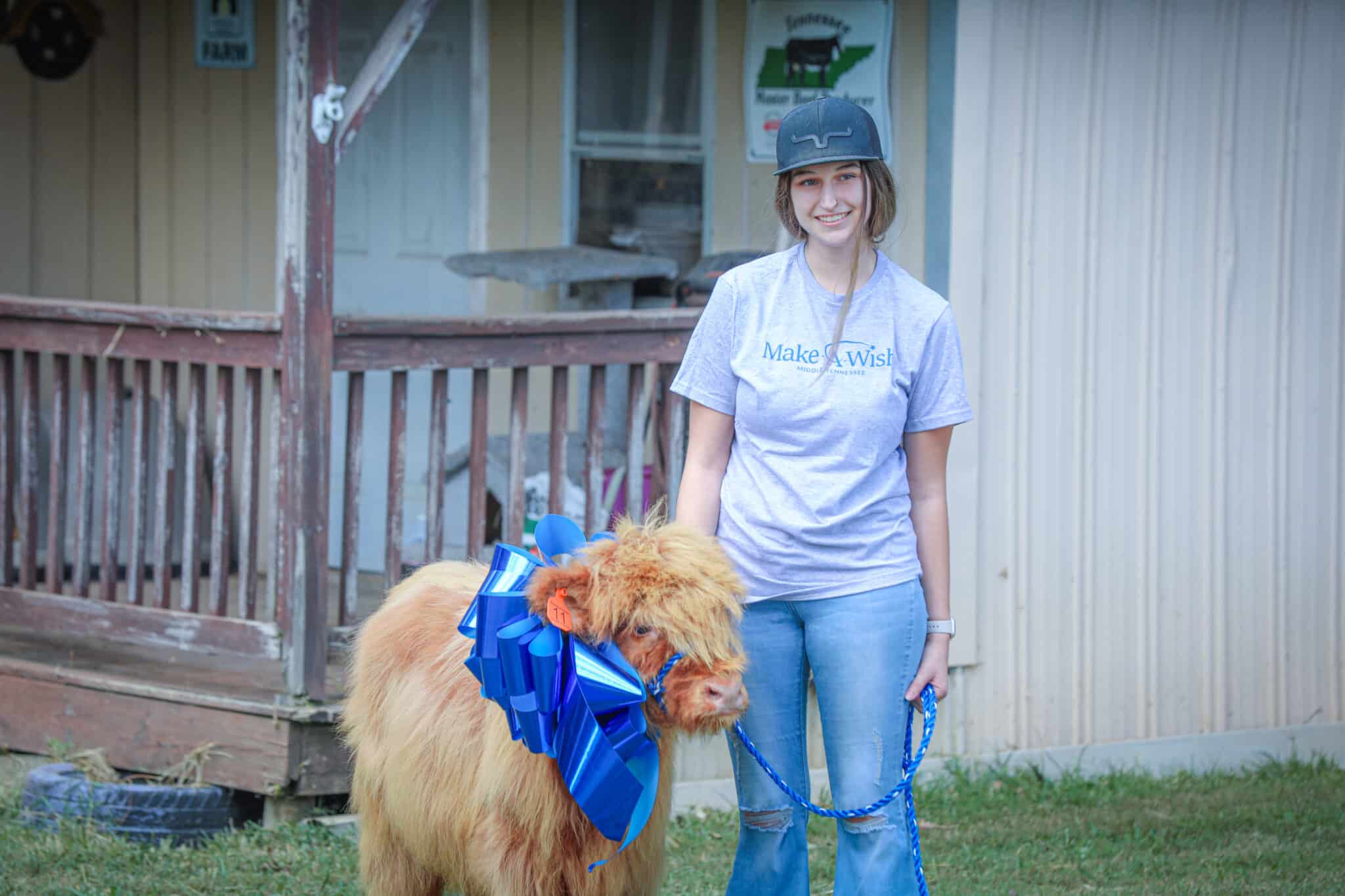 Make-A-Wish Middle Tennessee, Tractor Supply Foundation, and Wandering Rose Highland Cattle come together to give a 15-year-old girl cancer survivor a Scottish Highland Cow and More
SPRING HILL, Tenn. (Sept. 20, 2023) – 15-year-old Brylee's wish to have a Scottish Highland Cow was granted on Friday afternoon. Make-A-Wish Middle Tennessee, Tractor Supply Foundation, and Wandering Rose Highland Cattle came together to plan a surprise celebration where she would finally meet her new cow, Homer. Brylee came home from school to find her fluffy new pet, all the cow necessities, and her family and friends ready to celebrate her wish coming true.
Brylee is a 15-year-old girl who was diagnosed with cancer a week before her 15th birthday. When Brylee found out she qualified for a wish, she immediately knew she wanted a miniature Scottish Highland cow. Growing up with beef cattle on her family farm her whole life, Brylee has always loved and been comfortable around cows. She wanted a Highland cow that was not part of the family farm, but more of her own personal pet to raise and love.
When Make-A-Wish connected with Wandering Rose, they were more than happy to give one of their cows to Brylee for her wish. They have raised Homer since he was born in March to prepare him to go home to Brylee.
As a long-standing partner of Make-A-Wish, the Tractor Supply Foundation was eager to help grant Brylee's wish when they heard she was asking for a cow. They supplied her with all the cow necessities she could need, including brushes, feed and cowgirl boots. "As multi-generational farmers, Brylee and her family truly embody what it means to live Life Out Here," said Marti Skold-Jordan, Tractor Supply Foundation manager. "From her strength to her positive outlook, Brylee is an inspiration to all, and we are honored to be a part of her story." Brylee's wish will mark the 16th wish Tractor Supply has granted with Make-A-Wish.
Make-A-Wish Middle Tennessee President & CEO, Beth Torres, said, "We always love to see the creative things that wish kids ask for. A cow wish is a first for our chapter, and we are so excited to grant this special wish for Brylee! We are grateful for the support of partners like Tractor Supply and Wandering Rose who make wishes like this one possible."
Learn more and help grant wishes at wish.org/midtn.
# # #
About Make-A-Wish Middle Tennessee
Together with its community of support, Make-A-Wish Middle Tennessee creates life-changing wishes for children with critical illnesses. Make-A-Wish Middle Tennessee grants wishes in 38 counties and has granted over 2,000 wishes since its founding in 2000. Nationally, Make-A-Wish grants a wish every 34 minutes and has granted more than 330,000 wishes in the United States since its inception in 1980.  For more information about Make-A-Wish Middle Tennessee, visit wish.org/midtn.
About Tractor Supply Foundation
The Tractor Supply Company Foundation is committed to supporting vibrant rural communities for all by investing in the future of Life Out Here through today's youth and being a good neighbor in the communities Tractor Supply calls home. Founded in 2020, the Foundation's priority areas include supporting agriculture education initiatives through longstanding partnerships with FFA and 4-H, caring for pets and animals and preserving land for future generations. The Foundation expands upon the charitable work of Tractor Supply Company, supporting causes that are important to customers and Team Members. In 2022, the Company donated over $15 million through direct giving, sponsorships, fundraisers and more. To learn more about The Tractor Supply Company Foundation, visit Corporate.TractorSupply.com/Community.