Restaurants Serving Thanksgiving Meals in Franklin & Nashville, Tennessee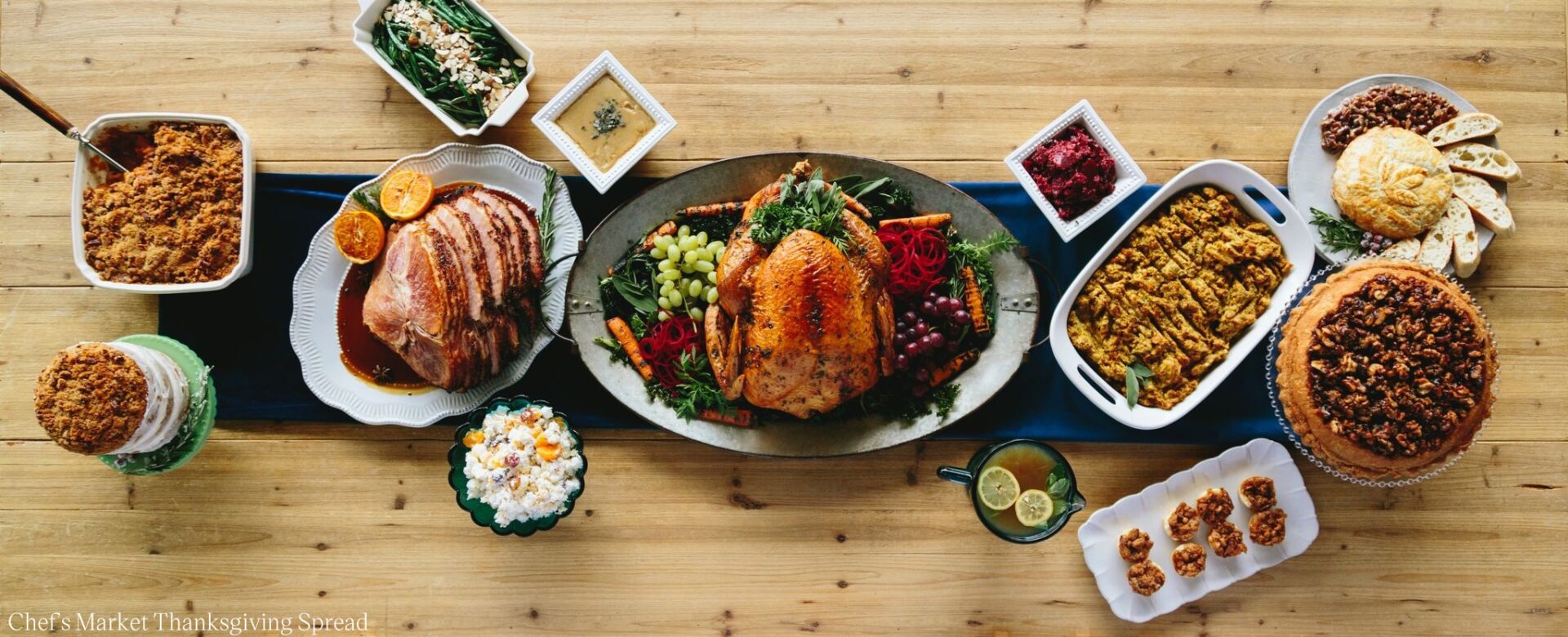 Chef's Market
Thanksgiving is almost here and these local restaurants in Franklin, Brentwood and Nashville, Tennessee want to make sure you and your loved ones have a stress-free holiday with delicious Thanksgiving meals. This holiday is for getting together with family and friends to celebrate all the love in your life, so let these kitchens do all the hard work and enjoy this season of giving with those you are most thankful for. Whether you are looking to dine-in or take out, keep reading to find where you can reserve a table or make an order for a fulfilling Thanksgiving meal! 
Learn about local dining experiences, entertainment, shopping, and more at FranklinIs.com.
Americana Taphouse in downtown Franklin offers traditional food with a robust selection of craft beer in a fun, relaxed, family environment that will appeal to any generation. They will be open and serving their regular menu on Thanksgiving from 3-9pm. With southern-inspired takes on traditional foods, 24 beers on tap, and daily performances, Americana Taphouse is a great place to spend the holiday with family and friends! 
Amerigo Italian Restaurant in Brentwood and Nashville will be closed on Thanksgiving, but you can place pickup orders for a holiday meal at home! Order from a full catering menu at Amerigo beginning Nov. 1, including holiday additions including lasagna and tiramisu by the pan. Purchase a whole tiramisu for $115 or $55 for the half order. Lasagna by the pan is $180 or $90 for the half order. Order by Nov. 20 at 5pm and pick up by Nov. 22 at 5pm. 
Barbara's Home Cookin will be offering a range of Thanksgiving meal options again this year! Orders feature a selection of meats like turkey, beef, ham, and chicken. There are also various sides to choose from, including cornbread dressing, green bean casserole, sweet potato casserole, mashed potatoes and gravy, mac and cheese, and creamed corn. Dessert options include a range of pies, cobblers, and cakes – make sure to order by Nov. 10th!
Bishop's Meat & Three in Franklin serves up plates with your choice of meats, veggies, and desserts! With options of dine-in, take-out, and catering, this straight-forward restaurant would be a great choice for your family's Thanksgiving meal! Bishop's focuses on community and high quality food, so consider enjoying Bishop's Meat & Three this holiday season!
While Buca di Beppo usually serves up classic Italian food, they will be offering traditional Thanksgiving menu items this season! With options of dine-in, to-go, and catering, this Franklin restaurant will be open and ready to serve you and your loved ones this Thanksgiving! Buca di Beppo's holiday menu will include roasted turkey breast, a wide range of side dishes, pumpkin pie, and more. 
Char in Nashville will be closed on Thanksgiving, but you are invited to place your holiday catering orders beginning Nov. 1 for family style sides to share and whole pecan pies. Sides are $20 and include chipotle smashed sweet potatoes, mac & cheese, green beans, garlic mashed potatoes and cornbread dressing that serves 4-6 people. Gumbo is $20 per quart and pies are $40 each. Order by Monday, Nov. 20 at 5pm and pick up by Wednesday, Nov. 22 at 5pm!
Carne Mare is an award-winning Italian Chophouse by Chef Andrew Carmellini that offers prime cuts of steaks, fine seafood, and Italian specialties. They will be open from 1-8pm on Thanksgiving, serving their regular menu. Reserve your spot soon for a Thanksgiving dinner the whole family will cherish.
From mouth-watering appetizers like Candied Bacon Wrapped Figs, to a dozen standout accompaniments such as Smoked Gouda Mac n' Cheese and Cornbread Dressing, Chef's Market is a one-stop shop for all your Thanksgiving feast needs. They also offer centerpiece-worthy dishes like Cajun Fried or Herb Crusted Turkeys and Maple Stone Ground Mustard Glazed Ham, as well as desserts such as Pumpkin Pie and White Chocolate Banana Pudding. Items are available a la carte or through one of their many curated packages. Items can be picked up hot and ready to serve or cold with heating instructions. 72 hours' notice is required and the pickup deadline is 6pm on Nov. 22. 
Daily Dish Events and Catering in Franklin wants to cook your Thanksgiving meal this holiday season! With options of turkey, ham, and tenderloin dinners with a wide variety of salads, vegetables, casseroles, and desserts, you and your family will be all set for a traditional Thanksgiving feast! The deadline to order is November 20th and the pick up date will be November 22nd. 
Located on the first floor of the historic L&C Tower in Nashville's downtown area, Deacon's New South is a modern culinary concept with a Southern slant. This restaurant offers an updated, creative take on the region's traditional cuisine and will be open on Thanksgiving from 2-8pm, serving their regular menu. 
Del Frisco's Grille is an upscale bar and grille in Brentwood, serving all-American cuisine. This Thanksgiving season, they will be offering your choice of a Thanksgiving Plate or a Prix Fixe Menu, along with a specialty Winter Warmer cocktail and a featured wine bottle. Their delicious Thanksgiving Plate includes Herb & Butter Roasted Turkey, Mashed Potatoes with Brown Gravy, Green Beans, Apple Sausage Stuffing, and Cranberry Sauce. The Prix Fixe Menu features everything on the Thanksgiving Plate, plus starter options of Butternut Squash Bisque or Caesar Salad and dessert options of Pumpkin Pie or Apple Berry Cobbler.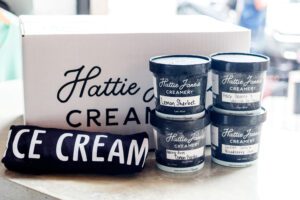 Get in the holiday spirit with festive scoops from Hattie Jane's Creamery. With seasonal flavors including Pumpkin Pie, Eggnog & Rum, Santa's Cookies and dairy-free Peppermint Cocoa, there's a flavor for everyone! Pick up pints for your Thanksgiving gathering at any of their scoop shops and now available at Turnip Truck. All locations will be closed Thanksgiving, excluding the Nashville location that is subject to Assembly Food Hall hours. 
On Thanksgiving, The Dutch in Nashville will be offering a standard, a la carte breakfast from 6:30-10:30am before their Chef's Harvest Table, available from 10:30am – 7pm. This traditional Thanksgiving buffet will cost $85 for adults and $35 for children 10 and under (excluding beverage, tax, and gratuity). Bottomless brunch cocktails (Mimosa, Bellini & Bloody Mary) are available at an additional cost. 
Miel is offering select dishes to pre-order and pick-up ahead of the holidays. Save time and stress by letting Miel in Nashville do the cooking for you! Their Thanksgiving offerings include soup, starters, side dishes, and more! Thanksgiving items must be ordered by Monday, Nov. 20 at noon and can be picked up from Tuesday, Nov. 21 at 6 p.m. until Wednesday, Nov. 22.  
For families looking to get out of the house this Thanksgiving and enjoy a luxurious atmosphere, Perry's Steakhouse is offering a two-course meal at $49/person from 11am- 9pm with reservations required. For those looking for a no-fuss, at-home alternative to cooking their feast this year, Perry's is offering a family-style, Smoked Turkey Breast Thanksgiving Meal for four at $149 with pre-orders beginning on October 25th and pickup available November 22nd and 23rd from 11am- close. 
Miss Daisy's Kitchen in Franklin will be offering classic Thanksgiving menu items in bulk! This local kitchen's holiday options include roasted turkey breast, cornbread dressing, cranberry sauce, a variety of pies, cakes, and casseroles, and so much more! If you are wanting to get your Thanksgiving meal to-go but still want the taste of a homemade meal, check out Miss Daisy's Kitchen! 
Puckett's in Nashville, Franklin, Murfreesboro, and Columbia will be open on Thanksgiving from 11am – 4pm, offering a family style meal with everything from southern starters to pies for dessert at $39.99 for adults, $19.99 for kids 7-12, and free for kids 6 and under! Holiday to-go orders include everything you need to have the perfect holiday meal, and their holiday catering packages offer your choice of seven different meat options, a variety of sides and homemade desserts. All you need to do is place your order and just pick it up, heat it up and enjoy! Orders will be accepted until 2pm on November 18 and pickup will be available on November 21st and 22nd from 9am- 7pm. 
The Puffy Muffin's holiday menu offers a wide variety of foods. From pastas and salads to casseroles and quiches, this restaurant offers unique Thanksgiving offerings. Special cookies, pies, cakes, and sweets will be offered as well. Specialty holiday drinks include hot chocolate, hot spiced tea, ginger tea, and the classic sweet tea. Place your order by Nov. 11 to reserve your Thanksgiving meal!
Scout's Pub is a modern pub concept with locations in Franklin and Nashville, offering a Southern bar with crave-worthy bites. They will be open on Thanksgiving from 3-9pm, serving their regular menu. If you and your family are in the mood for some traditional American food with a Southern twist, check out Scout's Pub!
With locations in Franklin and Belle Meade, Sperry's Restaurant provides you and your loved ones with an upscale Thanksgiving dining experience. With a business casual dress code and a traditional menu of Thanksgiving favorites, you can enjoy roasted turkey breast, cornbread dressing, cranberry sauce, sweet potatoes, green beans, and much more for just $38 – reserve your table now!
On Thanksgiving, Stompin' Grounds Restaurant in Nashville will be having their regular breakfast seating until 10:30am before serving a Thanksgiving Buffet from 11 a.m. – 5 p.m. for $85 per person (kids 12 & under are 1⁄2 price). This Thanksgiving buffet will feature Southern takes on traditional holiday appetizers, entrees, and desserts. Their "kids corner" will include kid-friendly fare like pepperoni and cheese pizza, creamy mac & cheese, chicken tenders and steamed broccoli. Stompin' Grounds is located on the lobby level of JW Marriott Nashville. The buffet cost includes up to four hours of valet parking. Reservations are encouraged.
With locations in Franklin and Nashville, and as little as 24-hour advance notice for catering orders, Waldo's is a great option for catering your Thanksgiving lunch, work event or Friendsgiving. Choose from chicken tenders, wings and quarters paired with scratch sides and biscuits, but don't forget classic banana pudding and gallons of tea, fruit tea and lemonade!
The Honey Baked Ham Company is a deli with locations in Franklin, Brentwood, and Nashville. This Thanksgiving season, they are offering holiday meals with options of bone-in hams, whole turkeys, and more! Pre-order the taste of their homemade meals now, whether you just want one selection of protein and a side or an entire feast! 
Cracker Barrel is serving delicious options for intimate dinners and larger gatherings! Their Heat n' Serve meals will be ready after a couple hours in your oven, while the Hot and Ready meals come ready to eat! The Heat n' Serve meals include oven-roasted turkey breast, cornbread dressing, gravy, cranberry relish, sweet potato casserole, and more! The Hot and Ready Family Dinner features turkey and dressing, cranberry relish, green beans, macaroni and cheese, sweet potato casserole, sweet yeast rolls, and pumpkin pie. Enjoy these holiday specials with pick-up, delivery, and dine-in options!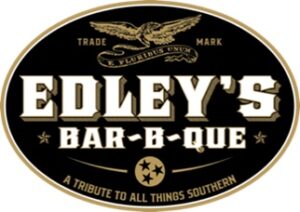 Edley's BBQ in Nashville invites you and your loved ones to enjoy their Thanksgiving Family Meals this season! They have small, medium, and large meal packages for families of all sizes. Menu items include turkey, ham, cornbread dressing, green beans, sweet potato casserole, pies, and so much more – pre-order by November 19th! 
The Loveless Cafe wants to cook for you this holiday season! Their Thanksgiving meal packs include everything you need for a traditional meal, with items including fresh-roasted carved turkey, homemade brown gravy, cornbread dressing, bourbon cranberry relish, their world-famous biscuits, preserves, and your choice of 3 homemade sides! There is a limited amount of these meal packages, so order soon!
Adele's in Nashville will be having a Thanksgiving Buffet on Thanksgiving Day from 12-8pm. This holiday offering will feature salads, snacks, and desserts, as well as the traditional menu items. These items include roasted turkey breast, local honey ham, southern stuffing, green bean casserole, baked mac and cheese, and much more. Reserve a table now!
Looking for something fun to do this weekend? Shopping for antiques or curious about a restaurant? Wanting to volunteer your time with a non-profit, or just stopping by downtown Franklin, TN for the day? Access it all on FranklinIs.com. We encourage you to browse through the Living, News, Entertainment, Family & Kids, Real Estate, Visit, Resources and Events Calendar sections. There is something for everyone! 
FranklinIs a website dedicated to all things Franklin, TN and Williamson County! Supporting local non-profits, businesses, residents and visitors, FranklinIs the go-to place for all your Franklin and Williamson County needs.