Puckett's: Leukemia & Lymphoma Society's Benefit Show
We are donating cover charge of $20 plus 20 percent of the food sales for this special evening. The show will begin at 8:30, with off the menu dinner served from 5 til 9 p.m., reservations welcomed 615.794.5527.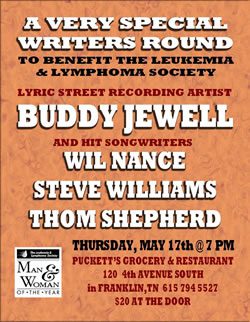 Thom Sheppard is one of Nashville's most talented writers, and one our favorites of Puckett's. Thom's talent with songs like "Red Neck Yacht Club," "Riding With Private Malone," and more! He's performed with Keith Urban, Pam Tillis, John Michael Montgomery, and more. After going through his own bout with cancer, Thom has been nominated as the Leukemia & Lymphoma Society's Man of the Year Award.
When Thom and Steve Williams hooked up for the first time for a co-writing session, they wrote a song called "Life Ain't Fair," which was cut by Warner Brothers Nashville recording artist Blake Shelton. Steve has also had songs recorded by Nashville-based major label recording artists Buddy Jewell, Trick Pony, Steve Holy, Cowboy Crush, and others…
Wil Nance wrote Brad Paisley smash "She's Everything," which stayed at #1 for three weeks. He also wrote "Hard To Say Hello," for Paisley. He received a BMI Award for "Round About Way," by George Strait, and a BMI Award for "Cool To Be A Fool." He also wrote: "You Are" by John Michael Montgomery; "Everything's a Thing" by Joe Nichols and many more…
Buddy Jewell, known as the winner of the first Nashville Star has hit the scene with his nearly platinum-selling debut CD and hits like "Help Pour Out the Rain" and "Sweet Southern Comfort," but what you may not know is Buddy is also a fantastic songwriter with cuts recorded by Kenny Chesney, Rascal Flatts, Brooks and Dunn, Alabama, Aaron Tippen, Hootie and the Blowfish just to name a few!
Puckett's is honored to present this special show for the public!