Pre-Jazz Blast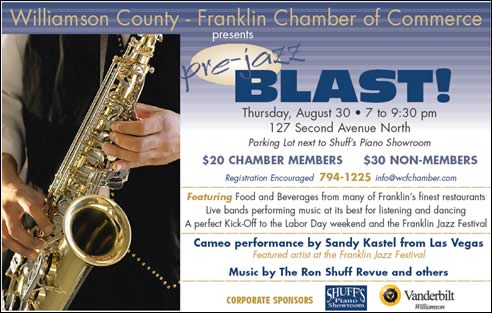 On Thursday, August 30, the Pre-Jazz Blast, a perfect kick-off to the Franklin Jazz Festival, will be held from 7-9:30 p.m. at 127 Second Avenue North, Franklin, next door to Shuff's Piano Showroom. The entertaining outdoor event is for Chamber members and non-members alike and will feature live music at its best for listening and dancing.
• The evening begins with the Jim Hayden Duo, presenting a variety of
pop and jazz.
• There will be a cameo performance by singer Sandy Kastel, direct from
Las Vegas and a featured artist at the Franklin Jazz Festival.
• The Ron Shuff Revue will play for dancing.
In addition to the variety of musical entertainment you will enjoy food and beverages from many of Franklin's finest restaurants: Ben & Jerry's, The Cocoa Tree, Dotson's, H.R.H. Dumplin's, Lillie Belle's of Franklin, Mellow Mushroom, Merridee's Breadbasket, Puckett's Grocery & Restaurant, and US Foodservice.
The admission price of $20 for Chamber members, $30 for non-members, is the best bargain of the year and we encourage you to invite all of your employees and friends.
Music, food and getting together under the stars in historic downtown Franklin is as good as it gets, and you don't want to miss this occasion for listening, dancing, mingling, and enjoying the best in food and beverages.
Corporate Sponsors for the Pre-Jazz Blast
Harpeth TrueValue Home Center
Shuff's Piano Showroom
The Tennessean
Vanderbilt Williamson
For reservations, which are encouraged, you may call 794-1225 or e-mail to info@wcfchamber.com.