Police Appreciation Week
Here comes Franklin's LARGEST and (longest) Block Party, April 30-May 4, to celebrate Police Appreciation Week, sponsored by the Franklin Citizens Police Academy Alumni and your local merchants. Franklin celebrates its fourth year to "publicly honor those who serve us" in a new block party format. Melissa Farrar, Chairman of this year's Police Appreciation Week, is excited about this new design because it allows the community to interact with the officers in a fun, informative way.
Five block parties will take place April 30-May 4, from 4-7 p.m. at different locations: Royal Oaks- April 30, Downtown- May 1, Columbia Avenue- May 2, Cool Springs- May 3, and Fieldstone Farms- May 4.
Each party offers the opportunity to meet and mingle with local officers, learn about some of the special units through displays including the K-9 Unit, Crime Scene Unit and Dive Team, and enjoy local school entertainment and great snacks. Guests may want to attend more than one block party because each offers unique entertainment and exhibitions. For a complete schedule of each block parties' program visit http://www.franklin-cpa.com.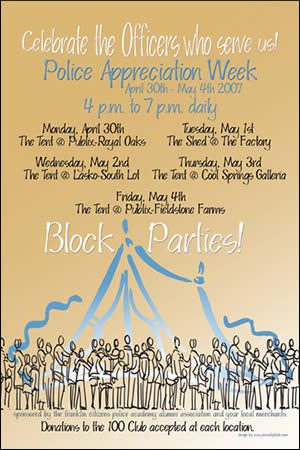 Another opportunity to get involved is to become a sponsor of an officer. Farrar explains they are "reigniting the trading card program" and will have over 120 officers with trading cards. Everyone is encouraged to ask an officer for his or her card and to try and collect them all. Businesses, families or individuals can sponsor officers for $200-$300, depending on rank, and will be invited to a special trading card sponsor party at the end of June. Even the two dogs from the K-9 unit, Titan and Sting, have cards!
All proceeds from both events will go toward The Hundred Club of Franklin, Inc. which helps families of fallen officers. To pre-sponsor your favorite officer, or for more information about the events, contact Melissa Farrar at 615.300.5766. Come show your support and enjoy your neighborhood block party!