OZ Arts hosts a free community performance to welcome Little Amal, a massive 12-foot puppet of a young Syrian refugee, as she visits Nashville on her journey across the nation to spread her story of hope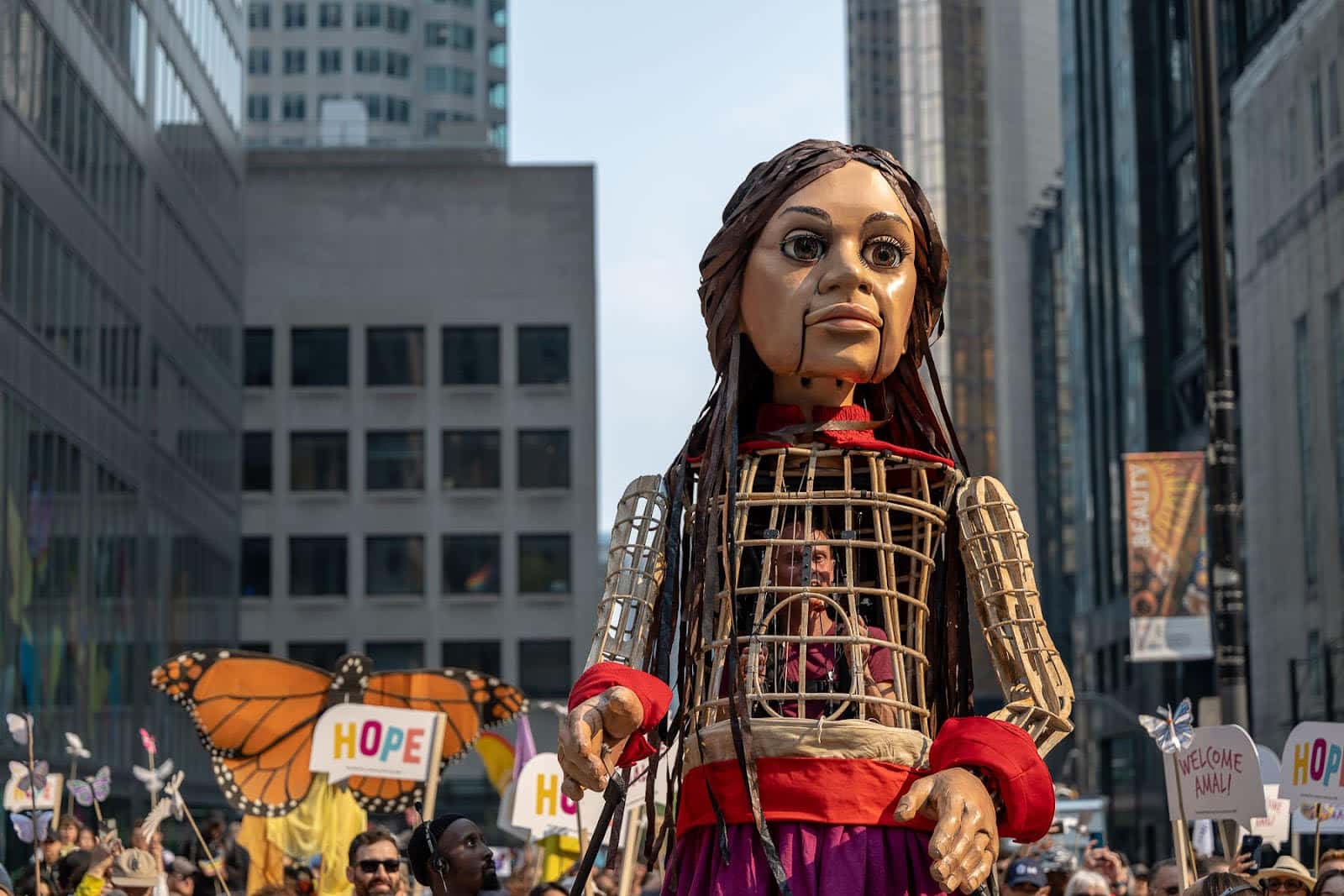 The free event in Centennial Park October 5th at 5PM involves more than a dozen Nashville organizations, including Centennial Park Conservancy, Conexión Américas, Shackled Feet Dance, Global Education Center, Celebrate Nashville, and others
Nashville, Tenn. – September 19, 2023 – Contemporary arts center OZ Arts Nashville today announced the community performance and gathering around the arrival of Little Amal, a captivating 12-foot-tall puppet representing a refugee child from Syria, in Centennial Park on October 5 at 5 p.m.
As part of an epic 6,000-mile trek across the United States from Boston to San Diego, Little Amal will visit Nashville to spread her message of hope for displaced people everywhere, especially children who have been separated from their families. Amal, whose name means "hope" in Arabic, began The Walk at the Syrian border and has visited 13 countries searching for home. Little Amal was first imagined by Palestinian artistic director Amir Nizar Zuabi and created by Handspring Puppet Company to represent the impact of the Syrian civil war. However, since her journey began, she has come to embody the millions of children who have been displaced due to conflicts worldwide. The captivating, larger-than-life puppet is operated by three to four puppeteers at a time, creating a dazzling and unforgettable public spectacle.
Throughout her two-month trek, which will span more than 35 U.S. cities and towns for 100+ events, she will spread her simple, urgent message: "don't forget us." In Nashville, attendees can greet the international symbol of human rights on Centennial Park's Great Lawn during the October 5th event. Local choreographer Shabaz Ujima and frequent collaborator Thea Jones, who together are the creative vision behind Shackled Feet Dance, have created an intergenerational community celebration that shows Little Amal's journey of weathering a storm as she tries to find home. The inspiring performance will include students from Rejoice School of Ballet, drummers from Global Education Center, elders from local immigrant communities, and a host of other musicians and performers from throughout the city. The processional performance will begin on the west side of the Great Lawn and proceed southward, culminating in a gathering at Musicians Corner.
"We are more thrilled to welcome Little Amal to Music City as part of her timely and important journey across the nation," said Mark Murphy, OZ Arts Executive and Artistic Director. "By bringing artists and the community together to greet her, we hope to encourage important conversations about the role of refugees and displaced people in our country and the hope we can help bring to their lives."
This unforgettable, free event will be presented in partnership with the Centennial Park Conservancy, Shackled Feet Dance, Metro Parks Dance Division, and Celebrate Nashville. A full list of partner organizations and featured performers includes: Global Education Center, Rejoice School of Ballet, Friends Life Community, Conexión Américas, Tennessee Immigrant & Refugee Rights Coalition, MTSU Band of Blue Color Guard, Nashville School of the Arts, IT Creswell Middle School, Warner Elementary, Turnip Green Creative Reuse, Blue Moves Modern Dance, and Rod McGaha.
OZ Arts will host Little Amal at Centennial Park on Thursday, October 5 at 5 p.m. Tickets are free and attendees can RSVP now at www.ozartsnashville.org/little-amal.
This performance is made possible with generous support from donors and grants. To learn more about upcoming performances, please visit www.ozartsnashville.org.
TICKETS & MORE INFORMATION
Community event:
Thursday, October 5 at 5 p.m.
Tickets: FREE
This event is general admission, and attendees can RSVP at ozartsnashville.org.
About OZ Arts Nashville
Founded in 2013 by the Ozgener family, OZ Arts Nashville has quickly established itself as one of the Southeast's most influential and respected producers and presenters focused on the creation and presentation of significant performing and visual artworks by diverse cultural visionaries who are making vital contributions to the evolution of contemporary culture. Through performances, exhibitions, and community events, OZ Arts focuses on producing and presenting the work of local and visiting artists who reflect our diverse society, utilize new artistic forms and technology in creative ways, and provide opportunities for meaningful engagement with audiences, students and cultural and civic leaders. OZ Arts' unique creative warehouse has developed a reputation as a major national and regional laboratory for experimentation and a home for contemporary dance and performance. More than 50,000 audience members have been introduced to adventurous artists from around the world since the organization opened, and hundreds of local and regional artists have used OZ's 10,000 square-foot warehouse theater to develop new works. For more information, please visit ozartsnashville.org.
About Little Amal
Little Amal is a 12-foot puppet of a 10-year-old Syrian refugee girl who has traveled across 13 countries meeting more than a million people and watched by tens of millions more online. Little Amal will journey 6,000 miles across the United States in one of the largest free public festivals ever created. More than 300 artists, museums, local community organizations and cultural institutions are hosting welcome events in the 35+ towns and cities that Little Amal will visit from September 7 through November 5.
Little Amal has traveled through cities, towns and villages across Turkey, Greece, Italy, France, Switzerland, Germany, Belgium and the UK in 2021, and Ukraine, Poland and the Netherlands in 2022. Most recently, in the fall of 2022 she completed a journey through the five boroughs of New York City. In New York, she participated in more than 50 events with cultural, political, spiritual, and other leaders, as well as artists and immigrant groups, among others. The walk is a celebration of art, hope and shared humanity that aims to unite communities and refocus attention on the urgent needs of refugees, immigrants and asylum seekers, and to highlight the rich cultures and contributions immigrants bring with them. Amal walks for the hundreds of thousands of refugees and displaced people of all ages roaming the world in search of safety, half of whom are children. When she walks, Amal brings people together. She gives voice to marginalized people (although she does not speak), and she is welcomed by ordinary people and people of power.