Outside the WC
By: Candace Hutchins
Until last weekend, I had not left Williamson County or the greater Nashville area since I moved to Nashville on May 25th. The weeks working for FranklinIs.com have flown by, as I learn countless things at work everyday and have the opportunity to explore Tennessee on the weekends.
I am fortunate enough to have the opportunity to take in the culture of Franklin and Williamson County as well as discover Nashville. There are still so many things I want to see and do, and therefore I was hesitant to leave for the holiday weekend.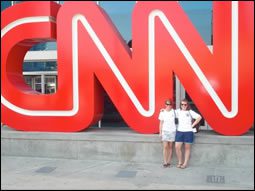 I finally ventured out of Tennessee last weekend and decided to see what Atlanta, Georgia had to offer. My reason for the trip was to celebrate the 4th of July weekend with some of my good friends. As expected, I had a blast catching up with my friends but I also got to see some really interesting parts of Atlanta.
Wandering around Centennial Park in Atlanta on a humid, crowded afternoon, my friend and I happened upon gigantic "CNN" letters. We quickly figured out that the world headquarters of Cable News Network (CNN) is in Atlanta and they offer "Behind the Scenes" studio tours.
After purchasing our tickets for the tour, we rode up the world's largest free-standing escalator and took an informative hour-long tour around CNN's world headquarters. We not only learned about the process of producing news but were also able to peer inside the newsrooms for CNN's World Headquarters, Headline News, and CNN En Espanola. Throughout the tour, infamous images from CNN's broadcasts were on display from 1980 to the present. Overall, we had a lot of fun learning about news production and seeing it in action.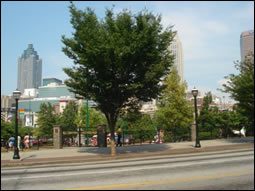 In addition to unexpectedly touring CNN, I had a chance to dine at several local Atlanta restaurants, explore unique shops, and ride around looking at beautiful old houses and parks.
We watched the Atlanta Braves get beat by the Houston Astros on Saturday night, but enjoyed walking around the stadium and seeing all the amenities at Turner Field. Our section in the upper deck made us a little wary of heights but we quickly forgot about it once our section started singing ballgame songs and attempted to start "the wave" around the stadium. Despite the loss we had a great time.
I ended up having an awesome weekend in Atlanta full of good memories. I am happy however, to be back in Williamson County and to be working on FranklinIs.com.