Outdoor Weddings 101
By Christine Boulton, owner, www.thinklikeabride.com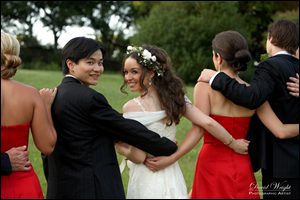 What could be more beautiful than walking down a petal-filled path in a summer garden bursting with sweetly scented blossoms, followed by a evening of dancing the night away under a star filled sky?
If that sounds like the perfect wedding (the one you have imagined since childhood), then you have come to the right place. I've got all the 411 on planning your outdoor celebration.

Places to hold the ceremony
Outdoor weddings have been popular in Nashville forever. The good thing about it is that everything you need to pull one off is already in place. From locations to tents to caterers who can handle the toughest obstacles, Nashville has perfected the framework for your al fresco soiree.
Our local offerings range from rustic and unconventional to luxury venues designed with weddings in mind. The king of the hill in Nashville is Cheekwood. Nestled in the hills of BelleMeade, Cheekwood offers five different gardens that are regularly used for ceremonies and even more locations for your reception. The immaculately tended gardens are a perfect backdrop in almost any season. The facility boasts on-site catering managed by one of this city's most well-known caterers, Ann Clayton. Ann and her staff manage so many weddings at Cheekwood that there is nothing they have not seen or done.
But Cheekwood is only the tip of the iceberg, so to speak. Most any mansion that has been restored will host your wedding. Riverwood Mansion in Ingelwood is another that has specialized in events and weddings. Each year their gardens get more spectacular. Jackie Glynn has worked with her favorite photographers to create the perfect backdrops for your wedding pictures. Check out your favorite mansion for an idea of what they have to offer.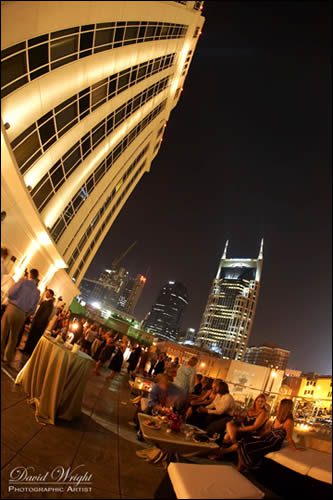 Not to be left out, the golf clubs and hotels have set aside space for outdoor events. Most notably the Maxwell House Hotel with its recently completed outdoor pavilion and of course Opryland Hotel. I recently spoke to Patti Corn, catering sales manager at the Hilton Nashville Downtown, and discovered that the park between the hotel and the Country Music Hall of Fame can be rented for events. This type of option will have everything you need from chairs to linen to dance floors – all to complete your event. Nashville has a buffet of full-service outdoor sites to choose from.
Other available options include one of many of the city's wonderful public spaces. Legislative Plaza, the Shelby Street Bridge and Bicentennial Mall are all available for events – they just come with a bit more red tape. A little easier to come by are some of the beautiful parks in town. For a small fee, you can be married in Centennial Park, Percy Warner Park or the Iris Garden at Ellington Agricultural Center. If wine country is your thing and you don't mind the drive, Beachhaven Vineyards in Clarksville will host your reception on the lawn. And don't forget your own backyard!
Things to remember…
When selecting your spot, visit the site at the same time of day as your event and take a good look and listen. Notice any details such as crowds, traffic, noise and available amenities. Evaluate whether something is simply a quirk that you can live with or a deal breaker.
As you check out the amenities, remember you will need electricity and bathroom facilities. If they don't exist, they will have to be brought to the site. You also need somewhere for your guests to park. If there is no parking or it is a real hike, hire a shuttle service.
The number one rule of outdoor weddings is to have an alternate plan. Mother Nature is a fickle hostess. If the site you have chosen can also provide indoor facilities, you are in luck. Otherwise either rent or reserve a tent for your event. Some rental companies will now let you reserve a tent and accessories for your date. Along with the tent you will want to consider whether you will need sidewalls, fans, air-conditioners or heaters. You may also want a sub floor or a dance floor. Even if rain is not in your forecast, a tent can provide a welcome relief from the sun for your guests.
While you are at the rental company, check on tables, chairs and linens, since you might also have to rent these. Most often, your caterer can handle them for you. Make sure that your caterer is experienced in doing outdoor events and familiar with your location. Let a caterer suggest some menu options based on the season, the location and it facilities.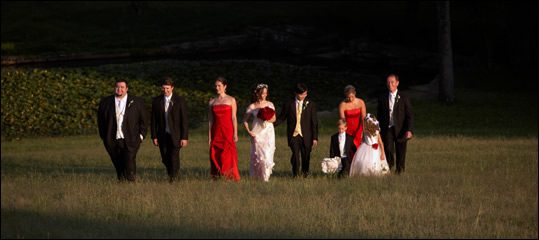 Comfort is KEY!
Now that you have all the details covered, think about comfort. Keep your location and the season in mind when you chose your gown. The more layers your skirt has, the hotter it will be. It can also make a great haven for any bug that wants to hitch a ride. So think light and airy.
And leave the stilettos for the honeymoon. You don't want to sink in the grass. Be sure to think about the men in your wedding party – a formal tuxedo can get beastly hot in an air-conditioned church. Just imagine wearing one in the sun on a hot summer day. Choose something a little cooler. And if you need it, don't skimp on the sunscreen.
Your guest's comfort is important too. Let them know that your event is outdoors so they can dress appropriately. If it is a hot afternoon, offer an iced beverage before the ceremony. Have your programs printed on paper fans and have pretty paper parasols for the ladies.
Try to orient the ceremony so that the sun isn't shining directly into your guests' eyes, or for a touch of whimsy, pass out cheap sunglasses. Check with your venue to see if someone can spray the grounds for pesky insects. Provide bug spray and sunscreen in the restrooms for any guest who forgot. And speaking of restroom, if you have to rent them, don't get that nasty construction site kind. You can now rent beautifully equipped trailers with sinks and mirrors.
Making that dream a reality
As you go forward in your planning, remember to tell all of your vendors that the event is outdoors. Your hairdresser can make sure that a sudden gust of wind won't destroy your 'do. The musicians may request a shady spot for the sake of their instruments. The florist will want to protect your flowers from wilting quickly and may suggest some alternate choices. The baker will definitely need to know so that he/she can make certain that the cake can withstand the temperature. Your videographer may need to use extra microphones, etc.. Even if you think it won't matter, tell everyone.
Whether you envision a formal English garden party, a hot city night or a pastoral field, there is a place to fit your outdoor wedding fantasy. The site you chose will lead you to all the other choices you will have to make. Whether it is food or floral or fashion, make it in harmony with your beautiful outdoor location.
Photographs by David Wright Photography