Newest Trends for Bridemaids, Moms, and Flower Girls
By Christine Boulton, owner, www.thinklikeabride.com

Thankfully, when it comes to bridal attire for bridesmaids, moms and flower girls, times they are a changin'.

Bridesmaids gowns were suitable only for the back of a closet after the big day; mom was forced to choose between a dress much too young for her or the dreaded beaded bathrobe look; and flower girls were made to look like mini brides.
Not anymore. New trends are out for these unforgotten players, and the styles are better than ever!
BRIDESMAIDS
How many women have cringed at the thought of one more hideous bridesmaid's dress they would spend a small fortune on, never to wear again?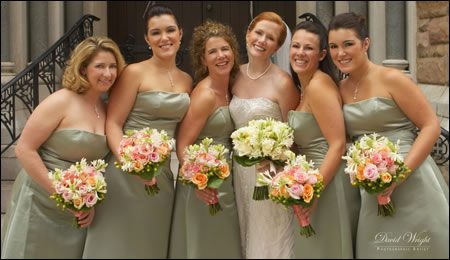 Pity the poor bride that had to pick one that would not make her five closest friends hate her! Things are finally changing, and this is a trend that savvy brides, themselves, started simply by walking right past the "bridesmaid department" and heading straight to the cocktail dresses.
Now the designers have caught on and are making bridesmaids dresses that have a new level of sophistication and really can be worn again. Caroline Hamburg of Bella Bridesmaid told me: "We are seeing a lot of modern and chic styles … Today's dresses are made with more flirty and fine fabrics, like Silk Shantung, Silk Chiffon and Charmeuse."
A few of their designers offer large varieties of style options so a bride can have each bridesmaid in a unique look but maintain continuity of color and length. The clear trend here is choosing dresses that actually can be worn again.
Speaking of length, dresses in cocktail length are all the rage; these are either cut to the knee or tea length. According to Bonnie Boone of Arzelle's Brides and Formal, interesting hems are in – from bubble hems to handkerchief style to flirty layers peeking out. Stunning shoes finish the look. Out are dyed-to-match and clear shoes, in are bejeweled sandals. The growing trend toward Black Tie weddings, however, will bring these hemlines back to the floor in the coming seasons.
Colors for spring are what you would expect: an entire bouquet of posy pastels with all shades of purple and lavender leading the pack. Still big for more formal evening weddings are black, chocolate and mahogany. Another color trend is a monochromatic pallet where the bride is in champagne or ivory and the maids are in a deeper shade like taupe or mocha. Here you will see the pop of color brought in with the bouquets.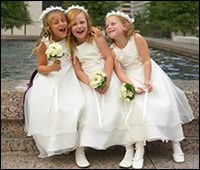 THE LITTLEST ANGELS
Gone are the "mini brides." Thank you!
For 2007, the flower girls will still match the bride in color but in a softer style, one more befitting their age. Layers of chiffon accented with flower petals or pretty ribbons in the color of the bridesmaids' gowns are the looks for today.

WHAT'S MOM GOING TO WEAR?
The hardest people to dress for a wedding in the last five years have been the moms. Today's moms feel, dress and act younger than the moms of a generation ago. They are hip and trendy and spend as much time at the gym as their daughters. Finding a gown to reflect this new outlook has been nearly impossible.
They were forced to choose between clothes clearly too young for them or something that their mom should be wearing. Here again, they have been heading to the cocktail dress department. In 2007, moms will be seeing this purchase as "investment dressing;" they are willing to spend a little more to buy something that they will be able to wear to other social occasions or on their next cruise. They are choosing sleek gowns to show off their figure and finding wonderful one-of-a-kind jackets, shrugs and shawls to cover their flaws. No more beaded bathrobes for this crowd, they know how to dress and are willing to spend to do it. They are picking colors that flatter their skin tone rather than trying to match the wedding party. Jewel tones are hot.
Also gaining in popularity are ensembles, which can be ordered, in different sizes for top and bottom. A range of beautiful fabrics is beginning to show up in the better collections. Overall the new styles for mom are fun, flirty and less structured. You go, Mom!
Christine Boulton has been a professional in the wedding industry for more than 20 years. She is the owner of www.thinklikeabride.com and currently serves as a marketing consultant to some of the industry's largest vendors. Christine, who is known for her never-ending stream of research and always knowing and understanding what brides want, is published regularly in this and various other magazines and blogs.

Photographs by David Wright Photography