Luke Benward
LUKE BENWARD IS LIKE ANY OTHER WILLIAMSON COUNTY KID.
He goes to school, plays football, basketball and video games and hangs out with friends.
For the most part, Luke has a very ordinary life, well, besides the fact that he has the leading role in New Line Cinema's "How to Eat Fried Worms."
Luke is an 11-year-old sixth grader at a Williamson County school and recently has been given the nickname, "Worm Boy," though it doesn't seem to bother him much.
"I don't really care," he says with an air of confidence as he relaxes in an oversized, comfortable
chair at his home. "I've been called worse, and at least they've seen the movie."
As he talks, he stretches his legs out, smiles a lot and doesn't seem to project the insecure nervousness that most kids his age typically deal with. He has a lot of friends from the neighborhood and school and says most of them attended the opening of "How to Eat Fried Worms."
"It was so cool," he says with the smile that got him the part in the movie. "They loved it and said I did a great job."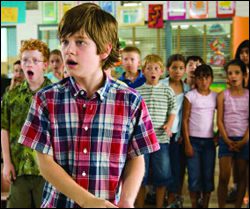 Despite all the craziness that tends to come with a starring lead role in a major children's movie – the auditions, filming, acting and now premiering and showing – Luke says the experience is "average for me."
"Life doesn't really revolve around acting for me," he says, this time a little more serious than before. "It's just another thing that I do, like school, football, dance and playing video games."
He admits, however, that the job does have its perks.
"I got to meet Daryl and Alexis from "Spy Kids" and also Dakota Fanning once," he explains. "I hosted an award show with her. Dad, was that the Oscars?"
His dad, Aaron Benward, chuckles from the front room, "No that wasn't the Oscars. It was The Movie Guide Awards in Hollywood honoring family entertainment."
The fact that Luke relies on his father to clarify the Oscars seems refreshing for a child celebrity. Luke, at least for the time being, is far from becoming and out-of-touch kid and seems to be completely enjoying just being young.
"I could never imagine living in Los Angeles," he says. "I like this house here. There are too many memories to move out. It'd be awful dealing with traffic every day and all of those people."
His parents are also around to protect their child from those kinds of dangers.
"Kenda [Luke's mom] and I try really hard to be wise about the doors we want Luke to go through," Aaron says. "We're always looking down the line to safeguard against them. You look at the horror stories of parents living their dreams through their children.
The children end up parenting them. That is not what we want. We try to teach humility and serventhood in whatever environment he's in."
Aaron adds that "every penny Luke makes goes to him," and is being set aside in a trust fund account until turns 18. But the more popular Luke becomes, the more he must adapt.
Since "How to Eat Fried Worms," Luke says he's been busy and is currently auditioning for other film projects as well as a new commercial for Nestle.
"I'm getting a lot more auditions these days," he says.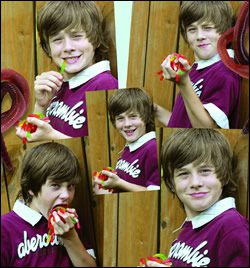 Though he is young, Luke has already built an impressive acting resume including a co-starring role in "We Were Soldiers" along side of Mel Gibson and Madeleine Stowe; a starring role in "Because of Winn Dixie" with AnnaSophia Robb, Jeff Daniels, Eva Marie Saint and Dave Matthews; and now the lead role as Billy Forrester in "How to Eat Fried Worms," based on the bestselling children's book of the same name.
"How to Eat Fried Worms" tells the story of Billy, an 11-yearold who arrives at a new school and quickly becomes the target of teasing from his peers. In return, he inadvertently challenges the town bully to a bet that will determine his fate. To earn the respect of his new classmates, Billy agrees to the bet – to beat out the bully and eat ten worms in one day. But Luke says this film is about more than the worms.
"This movie is about a boy who overcomes fear and finds courage," he says. "It's about friendships and a boy who has no friends is able to win them over."
Luke admits he's never really had to deal with a "real-life" bully.
"I've never been bullied or bullied anyone, but in the third grade I did get into a fight with another boy during a football game on the recess field," he says with a wry smile. "He got mad at me, so I told him to stick his head in the freezer because he looked hot. He pushed me so I pushed him back and got suspended."
When asked if he learned a lesson from that experience Luke rolls his eyes and smiles.
"Not really," he says.
Luke did eat a real worm at the premiere.
"It was disgusting," he groans and his face contorts to the memory. "I've also eaten a Rolly Polly bug and grass and twigs on dares."
"I also ate a rolly-polly and some grass on a dare," his 9-yearold sister Gracie adds as she walks into the room. "I guess it runs in the family," says their father, with a laugh.
Gracie says she's seen "How to Eat Fried Worms" five times.
"I think it's funny, and it even made me jump in one part," she says, giggling. "It's neat. It's not weird having a brother who has been in a movie. It's fun, and I've met so many people."
Born into an entertainment family, Luke got his acting start by tagging along to auditions with his mom, Kenda, who is an actress and theatrical coach. Luke also enjoys singing and appears to be following in the footsteps of his father, Aaron, who is one half of the country duo Blue County.
His sisters Ella (5) and Gracie are also trying out the acting world.
"They don't do as much as me," Luke says in typical big brotherstyle. "I pursue it. They haven't had as much experience with auditions and acting."
Despite the fact that all members of the Benward family are in the business, Luke says they don't discuss Hollywood at the dinner table.
"We just keep it normal and talk about our days," Luke says.
But Luke's days may be changing faster than he expects. In addition to starring in films, he has starred in several national commercial and print ads for McDonald's, Nintendo, American Express, K-Mart and Flintstone vitamins. Whether he decides to continue to pursue those opportunities or to follow another path, Luke has his family behind him.
"Luke has become an incredible young man.," his father says. "He has wonderful talents and gifts, but what's most important is that he is a great guy. It doesn't matter what he does with all of this that he's accomplished. This is either the beginning of a wonderful career for Luke or the making of an incredible
memory."