Josh Turner
By Brandy Blanton and J.L. Bibb
No doubt you've heard his signature baritone voice crooning over the radio. For those living under a rock, newcomer-turned proven artist Josh Turner has risen to the top of contemporary country music with a soulful voice and sincere approach to song making.
Over the last few years, Turner has climbed to the top of the charts and established himself as one of the top-selling, top-performing and top-notch soloists in recent history. Consider, in 2006 Turner outsold Kenny Chesney, Toby Keith, Keith Urban, Faith Hill, Alan Jackson, Martina McBride, and was just behind Tim McGraw as the top-selling country male artist of the year. His first album, Long Black Train, was released in 2003 and went Platinum. His second album, Your Man, has reached Double Platinum status. Turner received two Grammy nominations this year (for Best Country Album and Best Male Country Vocal Performance), as well as three Academy of Country Music (ACM) nominations (Single of the Year, Song of the Year and Vocal Event of the Year).
HIS FIRST SHOT…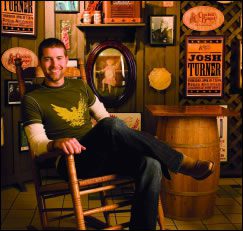 On Dec. 21, 2001, Turner found himself in the moment of a lifetime. He had been invited to come to the Grand Ole Opry and perform a song he had recently written. It would prove to be a pivotal performance in his career.
"Looking back on it, I can see that Pete Fisher (Opry vice president and general manager) was really taking a risk," Turner says. "I had never cut a record, and it was very gracious of him to let me get up there and sing, especially a song that I had written. It was so amazing to get a response that I never would have expected. After the show, Pete came up to me and said, 'You come back anytime.'"
A record deal with MCA Nashville soon followed. Turner's "Long Black Train" would
become the signature hit from his first record, earning Turner a 2004 CMA Award for Song of the Year and reaching Gold status in RIAA certification.
"This November will be six years that I've been signed to a major label,"Turner says. "I've done a lot and learned a lot in those six years, even though it may not sound like a long time. I am very focused, and I know my purpose. I know my fans, what they want to hear, and I know how to conduct my own business. It's a learning process, and it's always changing. That keeps things interesting and fresh."
Turner says he loves everything about his craft, from the songwriting to the performing to the business side of things. But mostly, he explains, he enjoys getting to do this job.
"Even if the music I make wasn't successful or didn't appeal to a broad audience, I'd still be doing that same kind of music because it means something to me," Turner says. "I just feel blessed to have had such good teachers like Don Williams, Randy Travis and Johnny Cash, people like that. They have taught me how to choose good songs and how to write good songs. I think all the time about how these songs will relate to people, my record label, the radio stations and my band. But the bottom line is, I ask, 'Does this mean something to me, am I convicted about it?' If I am convicted about it, I can go out and sell it."
GROWING UP AND GETTING OUT…
Turner says he was first exposed to music in his hometown while attending Union Baptist Church, but his introduction to country music came through his father's mom, who shared with him the sounds of various Southern gospel quartets, artists Johnny Cash, Waylon Jennings, Roy Acuff and Ernest Tubb, as well as bluegrass legends The Osborne Brothers and The Stanley Brothers.
After attending Francis Marion University in Florence, S.C., Turner transferred to Belmont University to study music and the music industry. While at college, Turner met a young woman who would become his wife, Jennifer Ford. The couple married in June 2003, four months before the release of Turner's first album. A year later as Long Black Train climbed the charts, Turner received Belmont's Curtain Call Award.
"I told Belmont that I got more than a college degree," he says with a smile, "I got
a record deal and a wife."
Now, Jennifer travels with Turner and his band, playing piano and singing as a
background vocalist.
"Jennifer was a Classical Music major with a minor in Music Business," Turner says. "We always joke with people that our song is that Alan Jackson song that goes, 'She loves the violin and I love the fiddle; we go separate ways but we meet in the middle; don't see eye to eye but we're hand in hand, a blue blooded woman and a redneck man.'
"We started out doing separate things – I would go on the road, and she would stay in
town teaching music. But we were never together and it was our first year of marriage,
and it really sucked. At some point, I asked her to join me on the road. And as my band
evolved and as I grew as an artist, I realized I needed a female voice on some of these
songs. So we set her up a mike and she started singing and playing the piano. She's
done great, learning the music and the country style. And it's been great for us being together on the road and spending time together. She makes us look good on stage."
The Turners call College Grove home. "We spend a lot of time in Franklin and
Cool Springs," Turner says, adding that he enjoys the small-town feel in Williamson
County. "I record a lot of songs in The Sound Kitchen in Cool Springs. And I usually don't go into Nashville unless it's for work." Not too long ago, the Turners became
parents.
"In late 2005, we started praying about whether or not we were supposed to have
children," Turner explains. "My wife found out she was pregnant Feb. 1, 2006. In
October of last year, I took the whole month off because I had heard horror stories of
artists missing their child's birth. It was good for me to be ready and waiting. And our son, Hampton, came a little early. The good thing for Jennifer was that it was only a five-hour labor. And now, I can't tell you how much fun it is to be a father."
GIVING BACK…
As Turner's star continues to rise, the young artist says he is committed to staying
grounded and being true to his roots. Early last year, he and Jennifer created the Josh
Turner Fund for the Arts, in an effort to create a non-profit foundation aimed at supporting educational and artistic opportunities for young people.
"My wife and I started this fund together, because it's always been our passion to help
young people get involved in music," he says. "When we started it, I expected to
receive a flood of donations and money, but there was nothing. And I realized that we
needed to do something to draw revenue. So we came up with the idea to make rubber
bracelets that say 'Josh Turner Fund for the Arts' on them. And now we sell them at our
shows, and the money goes to a good cause."
The first funds will go back to his hometown alma mater, Pamplico High School.
"We've got several ideas that we're excited about," Turner says, adding that he
takes a very active role in guiding the foundation. "I want to make sure that this
makes a lasting effect, school year after school year. And with our first donations, I
wanted to give back to my hometown community and school system. I want them
to see that a hometown boy caught his dream and that it is possible for other kids to do,
too. We presented our Double Platinum album plaque to the school superintendent, and it will be in the hallway of the school so that when students walk by it will be a motivating thing. Our goal is to help educate the young people there to give them the resources to be what they want to – whether that's an artist, journalist or anything."
For Josh Turner, everything he gets to do is a dream come true. From his family to his
work to the opportunity to give back to others, Turner says he can't believe how blessed he is.
"I was cutting the grass at our house, and it hit me the other day that I had accomplished what Randy Travis had accomplished at this point in time," he says. "He went Platinum after the first album, and his second went Double Platinum. I mean, I remember listening to him on cassette when I was growing up in South Carolina and thinking, 'Man, I'd like to do that for a living.'"
Recently, Josh Turner has partnered with Cracker Barrel Old Country Store, Inc. The
partnership includes a tour sponsorship and exclusive CD, which was recorded live
during Josh Turner's April 19 concert at Nashville's historic Ryman Auditorium. It
was Turner's first full-length show at the Ryman. Josh Turner Live at The Ryman will
be available exclusively in Cracker Barrel Old Country Stores on July 2.
"I'm excited to be taking Cracker Barrel on the road with me this year," Turner says. "When I was a student at Belmont, we would do things that other students wouldn't do. We'd go to things like the Ernest Tubb 'Midnight Jamboree' on Saturday nights and listen to the two-hour radio show. It was free, and it was so relaxing to go and just be
entertained – it was like sitting in someone's living room, it was so laid back.
"Now, when I'm on the road, Cracker Barrel is where we end up. That's where we go for a good home cooked meal, and you can hear George Jones, Bill Monroe and Hank Williams, and it just feels good. It's nice to know that you can pull into any Cracker Barrel and feel like you're in your mama's kitchen, waiting on your favorite meal. I am
pretty sure my band and I have all the Cracker Barrel exits memorized between here and South Carolina."
For more stories like this, read Southern Exposure Magazine.