Great Exits
By Brooke Vaughan Schroeder
While your departure from the wedding may be the last thing you do on your wedding day, it is still a very important part of the planning process. As in all aspects of your wedding, the mode of transportation should fit your wedding style and the weather season. Most people choose a type of automobile because it's the most practical given their destination, and there are so many varieties to choose from these days.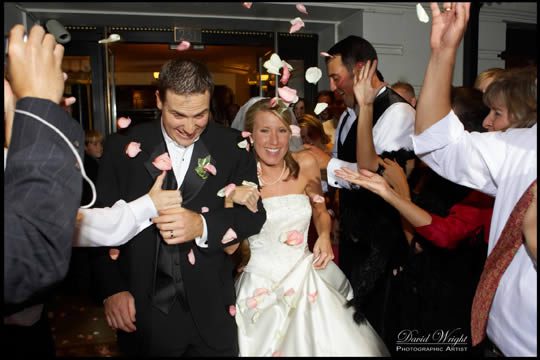 GETAWAY TRANSPORTATION
Automobiles
There are a multitude of options out there, from renting a new extended Humvee Limousine to a retro classic 1939 Rolls Royce Silver Cloud. You can borrow an old classic convertible from a friend or rent a trolley car from a local transit company (Franklin Transit Authority).
Hendry's "all time favorite" is Matchless Limousine Inc.'s pearlescent white 1960 MkIX Jaguar because it's "classy, very sophisticated and elegant." Diane Nesbitt, owner of Matchless Limousine Inc., says the "shape makes it romantic and beautiful."
Matchless advises booking transportation at least four to six months before the wedding, earlier if it's prom season (March-May), and some vintage cars get booked a year in advance.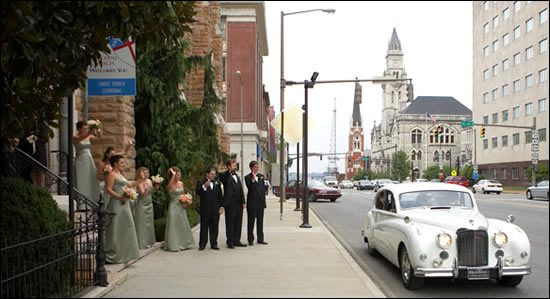 Matchless has a fleet of "luxurious and sophisticated vehicles, such as classic Rolls Royces, a vintage Jaguar, Lincoln limousines, custom Executive Coaches, as well as Tennessee's only brand new London Executive Sedan." Matchless always provides complimentary chocolate covered strawberries for bridal couples and will coordinate the interior décor of your limousine to match the colors and theme of your wedding day. For more information, visit www.matchlesslimo.com, call 615.620.5466, or e-mail matchless@charter.net.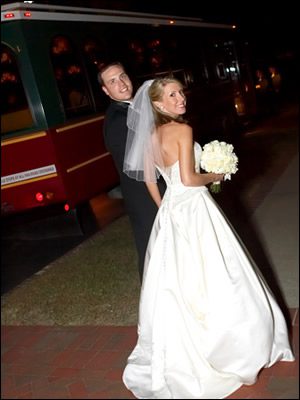 Possibilities are endless with automobiles as you can fit the car type to your style of wedding-sports cars, old classics or all terrain vehicles. If you want something a little more unique, consider a streetcar, fire engine, golf cart, double-decker bus, motorcycle, scooter or a horse drawn carriage.
Horse and Carriage
If you want the fairy tale ending and have only a short distance to travel, then choose a horse and carriage for a romantic goodbye. If you are in a remote location, you may want to offer carriage rides to guests during the reception as most companies require a three or four hour minimum.
Southern Comfort Carriage Service says they operate the largest fleet of carriages in Nashville. They use Belgian and Percheron draft horse," and their carriages are purportedly all replicas of the 19th century vis-à-vis. For more information, visit www.southern-comfort-carriage.com, call 615.870.1115, or e-mail pmorrilo@bellsouth.net.
Matchless Limousine Inc. also offers a carriage service. Call 615.620.5466 for more information. The Second Avenue Carriage Service offers a special Cinderella Wedding Carriage. Visit their Web site www.2ndavecarriage.dctn.com for pictures or call 615.789.5945 for additional information.
The majority of exits involve some type of vehicle but if your location allows for a more exotic or adventurous departure, here are some other types of transportation to consider.
If traveling by land, choose from a train, tandem bicycle, rickshaw, snowmobile, sled, dogsled, skis, or in line skates. If leaving by sea, how about a sailboat, speedboat, canoe, raft, gondola, paddleboat or ferry? If departing by air, then pick from a helicopter, plane, seaplane, hot air balloon or blimp.
If you staying at your reception location but still want to say goodbye, here are two options.
The staged getaway
Nesbitt, says a staged getaway is becoming very popular for when couples want to "end the reception, and hint that guests need to go but secretly are staying at the hotel." In these situations, they will exit by car or carriage and enjoy a scenic drive or ride while guests leave.

The sweet goodbye
Another option for couples, who are technically not leaving their reception location, is to find a sweet, low profile way to say goodbye. Hendry says one of the most unique, fun and moving moments she has witnessed is at the Hermitage Hotel. Guests move into the lobby to say goodbye to the bride and groom as they appear on the grand balcony above and wave a final goodbye before disappearing out of sight to the elevator. She says it's a very "sweet and dramatic" ending with a "Romeo and Juliet feel."
As you continue your planning and exhaust your "great escape" options, remember Hendry's advice. If your original ideas are not possible, take it in stride and try "to be unique and different in other aspects of your wedding." While you think the departure needs to be spectacular because it's the end, it's really just the beginning of your new life together. The whole affair should be seamless from beginning to the end.
Photographs by David Wright Photography