GOO GOO CLUSTER ANNOUNCES LATEST PREMIUM COLLABORATION WITH PUCKETT'S RESTAURANT INSPIRED BY DEEP FRIED BROWNIE SUNDAE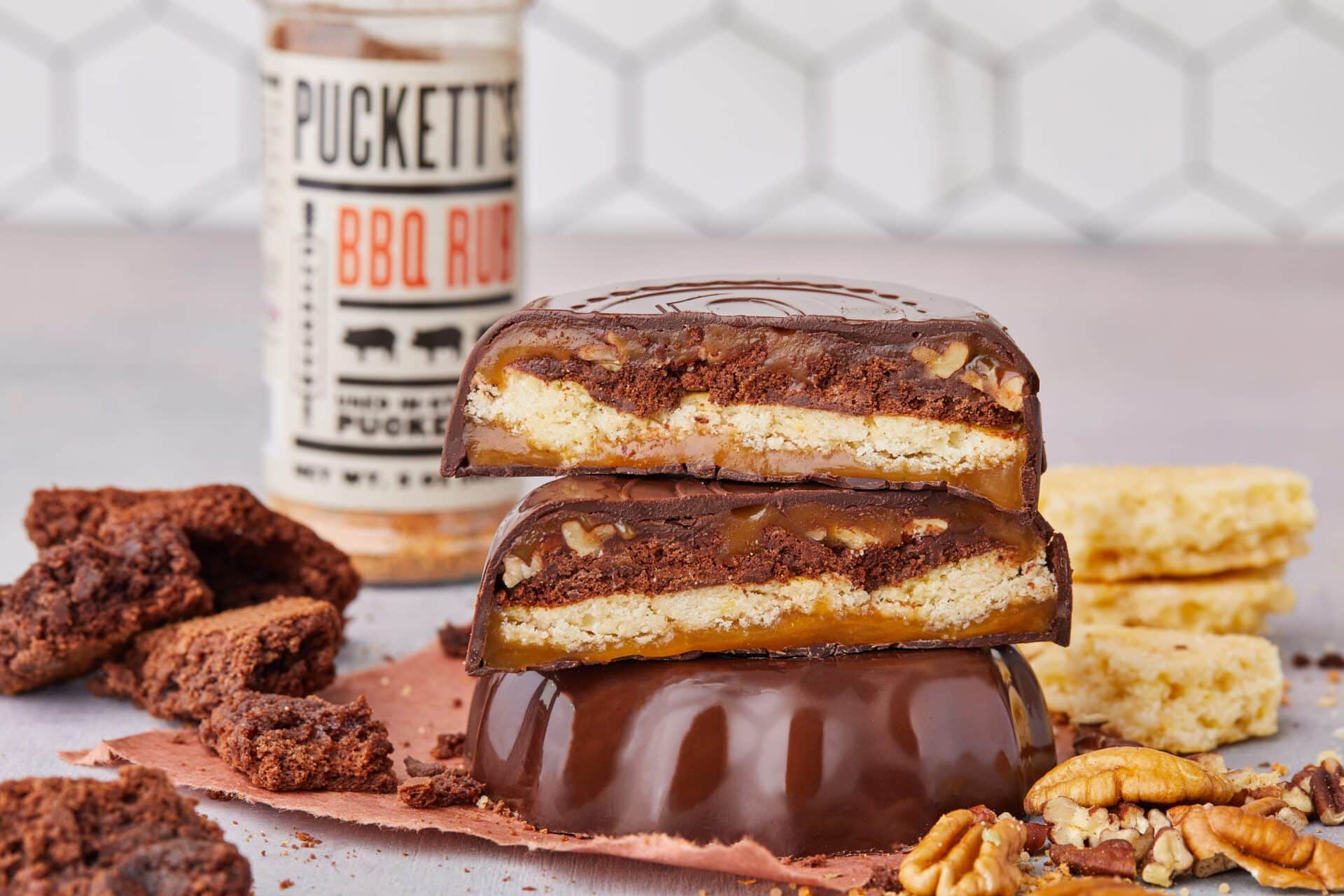 Puckett's Premium Goo Goo available beginning July 18
NASHVILLE, Tenn. – Goo Goo Cluster, Nashville's iconic candy brand, has announced the newest premium collaboration in the extensive confection line up, the Puckett's Premium Goo Goo, available beginning Tuesday, July 18. In partnership with another local mainstay, Puckett's Restaurant, the candy imitates Puckett's infamous Deep Fried Brownie Sundae.
A decadent treat combining the flavors of two Nashville staples, the Puckett's Premium Goo Goo
features brownie, salted caramel, pecans, and spiced shortbread all covered in dark chocolate. The spiced ingredients are seasoned with Puckett's signature BBQ Rub, giving the Premium a unique savory, yet sweet taste.
"The Puckett's Premium Goo Goo is the first of our kind with the incorporation of a barbecue rub," said Laurie Spradley, Vice President of Operations for Goo Goo Cluster. "We have created a delicious mix of sweet and savory with this confection, covered in rich dark chocolate and sprinkled with spiced pecans."
Puckett's Restaurant is a legendary Southern food and live music destination from A. Marshall Hospitality with six locations across Tennessee and a seventh in Cullman, Ala. Puckett's remains a family-owned-and-operated concept that's known for its local community ties, Southern hospitality and Memphis-style barbecue smoked low and slow over cherry wood, as well as the popular line of signature sauces, rubs, spices and marinades.
Lyle Richardson, COO of A. Marshall Hospitality, added, "Our Deep Fried Brownie Sundae is a crowd favorite at Puckett's Restaurant, so we knew we wanted to emulate those flavors when partnering with Goo Goo Cluster. We have long admired Goo Goo Cluster's innovation in the candy business and are thrilled with the delicious outcome of this Premium."
Launching July 18, with pre-order availability starting July 10, the Puckett's Premium Goo Goo will be sold online at googoo.com, downtown at the Goo Goo Chocolate Co. and in all Puckett's Restaurants. This collaboration will run through the end of September, while supplies last.
For more information about Goo Goo Cluster and its product line, visit googoo.com. To learn more about Andy Marshall and the A. Marshall Hospitality family, visit amarshallhospitality.com.
ABOUT GOO GOO CLUSTER
In 1912, in a copper kettle at the Standard Candy Company in Nashville, Tenn., America's first combination candy bar was invented: A roundish mound of luscious caramel, smooth creamy marshmallow nougat, and fresh roasted peanuts all covered with a thick coating of real milk chocolate. Additional products have been added to the lineup throughout the years much to the delight of Goo Goo enthusiasts, including Pecan, Peanut Butter, Lil' Goos and chef curated Premium Goo Goos. Creative candy lovers can also Design Your Own Premium Goo Goo at the in-store kiosk and through chocolate classes. The Goo Goo Shop in downtown Nashville finalized a $2 million transformation and reopened in fall 2021 as the Goo Goo Chocolate Co. offering interactive classes, a full-service chocolate bar serving premium chocolate, wine and whiskey pairings, seasonal treats and a retail shop.
ABOUT PUCKETT'S RESTAURANT
The Puckett's roots go way back to the 1950s and a little grocery store in the village of Leiper's Fork, Tenn. Today, the family owned-and-operated brand has six Tennessee locations in Franklin, Nashville, Columbia, Chattanooga, Murfreesboro and Pigeon Forge, a seventh location opening in Cullman, Ala. in October 2022 and nationwide shipping available via Goldbelly. When it comes down to it, Puckett's is a community kitchen with live pickin' performances just a few feet from your table. Southern hospitality and authentic comfort food— barbecue smoked slow 'n' low over cherry wood that earned Puckett's recognition as 10 Best Barbecue Restaurants in the U.S. in the TravelAwaits 2022 Best Of Travel Awards, as well as home-cooked sides and even a few upscale dishes—is what Puckett's aims for you to remember. To learn more about Puckett's and the other A. Marshall Hospitality brands, visit puckettsrestaurant.com.
ABOUT A. MARSHALL HOSPITALITY
A. Marshall Hospitality (AMH) is a Franklin-based company with 12 family-owned-and-operated restaurants and hospitality businesses in Tennessee and Alabama. Its family of restaurants includes Puckett's Restaurant, Americana Taphouse, Burger Dandy, Deacon's New South and Scout's Pub, in addition to Puckett's Trolley and Puckett's Catering and Events. In 2014, 2015, 2016, 2017 and 2018, AMH was recognized on the Inc. 5000 list of America's fastest growing companies. The company was also the winner of Nashville Business Journal's 2015 and 2018 Best In Business Award. For more information, visit amarshallhospitality.com.