Fun Farm Experiences in Franklin & Middle Tennessee
The months throughout Spring and Fall are the perfect times to enjoy some farm experiences! Franklin & Williamson County, TN have plenty of options, whether you want to pick your own fruits, love on some cute animals, or learn more about our local dairy and agricultural industries! Keep reading to find out more about some local farming experiences! 
Learn more about local dining experiences, entertainment, shopping, and more at
Boyd Mill Farm in Franklin offers you-pick experiences with their blackberries and raspberries. This local farm kicks off you-pick season every year with their Blackberry Jam Music Festival in June and offers homemade jams year-round! Make sure to stop by the Blackberry Jam Music Festival's 20th anniversary on June 24th at Boyd Mill Farm and pick your own berries this summer! 
Hatcher Family Dairy was created nearly 200 years ago in 1831 and has since been owned and operated by six generations of the Hatcher family. This local dairy farm offers ice cream, eggs, butter, meat, merchandise, and their own non-homogenized whole milk! They also have two Airbnbs on the farm, so consider making a trip out to Hatcher Family Dairy next time you're in need of a staycation. 
Lucky Ladd Farms in Eagleville is just 30 minutes from Williamson County and hosts a vast range of fun farm activities! Their featured attractions include the state's largest petting zoo, a 60-acre farm fun park, pony rides, and an aviary! With playgrounds, slides, wagon rides, hundreds of friendly animals, and a variety of seasonal events, this is a one-stop destination for fun farm experiences!
Morning Glory Orchard is a peach and apple orchard in Nolensville. You can book a variety of activities including flower arranging, taste tours, painting, yoga, picnics, tea parties, and more! All you need to do is gather your friends and family to show up and enjoy a fulfilling day in nature with picturesque views.
Mistletoe Farm sits on 15 acres of land and is home to over 20 alpacas! This unique farm in Franklin invites you to meet and fall in love with their adorable alpacas any weekend between May and December. Mistletoe Farm even offers handmade products made from alpaca fibers like dryer balls, shoe inserts, and more! 
Noble Springs Dairy in Franklin is family-owned and offers goat dairy as well as artisanal goat cheese. You can book an educational tour of the farm to interact with their animals and learn more about the farm's processes or you could even book a baby goat petting session! They also offer a range of products, from food to skincare!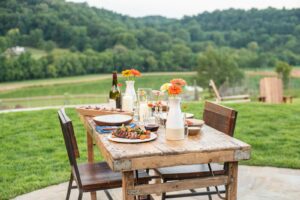 Southall Farm & Inn is located on 325 acres of land and offers a plethora of farm experiences. You are invited to spend a day apple picking in their orchard, exploring their apiary, foraging on the land, enjoying their farm-to-table food, or experiencing one of their various tours. They even have a spa and cottages available for all your relaxation needs! These experiences at Southall are open to anyone with an overnight, activity, dining, or spa reservation.
Stoney Creek Farm's mission is to provide our community with the education of how to grow food through sustainable practices. They will be hosting classes throughout the summer to teach the basics of growing and preserving your own healthy foods, so make sure to check out their calendar whenever you're ready to learn some new skills! 
Looking for something fun to do this weekend? Shopping for antiques or curious about a
restaurant? Wanting to volunteer your time with a non-profit, or just stopping by
downtown Franklin, TN for the day? Access it all on FranklinIs.com. We encourage you
to browse through the Living, News, Entertainment, Family & Kids, Real Estate, Visit,
Resources and Events Calendar sections. There is something for everyone!
FranklinIs a website dedicated to all things Franklin, TN and Williamson County!
Supporting local non-profits, businesses, residents and visitors, FranklinIs the go-to
place for all your Franklin and Williamson County needs.