Full Tummies, Warm Hearts for Thanksgiving
This Thanksgiving, more than 350 individuals and families in Williamson County are being provided with food to fill their tummies, their tables and their pantries, due to the efforts of the Patricia Hart Society, the women's group of United Way of Williamson County. The Society partnered with local businesses, organizations and individuals to give the families baskets filled with vegetables, fruit, beverages, stuffing mix, fruit, bread, desserts, gift certificates for a turkey, and extra goodies such as games, disposable cameras, blankets and socks.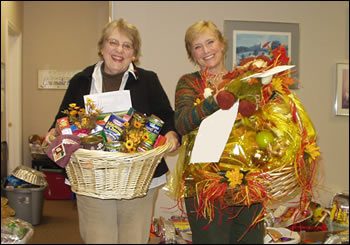 "The Full Tummies, Warm Hearts program has grown every year", said Ann Buchanan, president of United Way of Williamson County. "We started this in 2004 by providing meals for 46 families in the community. It's now grown to 360 families who benefit from the generosity of companies and organizations that partner with United Way."
"We've just finished matching up the families with generous people who are making sure they'll have a wonderful Thanksgiving meal," said Martha Wolfe, coordinator for the program.
PHS members with baskets
"The baskets are delivered Friday, November 16th to 25 locations across Williamson County. They're delivered to eight county schools, a community center, and 15 United Way agencies. They then make sure the food get to the families who need it."
In order to protect the confidentiality of each family, the baskets are delivered to the requesting school or agency unless other arrangements are made in advance. The recipients who are elderly and shut-ins, however, often prefer to have the baskets delivered in person.
In October, The Patricia Hart Society sent a request to United Way agencies and local schools for a list of those who might be in need of a meal. Most of the families are headed by a single-parent, many are disabled and several are elderly shut-ins. The Patricia Hart Society then asked local businesses, individuals and United Way agencies to provide baskets of food that include a gift card at a local grocery store valued at enough to purchase a turkey for the size of the sponsored family.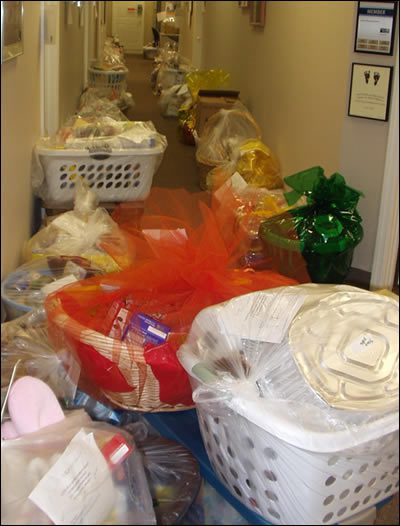 Youth organizations participating in "Full Tummies, Warm Hearts" include Franklin High Red Cross Club; Girl Scouts of Williamson County; STARS (Students Taking a Right Stand) at Page Middle School; STARS Alternative Learning Center; United Way Youth Advisory Councils at Centennial, Franklin, Independence, and Page High; and Winstead Elementary. Local organizations and businesses participating include ATMOS energy; Bancorps South; Big Idea Productions; Board Members, Inc; Chase Home Loans; Community Health Systems, Inc.; Capital Trust; Cumberland Advisors; Enterprise Rent-A-Car; Fifth Third Bank; Ford Motor Credit; John Wieland Homes; Journal Communications, Inc.; Lattimore, Black, Morgan & Cain, P.C.; Baskets line UW hallway
Mars Petcare U.S.; Office of the Public Defender, Tennessee; QHR; Resource Communications Group; Sailer Financial, Inc; Second Harvest Food Bank; Southern Land Company; State Volunteer Mutual Insurance Co.; Williamson County Medical Center and Office of the Williamson County Trustee.
The Patricia Hart Society is a group of women in Williamson County who have joined together to encourage women of all ages and backgrounds to help in the work of United Way. Their vision is to create an opportunity for women to take a leadership role in positively impacting the community. Past projects include providing food for a dinner at the Boys & Girls Club of Williamson County/Franklin; assisting with the Angel Tree at Boys & Girls Club; helping a local family renovate and repair their home; conducting food drives; and participating in a Holiday Gift Bag Stuffing Party for Second Harvest, among others.
The organization also hosts the annual "HeART to Heart" benefit luncheon in February for United Way and its partner agencies. In 2007, the event raised more than $16,000. The next event will be February 8, 2008 at The Factory of Franklin with guest speaker Jim Williams, a nationally acclaimed author and motivational speaker.
For more information on the Patricia Hart Society, call United Way of Williamson County at 615-771-2312.