FREE Monogram Designs
New Monogram Designs are perfect gifts for birthdays, holiday gatherings, or treating yourself to something special!
Designed by local designer, Leeann Lively Eubank her pieces are being sold worldwide through this fantastic collection of recycled sheet metal stainless steel, brass and copper.  Each unique letter charm is crafted into necklaces, bracelets, or earrings to suit your taste and budget (most styles retail under $30).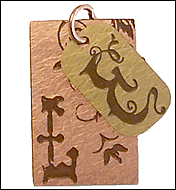 Join whats-in-store TM by celebrating the successes of our hometown girls, the opportunity our community can provide, and the sentiment monogram jewelry can convey.  Click here to read more about whats-in-store's Leeann Lively Eubank and her modern day, fairytale story!
whats-in-store TM is located in historic downtown Franklin, TN at 407 Main Street. They are open Monday – Wednesday 10 am – 6 pm, Thursday – Saturday 10 am – 7 pm and Sunday 1 pm – 4 pm. To learn more about whats-in-store, visit www.whats-in-store.com.
OFFER EXPIRES OCTOBER 31, 2008!!