Franklin's Fabulous Parks
Whether you want to go for stroll with your infant, train for a 5k, watch a little league baseball game or picnic at a historic battle site, Franklin's fabulous collection of parks has it ALL. This is your guide to the amenities and fun you can find at our local parks. Explore a different one each weekend or return to a favorite year after year. Whatever activities or peaceful setting you are looking for, your family is sure to find their favorite outdoor spots in one of Franklin's fabulous parks.
Aspen Grove Park
3200 Aspen Grove Drive
Franklin, TN 37067
(615) 794-2103
Aspen Grove Park has a convenient location in the Cool Springs area. It is the perfect place to break up an afternoon of running errands with the kids. The large 14 acre wooded expanse includes a relaxing .8 mile paved trail perfect for strolling. There is also a playground for children, public restrooms and a pavilion with a built-in grill that can be rented out.
Del Rio Park
1100 Del Rio Court
Franklin, TN
(615) 794-2103
The Del Rio Park is a quaint neighborhood park located in the Rogersshire Subdivision. It is the perfect getaway for a picnic lunch, either on the lawn, at the picnic table or in the gazebo. There is a nice grassier area for kids to run around and also playground equipment.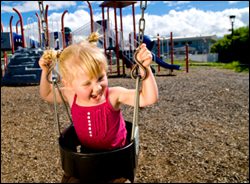 Fieldstone Park
1377 Hillsboro Road
Franklin, TN 37069
(615) 794-2103
Fieldstone Park is the ultimate spot in Franklin for adult softball programs. The complex includes 4 adult softball fields and 2 large pavilions and grills perfect for post-game cookouts. Children can stay in-sight distance at the adjacent playground. Public restrooms are on-site. Hurry and get your burgers on the grill—pavilion space and grills are available on a first-come basis!
The Park at Harlinsdale Farm
239 Franklin Road
Franklin, TN 37064
(615) 794-2103
The Harlinsdale Farm is known for breeding prized walking horses but for almost a year has been partially open for the public to enjoy. The Park is a relaxing experience and gives children the opportunity to experience Tennessee nature at its' finest. Taking a leisurely stroll with the family or having a picnic are good options for exploring this beautiful farm. 60 of the 200 acres are open to the public and temporary restrooms and public parking are available.

Jim Warren Park
705 Boyd Mill Drive
Franklin, TN 37064
(615) 794-2103
If your kids play sports you may already know about Jim Warren Park. As the home of Franklin Baseball Club and Franklin Cowboys, young athletes fill up the 12 (lighted) baseball fields and 4 football fields on the weekends. Parents and children alike can practice their skills on the 8 tennis courts. In addition, the 58 acres also boasts a basketball court, 2 multi-purpose fields and 2 playgrounds. Public restrooms, a large enclosed pavilion, an open pavilion, picnic tables and grills make the park the perfect spot for a large gathering. The enclosed pavilion can be reserved for private parties in advance. Families will enjoy jogging or walking along the 2.5 mile walking trial or relaxing by the catch and release fishing pond.
Of course, the major highlight in many kids' and teens' minds is the Jim Warren Skate Plaza. The 16-foot bowl transitions from a 7 ft. vertical to an 11 ft. deep well. There are plenty of hand rails, ramps and ledges to challenge even the ultimate skater. In-line skaters and skate-boarders can enjoy the park during daylight hours, show-off their skills and test the competition.
Liberty Park
1661 McEwen Road
Franklin, TN 37067
(615) 794-2103
Liberty Park has already received its' first facelift and will be undergoing more changes in the months to come. The park sits on nearly 85 acres and is already prepared for baseball tournaments with three tournament fields, a concessions stand and public restrooms. Future plans for Liberty Park include tennis courts, pavilions, more restrooms, a disc golf course, a skate park, trails for hiking and biking and a covered amphitheater. Be sure to check out Liberty Park as these great amenities are being added and grow to include a variety of activities for your whole family.
Pinkerton Park
405 Murfreesboro Road
Franklin, TN 37064
(615) 794-2103
Pinkerton Park is the ultimate relaxation spot in Franklin. Playground equipment is scattered next to the parking lot and beside the 3 pavilions. Over 20 picnic tables in the pavilions and in other areas of the park make Pinkerton Park a great place for multiple-family gatherings or Birthday parties. Visitors also have access to grills in the park, which are available on a first-come basis. Another idea for visitors that want to combine a visit to downtown Franklin with Pinkerton Park could take the Sue Douglas Berry Memorial pedestrian bridge that connects the two. For the more active visitors, there is a 1 mile paved track, complete with lighting for nighttime runners. Pinkerton Park is bordered by the Harpeth River and historic Fort Granger from the Civil War.
Winstead Hill
Columbia Avenue
Franklin, TN 37064
(615) 794-2103
Winstead Hill is a 61 acre park that provides the peacefulness of time away from the city bustle. There is a convenient parking area that leads to the 3/4 mile walking trail. Public restrooms are also available. The whole family can enjoy roaming around Winstead Hill, located on a historic battle site. An adventure in the wild, right in Franklin, Winstead Hill is a serene escape that children of all ages will love exploring.