Franklin Main Street Festival 2008
Franklin's 25th annual Main Street Festival brings more than 200 artisans & crafters, five stages, two carnivals and three food courts to the historic Public Square and Downtown District April 26-27, 2008. Hours are 10 a.m. to 7 p.m. Saturday, with the Fourth Avenue Street Dance continuing until 10 p.m., and all activities re-opening noon to 6 p.m. Sunday. Arts and crafts booths line Main Street from First to Fifth Avenue.
Presented by major underwriter First Tennessee and produced by the Heritage Foundation of Franklin and Williamson County and the Downtown Franklin Association, the weekend event is expected to attract more than 100,000 visitors to a full slate of family-oriented activities, non-stop musical entertainment and international flavors of more than 20 food vendors. Handmade work to be exhibited includes original oil and watercolor paintings, pottery, jewelry, furniture, woodworking, ornamental iron, stained glass, photography, home and garden accents, birdhouses, leatherwork, and much more. It is named a Top 20 event in the Southeast by the Southeast Tourism Society.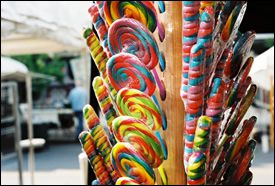 In addition to a juried arts and crafts show, the festival offers a special area of children's activities on Third Avenue South between City Hall and the Old Courthouse. Free entertainment is offered continuously on four stages—the First Tennessee Stage on the Public Square, a food court stage on Third Avenue North, the Main Stage Fourth Avenue North and the Beer/Wine Garden Stage on Fourth Avenue South. The free "Dancin' in the Street" event is Saturday night from 7 to 10 p.m. on Fourth Avenue. Three food areas offer a tasty variety of everything from roast corn on the cob and stuffed baked potatoes, Polish sausage, Greek gyros, Asian and Mexican cuisine, Southern fare like fried green tomatoes, barbeque, burgers and hotdogs, cinnamon-roasted nuts, ice cream, smoked turkey legs, funnel cakes, kettle corn and more.
There will also be a full-scale, traditional carnival at Margin Street and Second Avenue North–the site of the future City of Franklin Bicentennial Park. The carnival opens earlier than the festival on Thursday, April 24, and goes through Sunday, April 27. Carnival hours are 5 to 10 p.m. Thursday and Friday, 10 a.m. to 10 p.m. Saturday and noon to 6 p.m. Sunday. Thursday and Sunday are family days with unlimited rides for $20 per person.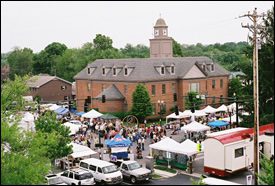 The Main Street Festival is produced by The Heritage Foundation of Franklin and Williamson County and it division, the Downtown Franklin Association. Proceeds from the event are used to fulfill the mission of the organization, which is to protect and preserve the architectural, geographic and cultural heritage of Franklin and Williamson County and to promote the ongoing economic revitalization of downtown Franklin in the context of historic preservation.
In addition to presenting sponsor First Tennessee, supporting sponsors include Burt's Bees, BP Oil, Patio Enclosures, GEICO, Publix, BGA, Nissan, Clear Channel Radio, Maximized Living, The Tennessean/Williamson A.M., Fox 17, WB58, MYTV 30, and more. For more information, see www.historicfranklin.com or call 615-591-8500.
Click here for the entertainment schedule!