Fashion Show!
One of the most exciting events at the upcoming Franklin Bridal Ball will no doubt be the fashion show where attendees will view the latest bridal fashion trends.
This year, the show will feature designs from Vera Wang, Monique Lhuillier, Birnbaum & Bullock, Reem Acra, Matthew Christopher, Amsale, Rivini, Judd Waddell and much more.
Now in its third year, the Franklin Bridal Ball Fashion Show will be bigger and better than ever! The Bridal Ball itself is growing as they expect 1000 attendees this year, which is up from last year's attendance of 850.
This year, Ardee Lighting Design came on to help produce the fashion show, adding an exciting element to the visual effect of the show.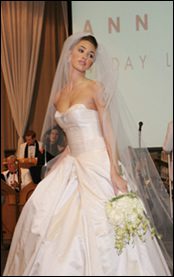 The show features bridal salons from all over the Nashville area including The Bride Room, The White Room, Cherished Memories, Bella Bridesmaid, and more. Each salon will show several designers worn by professional models from the Wilhelmina Dan Agency.
The fashion show begins at 4pm on the Liberty Hall stage. Seating is limited to 175, so get there early if you don't want to stand!
"We are going to have some fun surprises in the fashion show this year," said producer Lisa Seals of Seals Productions. "I don't want to spoil anything, but it will definitely be worth sticking around to the end!"
"And it's not just for brides," Seals added. "Plenty of people come just to enjoy the event and see the show."
One of the big door prizes is the honeymoon giveaway. This prize, provided by travel agency Destined 2 Wed, will send one lucky couple on an all-expenses trip to a five-star resort in the Dominican Republic.
The grand prize, a $1500 shopping spree at Spray's Jewelers of Cool Springs, will also be announced after the fashion show which will end at 5pm.
Be sure to check out the fashion show at the Franklin Bridal Ball on Saturday, July 14 at the Factory in Franklin. The event is $15 at the door (with free parking!) and a portion of the proceeds will be donated to the American Cancer Society Relay for Life in Williamson County. Visit http://www.franklinbridalball.com/ for more information.