Dickens of a Christmas
Set for Dec. 9 and 10, 2006, the Dickens of a Christmas event on Franklin's Historic Main Street brings the joy and charm of an old-fashioned Victorian Christmas recreated from the pages of Charles Dickens' A Christmas Carol and other Dickens' tales. Hours are 10 a.m. to 5 p.m. Saturday, Dec. 9, and noon to 5 p.m. Sunday, Dec. 10.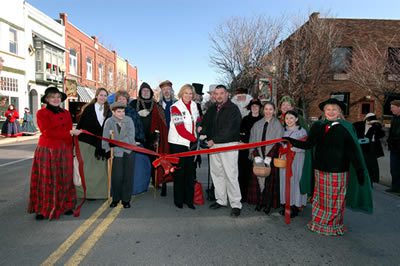 Franklin's Main Street is a perfect setting for a Victorian Christmas celebration. Most of the buildings were built between 1890 and the early 1900s and are beautifully restored. The clatter of horses' hooves, the scent of roasted chestnuts and the sight of the whole town in Victorian attire make it easy to imagine Franklin as a 19th century English village.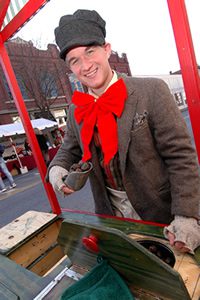 Activities include:
-Costumed characters from Dickens' stories interacting with visitors on the street. Scrooge bellows his "Bah! Humbug" while the Cratchit Family parades the streets with Tiny Tim. Ghosts of Christmas Past and Future make regular appearances. Urchins under the direction of the nefarious Fagin from Dicken's Oliver pester English Bobbies (who are actually Franklin Police Officers on duty in costume!). Father and Mother Christmas delight children.
-Dancers and street musicians perform are on the streets throughout the event. Violinists, hand bell choirs, harpists, carolers, pianists, even a water harmonica player all add to the entertaining street scene.
-Victorian treats abound, from authentic fish 'n' chips to turkey legs, plum puddings, roasted chestnuts and sugar plums.
-A holiday bazaar arts & crafts area encircles Franklin's charming Public Square, where horse drawn carriages allow visitors to see Historic Downtown Franklin at a slower pace.
-Everyone is invited to join the Town Sing starting at the Public Square at 5 p.m.

The Bank of America Dickens of a Christmas is free and open to the public, supported by Publix Supermarkets and the City of Franklin and presented by the Heritage Foundation of Franklin & Williamson County and Downtown Franklin Association, which seeks to protect and preserve the architectural, geographic and cultural heritage of Franklin and Williamson County and to promote the ongoing economic revitalization of downtown Franklin in the context of historic preservation.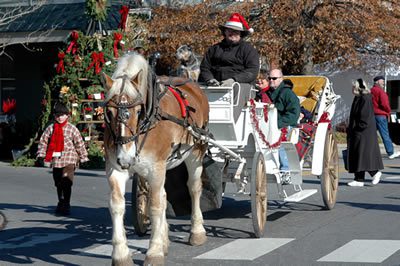 To find out more, call the Heritage Foundation at 615-591-8500 or www.historicfranklin.com.
The entire 15-block area of Downtown Franklin is on the National Register of Historic Places and the town is the recipient of a Great American Main Street Award by the National Trust for Historic Preservation and is a recipient of the Preserve America award. The commercial historic district is surrounding by four residential districts that also are on the National Register.