Daughters of Late Conservationist Hector Black Partner to Protect 260 Acres of Tennessee Land
Daughters of the late Hector Black—a storied conservationist and civil rights activist recognized by The New York Times, NPR, and more—work with TennGreen Land Conservancy and Samuel Costilow to protect over 260 acres in rural Tennessee.
(May 23, 2023)—TennGreen Land Conservancy announced today its protection of additional lands and wildlife habitat near Cookeville, Tennessee. The environmental nonprofit worked with Aggie, Rose, and Annie Black—daughters of late renowned activist Hector Black—and family friend Samuel Costilow to expand a conservation easement on land known as Hidden Springs. Hector and his late wife, Susie, established the first Hidden Springs conservation easement with TennGreen Land Conservancy in 2013. A decade later, the daughters and Costilow have amended the easement to better reflect Hector's wishes and protect an additional 54 acres of land. With this amendment, the Hidden Springs conservation easement protects more than 260 acres in total.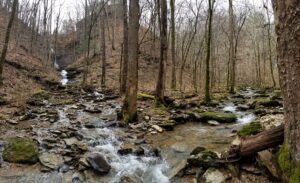 Though the property remains privately owned, completing the conservation easement means its rich landscapes will be perpetually protected even if ownership changes. Conservation easements are voluntary, legal agreements that are extremely tailorable to a landowner's vision for their land. Whether the landowner wants to protect their family farm from encroachment; establish trails on their land for public or private enjoyment; preserve historic areas, wildlife areas, or something else; conservation easements are a helpful tool. Essentially, they grant the rights to control the development and use of a property to a land conservancy (like TennGreen Land Conservancy) that will enforce those rights forever.
Hidden Springs abuts two miles of designated State Scenic River Spring Creek, and portions of the protected property are in the Roaring River-Blackburn Fork-Spring Creek Complex Area of Interest. These waterways are Class I Natural Rivers, which means they're free-flowing, unpolluted, "essentially primitive," and generally accessible only by trail. Because many of Tennessee's rivers and streams don't meet federal water quality standards, the Hidden Springs conservation easement helps ensure that these Class I rivers remain pristine and safe.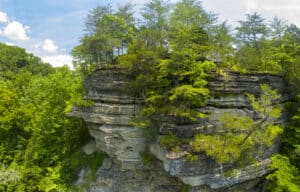 The protected property has impressive geological features, including pinnacles: thin, tall columns of rock formed by erosion. The land is home to a variety of plants and animals, including butternut (Juglans cinerea)—a tree species with a "Vulnerable" to "Critically Impaired" conservation status. Individuals have also documented the hellbender, North America's largest salamander, near Hidden Springs. The hellbender (Cryptobranchus alleganiensis) used to be common in Tennessee, but due to dams and pollution, the State now lists it as "in need of management." By protecting Hidden Springs, the Blacks, Costilow, and TennGreen Land Conservancy help prevent the hellbender from further decline.
Hidden Springs is near other protected lands, further increasing the conservation easement's importance. Protected lands within two miles include two publicly accessible areas—Blackburn Fork Wildlife Management Area (WMA) and Washmorgan Hollow State Natural Area (SNA)—and two privately owned properties: Circling Cranes and Spring Creek Cabin. TennGreen Land Conservancy protects Blackburn Fork WMA, Circling Cranes, and Spring Creek Cabin with conservation easements. Hector & Susie Black donated Washmorgan Hollow SNA to the Nature Conservancy in 1986. Protected lands within five miles of Hidden Springs include Cummins Falls State Park, The Boils WMA, and Cordell Hull WMA.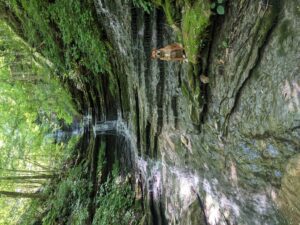 "For our communities to have fresh water, clean air, and rich soil, we must continue to protect connected areas of land," said Alice Hudson Pell, TennGreen Land Conservancy's Executive Director. "Tennessee's rural landscapes deserve to flourish, and we're here to help and be a resource. We hope more landowners will reach out to discuss what's possible with a conservation easement!"
TennGreen Land Conservancy staff will monitor Hidden Springs annually to preserve Hector Black's vision for the landin perpetuity.
For more information about this project or TennGreen conservation easements, visit tenngreen.org, call (615) 329-4441 ext. 120, or email land@tenngreen.org.
About TennGreen Land Conservancy
TennGreen Land Conservancy is a 501(c)(3) environmental nonprofit and the oldest accredited statewide land conservancy in Tennessee. TennGreen's mission is to conserve land where people and nature can thrive. Through sound science and partnerships, TennGreen identifies and conserves land across Tennessee for wildlife corridors, critical habitat, and public benefit. TennGreen protects, cares for, and connects people with Tennessee's natural world by providing meaningful outdoor experiences, establishing conservation easements, supporting restoration efforts, and acquiring (or assisting in the acquisition of) privately held land. Learn more at tenngreen.org.
# # #