Chukkers for Charity 2008
The 2008 Chukkers for Charity Co-Chairs Valerie Levay and Theresa Menefee proudly announce U.S. Trust, Bank of America Private Wealth Management as the Title Sponsor for the event to be held June 21, 2008 at Riverview Farm, home of Orrin and Lee Ann Ingram.
U.S. Trust, Bank of America Private Wealth Management Senior Vice President William H. Braddy said,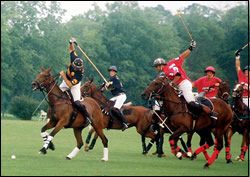 "We're truly honored to be part of such an exciting tradition in Middle Tennessee that brings so much attention and financial support to both the Rochelle Center and Saddle Up!"
U.S. Trust is one of the largest managers of private wealth in the United States.
The polo match takes place Saturday, June 21 and the gates open at 3:30 p.m. with opening ceremonies at 4:45 p.m. The match begins at 5:00 p.m. Tickets to the event may be purchased in advance on-line by visiting www.chukkersforcharity.net.
General admission for adults is $10 and children under 3 are free. Tailgaters may opt to rent a cabana for the day accommodating 6 guests for $250. Patron tables of 10 are $1,750 or $175 for individuals. Field side tables are $2,000 for 10 guests.
The Twelfth Annual Chukkers for Charity benefits both Rochelle Center and Saddle Up! In 2007, the event raised more than $70,000 for each charitable organization.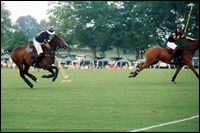 Founded in 1972, Rochelle Center is a non-profit agency located in Nashville, providing meaningful day programming, job training and work opportunities for adults with developmental disabilities, enabling them to achieve their highest potential in our community.
Saddle Up! was founded in 1990 in Franklin as Middle Tennessee's oldest and largest therapeutic recreational riding program for children and youth with physical and mental disabilities. Individually structured equine activities meet the unique needs of each child using special therapy horses, volunteers and NARAHA (North American Riding for the Handicapped Association) certified instructors in a safe and fun venue.
To learn more, visit www.chukkersforcharity.net.