chatterbird Joins Forces with New Zealand Composers for the World Premiere of Seven Newly Imagined Works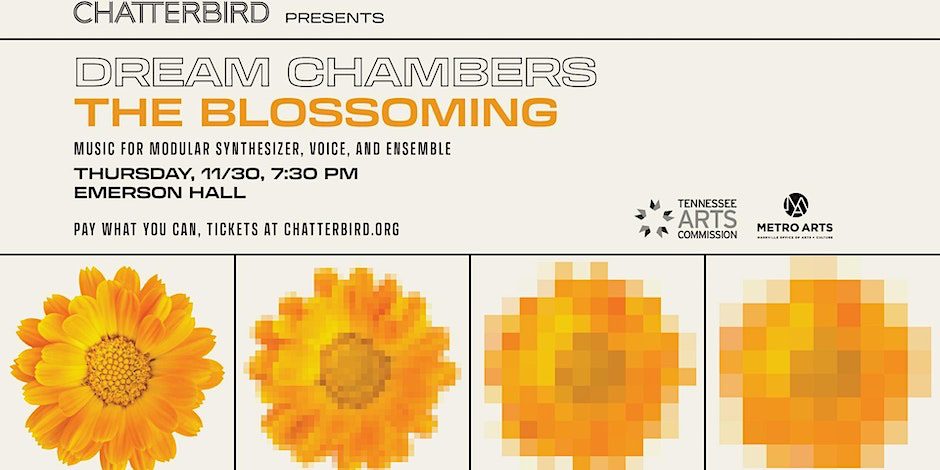 The Blossoming to take place November 30 at Emerson Hall 
NASHVILLE, TN – October 31, 2023 – chatterbird, a Nashville-based chamber ensemble, is excited to announce a partnership with musicians/composers Dream Chambers and New Zealand-based Sonya Waters for their latest collaborative performance. The Blossoming will take place November 30 at Emerson Hall, and tickets are available on a pay-what-you-can scale now (here).
This cross-collaborative concert experience features seven brand-new arrangements of songs written for modular synthesizer, voice, and ensemble. The works explore expanding patterns of rhythm and melody supported by pastoral classical instrumentation to express a search for inner harmony in the natural and mystical world around us.
Dream Chambers' songwriting combines influences across the musical spectrum – from folk songs to ambient soundscapes to hard-hitting techno dance tracks. The featured songs feature repetition and melody that interplay with the ethereal, drifting sounds of modular synths and vocals. Synced and layered patterns of melody surround soft and urgent vocals, while poignant and heartfelt lyrics are grounded by heavy analog bass and granular synthesis. Waters then created orchestral scores for the works that are inspired by the patterning of contemporary and minimalist composers.
"Synthesizers to me sound like the infinitely expanding universe; they are otherworldly. In combination with acoustic instruments such as flute, clarinet, harp, cello, viola, and violin, we have created a magical sonic interplay of galactic and earthly tones," said Jess Chambers, the performer behind Dream Chambers. "For a long time, I have wanted to expand my compositions into a larger ensemble format, and working with chatterbird has provided the opportunity and resources to do so. It is a dream come true. I love what Sonya [Waters] has brought to each piece with her lovely arrangements, and I am so excited to hear her work come alive at the hands of the wonderful musicians of chatterbird."
THE BLOSSOMING
Thursday, November 30 – 7:30 PM
Emerson Hall, 2512 Gallatin Avenue
Ticket Price: Pay Your Wage
About Dream Chambers: Jess Chambers is a vocalist, instrumentalist, and songwriter who performs as Dream Chambers. Her sound – created using a mass of modular synthesizers, sequencers, and vocal processors – counterpoints heavy sub-bass with crystalline granular vocal samples and shimmering analog arpeggios. Born in Aotearoa/New Zealand to an American mother and Kiwi father, Chambers initially was known for her delicately orchestrated folk albums and her vocal collaborations with local electronic music producers. In 2012, drawn to the legendary Americana music scene, Jess relocated to Nashville, where she encountered a vibrant and welcoming underground electronic music scene and began a transformative journey into the world of synthesizers and music technology.
About Sonya Waters: Sonya Waters is a solo synth artist playing soundtracks for imaginary mid-century films. Her music is underpinned by lush layers of synth orchestration crisscrossed with tessellations of West Coast Moog and vocoder vocals. Waters has performed with different bands and explored several musical pathways over her long career, including ambient music, krautrock project avoid!avoid, alt-country band White Swan Black Swan, indie rock Fang, San Francisco shoegaze group Orange, and punk band The Instigators. 
About chatterbird: chatterbird is a chamber music ensemble that explores alternative instrumentation, stylistic diversity, and interdisciplinary collaboration in order to create thoughtful, intimate, and inventive musical experiences. Formed in 2014, chatterbird performs classical music that skirts traditional boundaries, sliding between classical, jazz, hip-hop, rock, avant-garde, and country, creating a thoughtful and inventive way to discover and experience modern classical music. chatterbird brings cutting-edge chamber music repertoire into spaces where you wouldn't usually find it, like bars, galleries, breweries, basements, and everywhere in between.
Facebook | Twitter | Instagram | Official Site