Bronze Brides
By Polly Bibb
You have seen them. They are the bronze brides in glowing white dresses. It does not matter if it is the dead of winter or the middle of spring, brides manage to have tans. How do they do it? Well, if you are a bride, or wish to be bronze like one, you are in good company. Williamson County is full of tanning salons devoted to leaving your skin tan and glowing for bridal pictures and years to come.
Beds, bulbs and brilliant tans!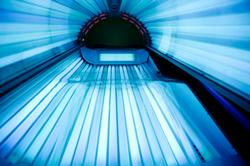 Rivieria Tan Spa and Cool Tan were among some of Williamson County residents' top choices for premier tanning in the recent online Sizzle Awards Poll. Riviera Tan Spa offers four different types of beds and airbrush tanning. The beds vary in the amounts of bulbs and watts; brides and other interested clients can purchase unlimited monthly tanning packages.
Cool Tan has many different options for brides and bridal parties. If the client has never been to a tanning salon before, the experts at Cool Tan will recommend that she start in a level one or two bed depending on her skin tone. Both of these beds offer UVB rays; the level three and five beds offer both UVA and UVB rays, which are best if the client already has a deep tan.
Sunless, Safe Alternatives!
Talking with Sizzle Award finalist, Cool Tan of Franklin, I learned that the airbrush tanning method is a great way to darken skin without the bulbs and beds, but there is a chance for brides that the tan will come off on the wedding dress. Also, if the bride is going on a honeymoon at the beach, the sea salts in the air naturally cause the skin to exfoliate, which could cause the airbrush tan to peel. Cool Tan of Franklin recommends for brides to come in a month before her wedding to try the airbrush tanning method in order to be sure that this is what she wants.
La Bella Spa also offer sunless tanning options. They suggest that a bride come in twice before the big day. If the wedding day is set for Saturday, then a bride should come in on Wednesday and Thursday. Any later than this, and there is a chance the tan will come off on the dress. Something else to keep in mind is that airbrush tanning can also leave the skin sticky; it is definitely not an option for the day before or day of the wedding.
6 Tips for A Successful Tanning Experience:
1. Plan ahead. Start going to the tanning bed one to two months before the wedding date, at least two or three times a week.

2. If you choose an airbrush tan, go a month before and do a trial run. And wear some white clothes (that can get dirty) for two days afterwards to be sure that the tan does not rub off on your clothing.
3. Slow and steady to get a great tan. Start off in a lower-level bed with UVB rays and less bulbs to build your base coat.
4. Be aware of the health risks involved with tanning. Tanning beds are known to cause the skin to prematurely age and overexposure can heighten the risk for skin cancer.
5. Even though airbrush tans do not expose the skin to dangerous rays, the skin will exfoliate easily in beach air due to the sea salts.
6. Check out different tanning salon packages to find your best fit. Keep in mind, Cool Tan will match any coupon that their competitors put out there. Just bring in the coupon.