ANIMAL CENTER HOSTS ADOPTION SPECIALS, PUBLIC DOG PARK OPENING AND MORE DURING THIRD ANNUAL "PAWCTOBER" EVENTS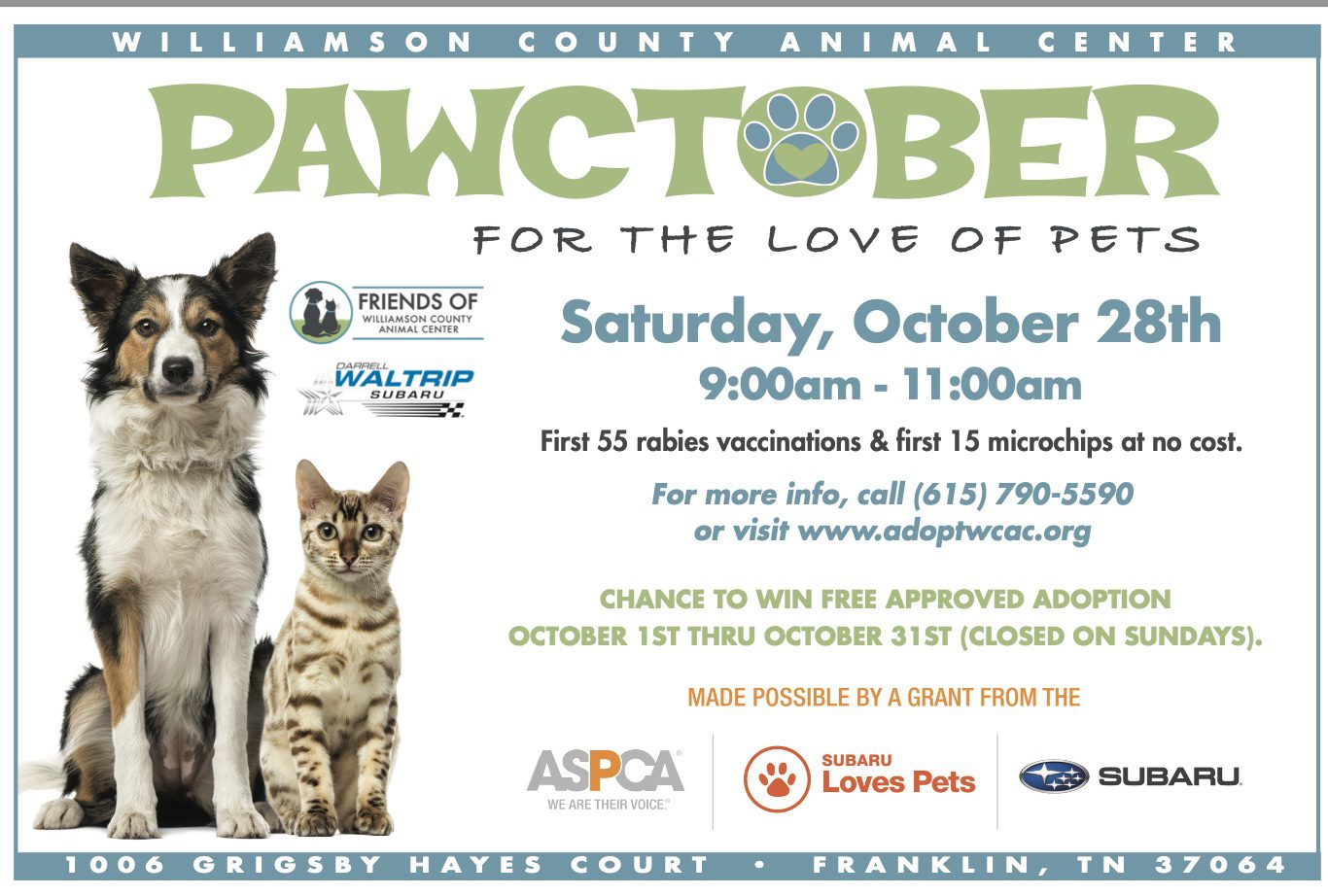 For the month of October, Williamson County Animal Center (WCAC) is giving approved adopters the chance to have adoption fees waived thanks to support from ASPCA and Darrell Waltrip Subaru. Winners are determined by random drawing during checkout. Normal rates apply otherwise: $50 per kitten, adult cat and adult dog, $85 per puppy.
Pet adoptions have not kept up with intakes so far in 2023, according to WCAC Director, Ondrea Johnson. "Events like these are critical right now because we're as crowded with dogs as we've been since we opened our new building last year," Johnson said. "We have so many animals that will make great pets and being able to offer discounts helps get people in the doors to see them."
Near the end of the month, the first 55 cats and dogs to receive a rabies vaccination and first 15 microchips done during WCAC's monthly clinic on Saturday, October 28 will be at no cost. When free services are no longer available, the rabies vaccinations are $10 each and $15 per microchip; cash or check payments only, no card payments are accepted. Pre-registration helps expedite the process but does not guarantee discounted fees. The clinic begins at 9:00 a.m. and the line cuts off at 11:00 a.m.
Perhaps the most exciting event at the center during Pawctober, however, will be the grand opening celebration for the public dog park on Tuesday, October 24 beginning at 10:30 a.m. Special guests include Darrell Waltrip and Williamson County Mayor, Rogers Anderson.
The park features separate small and large dog areas outfitted with pavilions and agility equipment sponsored by Darrell Waltrip Auto Group. Media and the public are welcome and encouraged to attend and bring their dogs to christen the new dog park.
This is the third year in a row that "Pawctober" at WCAC is possible because of grants from the ASPCA, Subaru Loves Pets and Subaru. "We've worked with the animal center for years," said Vice President and Executive General Manager, Darrell Waltrip Automotive Group, John Gallagher. "Supporting their efforts, hosting adoption events, delivering pets on Christmas morning and in general helping however we can. This park opening is the wonderful result of our partnership and we look forward to seeing dogs enjoy it for years to come."
In addition to the dog park, funding is used to specifically promote adoptions, microchipping, vaccinations and spay/neuter. WCAC always provides spay and neuter services at no cost for cats that spend any time outdoors in Williamson County. This grant opportunity also allows the center to offer discounted spay/neuter services for a limited number of pets that would typically incur a fee. Spay and neuter services are available by appointment, visit WCAC's website for more details.
Located at 1006 Grigsby Hayes Court in Franklin, WCAC is open Monday through Friday, 10:00 a.m. until 6:00 p.m. and Saturday, 11:00 a.m. until 3:00 p.m. The shelter closes to the public on Sundays.