Always Give
By Katie Volz
Weddings are not just all about receiving great gifts. In the hustle and bustle of planning your wedding, don't forget to spare some attention for the proper ways to thank all the fantastic people who made your wedding possible (including your future spouse).
Here are some ideas for creative ways to thank everyone involved in your wedding.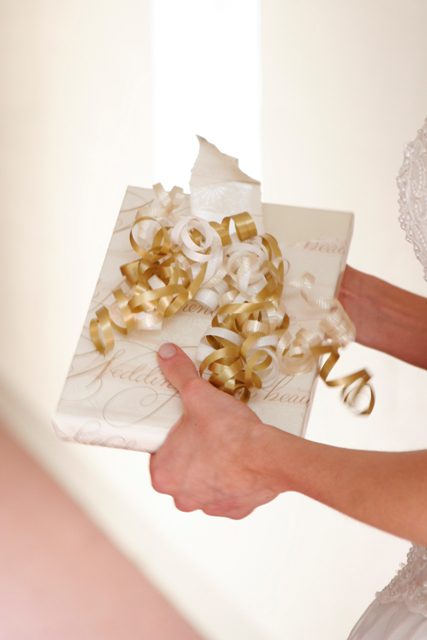 To each other:
The tradition of the bride/groom gift exchange, which had fallen by the wayside in recent years, is again gaining popularity. Much to the delight of brides everywhere, grooms are again secretly purchasing jewelry or other love-tokens to present to their brides. So, what does this mean for you? Get shopping! Here are some great ideas for gifts to exchange with your intended.

For the Bride:
You really can't miss with jewelry. A nice necklace or earrings that she can wear to the wedding will make her day even more special. Find something that is personal and represents the beginning of your new life together. One expert recommends buying a necklace with three stones: her birthstone, your birthstone and a stone for the month of your wedding. Another great way to personalize your gift is to have it monogrammed with her new initials.
If possible, you could give your bride a family heirloom. Presenting her with a piece of jewelry that has been passed down through your family is a nice way to welcome her to her new family. Another great way to show your bride your appreciation for all her hard work on your wedding is to treat her to a day at the spa. Present her with a gift voucher for a day of pampering.
If you are on a budget and a gift for your bride is one thing you plan on skipping to keep costs down, consider finding inexpensive (or free) ways to give her a gift. A framed picture of the place you proposed, home-made coupons for five nights of cooking, or a nice long note expressing your love and appreciation.

For the Groom:
Cufflinks that he can wear to the wedding make a great gift for your groom. Have them monogrammed or find some that represent something special to you both. You could also give your future husband something that he would like for your new home together. Give a piece of artwork, or something practical, like a nice wine rack. Try to personalize these gifts as much as possible.
If money is a concern, you can always make him something special. Make a CD of your favorite songs as a couple. Make an album of pictures from your time together so far, and leave the last half blank to fill with pictures your new life together.

When and where to give:
Many couples exchange their gifts the night before the wedding, either at the rehearsal dinner or just after. Some exchange gifts on the morning of the wedding. How do you do this and maintain the tradition of not seeing each other before the wedding? Easy! Send your bridesmaids and groomsmen to each other to present your gifts. This is a fun way to get your friends involved and make your gifts even more special.
Other couples prefer to present their gifts after the wedding, representing their first gift exchange as husband and wife. Whether you do it on the morning of the wedding or the night before, make the decision with your fiancé so that you are both on the same page.

To your parents:
For many couples, the parents are often the ones who help most with planning and financing the wedding. In most cases, they are nearly as involved as you are in your big day. It is fitting, therefore, that you honor them with a gift (large or small) that shows your gratitude and appreciation for all their hard work and contributions.
The size and value of the gift does not matter (remember how much they loved your finger paintings?) so long as it is personal and comes from the heart. Something specific to commemorate the wedding day itself, like a framed picture of the church or monogrammed glasses engraved with the date, is always a good idea. These gifts should be presented at the rehearsal dinner along with a toast or small speech thanking your parents for all their love and support.

To your bridesmaids:
Many brides choose to give their bridesmaids something nice that they can wear the day of the wedding. You can't go wrong with matching earrings, necklaces, or bracelets for the special women you have chosen to stand beside you as you make your vows. A day at the spa is also a sure way to show your bridesmaids your appreciation.
If you want to do something more personal or specific to the individuals in your wedding party, however, you might consider giving each a personalized gift that celebrates your friendship with each individual. If you are not giving your bridesmaids the same gift, you should take care that each gift would hold the same value to the bridesmaid receiving it. Present these gifts at the bridesmaid's luncheon or another girls-only gathering.
To your groomsmen:
As with bridesmaids, you can't miss with giving your groomsmen something they can wear to the wedding, such as a tie or cufflinks. Cigars, monogrammed money-clips, glasses or tickets to a sporting event are also great gifts for groomsmen.
Personalizing is important. If there is one activity (like cigar smoking) that you always do with one buddy, and another (like golfing) that you always do with another, give one cigars and the other a golf-related item. If you give individual gifts, however, try to keep them all in the same price range. It is perfectly acceptable, , to give your best man something a little something extra.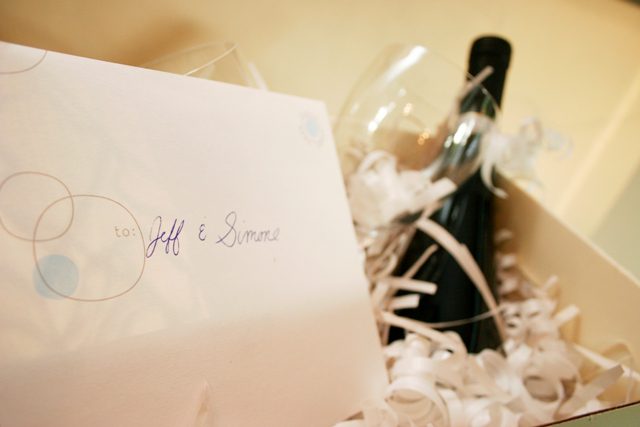 To your hosts:
It is always appropriate (and recommended) to give a token of gratitude to the hosts or hostesses of any wedding-related function such as a luncheon or shower. If you have an artistic streak, something you made yourself would work very well. One friend gave vases and bowls she had made in a ceramics class. You should present these gifts at the event each person is hosting for you.
To your guests:
They came, they saw, they conquered the dance floor!
It is traditional to thank your guests for honoring you with their presence at your wedding with some trinket or token to commemorate the event. T-shirts, key-chains, and cups adorned with your names and the date are popular wedding favors. Get as creative as you like with your favors.
It is always nice to do something fun and unique that the guests will remember. One couple I know gave out fly swatters (they got married during cicada season) bearing the slogan, "I survived Mike and Lisa's Wedding." A musician friend gave out CDs with songs he had written about his new wife for guests to enjoy. In addition to the personal thank-you notes you will no doubt be sending your guests, favors are a nice way to show your appreciation that they celebrated your special day with you.
While your wedding day is, and should be, all about you, it is also a time to show your appreciation to all those special people who helped you get to this important day. Remember to thank those who helped your wedding dreams come true!