30 Restaurants with Dog-Friendly Patios and Delicious Fare in Franklin & Nashville, Tennessee
It's patio season and there are plenty of places to sit outside while enjoying some food with your furry friend in Franklin and Nashville, Tennessee! Whether you are in the mood for a casual pub or a restaurant with a unique atmosphere, there are a variety of pet-friendly options to choose throughout these dog days of summer!
Learn about local dining experiences, entertainment, shopping, and more at FranklinIs.com.
Americana Taphouse serves a menu of traditional American favorites and offers 24 beers on tap. This downtown Franklin restaurant cultivates a fun environment through live music from local artists as well as a heated, dog-friendly outdoor patio with umbrellas and wraparound shrubbery overlooking Main Street! If you're looking for somewhere to unwind while enjoying some good food and live music with your furry friend, this is the place for you!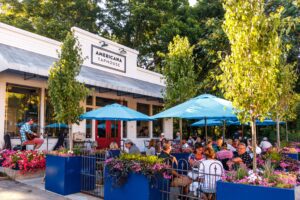 Edley's Bar-B-Que prides themselves on serving Nashville-style bbq with meats cooked low and slow as well as sides made from scratch each morning! The Franklin – Berry Farms location offers a heated, covered patio so your pup can join you year-round!
Brixx Wood Fired Pizza in Franklin serves food made from scratch using fresh ingredients and brick ovens. Not only do they specialize in housemade menu items – they also serve craft beers and a list of curated wines! Your dog may even make some new friends on their pet-friendly patio! 
Located in downtown Franklin and referred to by locals as "The Pig", The Bunganut Pig welcomes your pups on their outdoor patio. This is a great place to relax and have some fun, as they regularly incorporate live music, dancing, games, trivia, and daily specials into their evenings!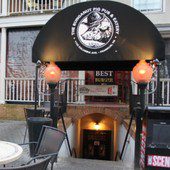 Burger Up offers gourmet, farm-to-table burgers as well as a large, dog-friendly patio in Franklin! They even have a mini-golf course for guests that your four-legged friend can join you on! 
Cajun Steamer Bar & Grill is a Louisiana-style restaurant serving up bayou bites. With an extensive list of seafood as well as southern classics, this Franklin restaurant invites you and your pup to party with their krewe! There are a dozen dog-friendly tables on their large outdoor patio, so enjoy the weather at Cajun Steamer! 
Corner Pub's Franklin, Brentwood and Nashville locations offer an outdoor patio with a few tables available for you and your furry friend! With a menu of American classics and meat n' three specials, you and your pup will have a great time hanging out at Corner Pub!
Double Dogs in Nashville offers an eclectic menu of salads, wings, pizza, hot dogs, burgers, sandwiches, and more! They also openly welcome your dogs on their Pup Patio, complete with its own bar, making this the perfect stop for a sunny day with your furry friends!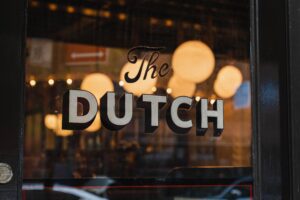 The Dutch is a restaurant from Chef Andrew Carmellini, located at the W Nashville in the heart of The Gulch. Offering special breakfast, brunch, lunch, supper, dessert, and drink menus, this American-style restaurant is an upscale option for you and your pup to enjoy patio dining!
Barbara's Home Cooking in Franklin offers southern comfort food for dine-in, catering, or carry out. Their menu is always changing with new entrees to choose from each time you visit! Barbara's Home Cooking is located inside a home with a casual dining room as well as several outdoor tables in the front yard for your pup to join you!
Five Points Pizza's West Nashville location is now dog-friendly, just in time for patio season! Serving hot pizzas and cold beers, Five Points Pizza is a great place to spend a summer day with your furry friend.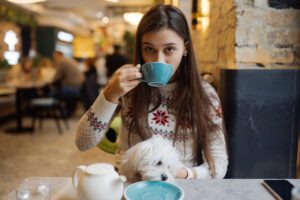 Frothy Monkey in Franklin and Nashville are more than happy to welcome you and your dogs to their cafe's outdoor patios! This all-day cafe serves breakfast, lunch, and dinner with locally sourced ingredients and full-service wait staff, so stop by for a pick-me-up with your pup!
Izzy's Feel Good Food is a local restaurant and music venue in Franklin! Stop by and experience some live music on their heated dog-friendly patio while enjoying their menu full of favorites as well as 12 beers on tap!
Jack Brown's Beer & Burger Joint in Nashville serves creative farm-to-table burgers and an extensive list of craft beers. They invite you and your four-legged friends to hang out on their patio or their backyard-style seating area! 
Jasper's is a neighborhood restaurant, bar, and market in Nashville's West End. With a menu featuring hot chicken, burgers, salads, pizza, frozen slushie drinks, hand-crafted cocktails and more, this is a great spot for friends, family, and furry friends to hang out! They even have shuffleboard, a game room, and a market that sells gourmet grocery items, party supplies, and dog toys!
Jeni's Splendid Ice Creams in East Nashville has a small patio with four dog-friendly tables outside of the parlor. This ice cream parlor was founded by a James Beard Award winner and offers a wide range of unique flavors – all made from scratch!
McCreary's Irish Pub & Eatery is locally owned and operated with a casual atmosphere, good food, and a wide range of cocktails. Their drink and food menus pay tribute to Irish cuisine – they even host live Celtic music! Bring your dog along for the fun at one of their outdoor tables in downtown Franklin! 
Mellow Mushroom puts a unique twist on traditional pizza. With their eclectic menu, local craft beers, and dog-friendly patio in downtown Franklin, you can relax and enjoy their art-filled, one-of-a-kind environment with your furry friend! 
If you're looking for a spot with a more refined ambience, you will find Mere Bulles located in Brentwood in Maryland Farms away from the hustle and bustle of the city! Enjoy their delicious cuisine worry-free knowing that their food is made with a focus on fresh and local ingredients. Their outdoor seating ensures a beautiful view, and your pup is welcome on the veranda! 
Miel in Nashville offers an ever-changing menu of locally sourced, French-inspired dishes. Located in a former meat market, this restaurant offers a covered and partially heated outdoor space among their gardens for you and your four-legged best friend to share a meal at Miel!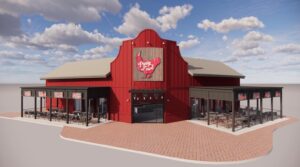 Party Fowl is popular for their Nashville hot chicken, local brews, and boozy slushies! Their Franklin and Nashville locations both have dog-friendly patios, so check out this local hot spot for hot chicken with your pup!
Pins Mechanical Co. in Nashville welcomes leashed dogs inside and outside! This bar features a menu of cocktails, beer, shaved ice, wine, and punches for groups. With games like foosball, pinball, duckpin, ping pong, bocce, arcade games, and more, bring your furry friend along on your next night out! 
Puckett's Grocery & Restaurant is a casual eatery with a menu of authentic Southern classics and local music performed live daily. With locations in Franklin and Nashville, your dog is welcome to join in on the fun at their outdoor tables while you enjoy the delicious food and great music together!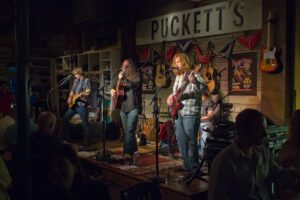 Red Bicycle Coffee is a dog-friendly cafe with three Nashville locations! With a menu of specialty lattes, teas, and espressos as well as an assortment of crepes and sandwiches, stop inside for a quick bite with your pup at this unique coffee shop!
Named after the owner's own pup Scout, Scout's Pub welcomes your furry friends on the outdoor patio at both their Franklin and Nashville locations! If you are in the mood for some traditional American food with a Southern twist, pop into Scout's Pub!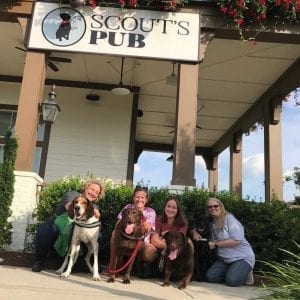 The Southern Steak & Oyster is a popular Nashville restaurant specializing in wood-fired meats and other southern-fried menu items. They even have an oyster bar and a dog-friendly patio! With carefully curated ingredients and a unique menu list, this lively restaurant in downtown Nashville is ready to welcome you and your furry companion! 
The Tin Roof 2 is a local bar and music venue in Franklin offering scratch-made food, weekly events, live entertainment, a daily happy hour, and dog-friendly outdoor seating! Consider enjoying time with your human and furry friends at The Tin Roof 2! 
Tony's Eat & Drink is a local pub in Franklin, famous for their unique menu, happy hour, and skee ball machines. Bring your pup along and relax on their large, dog-friendly patio!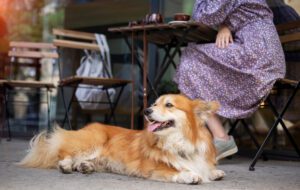 Tupelo Honey Cafe in Franklin provides guests with a unique atmosphere and sixteen dog-friendly tables outside! Look around at the incredible local artwork adorned on their walls and enjoy their food made from locally grown ingredients. Their menu boasts scratch-made dishes that merge traditional southern cooking and innovation, so make sure to stop by with your pup!  
Von Elrod's Beer Hall & Kitchen serves all the classics including chicken wings, nachos, burgers, tacos, salads, and more. They boast an extensive list of beers, cocktails, and wines served at their beer garden! This Nashville spot is extra dog-friendly with an enclosed patio, water bowls, and turf for your furry friends!
Looking for something fun to do this weekend? Shopping for antiques or curious about a restaurant? Wanting to volunteer your time with a non-profit, or just stopping by downtown Franklin, TN for the day? Access it all on FranklinIs.com. We encourage you to browse through the Living, News, Entertainment, Family & Kids, Real Estate, Visit, Resources and Events Calendar sections. There is something for everyone! 
FranklinIs a website dedicated to all things Franklin, TN and Williamson County! Supporting local non-profits, businesses, residents and visitors, FranklinIs the go-to place for all your Franklin and Williamson