21 Fun Things To Do with Kids in Franklin & Williamson County, Tennessee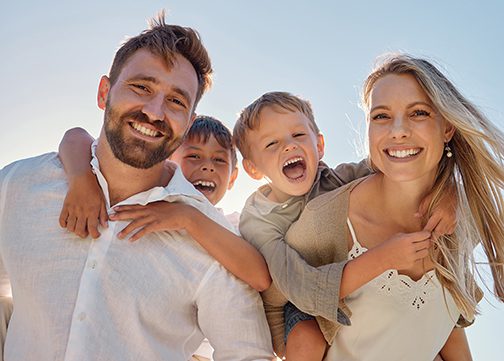 When it comes to family-friendly fun, Franklin and Williamson County, Tennessee has it all! From indoor adventures to outdoor explorations, there are plenty of activities for toddlers, teens, and even parents to enjoy during an entertaining family outing! Keep reading to find out more about where you can make some unforgettable memories with your kids in our one-of-a-kind city!
Learn about local dining experiences, entertainment, shopping, and more at FranklinIs.com.
Berry Picking
Boyd Mill Farm: Boyd Mill Farm in Franklin offers you-pick experiences with their blackberries and raspberries. This local farm kicks off you-pick season every year with their Blackberry Jam Music Festival in June and offers homemade jams year-round!
Southall Farm & Inn: Southall Farm & Inn is located on 325 acres of land and offers a plethora of kid-friendly experiences. You and your family are invited to spend a day apple picking in their orchard, exploring their apiary, foraging on the land, enjoying their farm-to-table food, or experiencing one of their various tours!
Wagner Berry Farm: The Wagner Berry Farm in Spring Hill offers you-pick experiences throughout the spring and summer months. With strawberries available for picking from mid-April to early May, raspberries from mid-May to early June, and blueberries as well as blackberries available in July, this local farm invites you and your family to spend a day picking your own berries!
Franklin's Bicentennial Park can be found between the city's downtown area and the Harpeth River. This park features a greenway traveling through town, historical sites and structures, an overlook of the Harpeth River, and beautiful views. Feel free to spend some time here with your kids to connect with the history and nature of Franklin!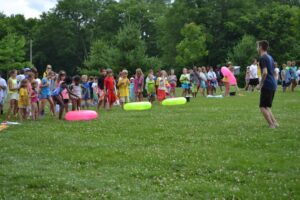 The City of Franklin hosts a variety of family-friendly events throughout the year! 
Touch-a-Truck: City of Franklin Parks' Touch-a-Truck takes place every Spring and is fun for the whole family with trucks, equipment, and vehicles of all shapes and sizes for kids to explore as well as music, games, and local food trucks!
Flashlight Candy Cane Hunt: The grounds of Eastern Flank Battlefield Park are sprinkled with candy canes every December in preparation for Christmas! Kids are invited to decorate their bag before the hunt and enjoy hot chocolate and cookies.
Kids Day: The City of Franklin kicks off summer break with Kids Day at Pinkerton Park. This is a morning of fun with games, entertainment, and light refreshments! 
Kids Art Festival: The Kids Arts Festival of Tennessee is celebrated in Pinkerton Park every Spring! This annual event invites Tennessee's K-12 students to display and potentially sell their original pieces in a juried exhibit, accepting a wide variety of art pieces with the winning works displayed at the Fire Hall Art Gallery in City Hall. 
Family Day: Franklin Parks' Family Day provides families with a day of fun at The Park at Harlinsdale Farm. This free annual festival offers miniature train rides, hayrides, cane pole fishing, a petting zoo, local food vendors, live entertainment, and Touch-a-Tractor where kids can operate on small excavators and sit on large tractors!
Downtown Franklin
Franklin's downtown is classified as a historic district and has been named America's Favorite Main Street! There are so many ways to keep kids entertained in downtown Franklin, including unique stores, sweet shops, bookstores, and historic sites from The Battle of Franklin! Stop by Kilwins to check out their vast selection of over 75 types of handmade chocolates before visiting The Franklin Theatre to watch a family-friendly movie or live performance! Downtown Franklin is also home to a variety of kid-friendly festivals from The Heritage Foundation of Williamson County, TN, including Main Street Festival, PumpkinFest, and Dickens of a Christmas! You and the kids could spend all day here with so many different things to experience! 
Farmers Markets 
Kids will love checking out the farmers markets' vast array of products! 
You can find

The Franklin Farmers Market

every Saturday morning behind The Factory at Franklin with numerous vendors offering fresh produce, baked goods, handcrafted items, and local art.

The

Nolensville Farmers Market

will be taking place every Saturday from 8 am- 12 pm at the Historic Nolensville School. Local farmers and artisans will offer fresh, seasonal foods and unique crafts!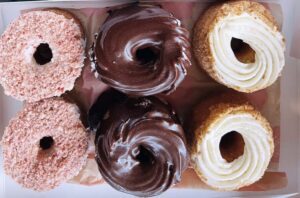 Five Daughters Bakery in The Factory at Franklin is a local, family business that offers scratch-made baked donuts! Their signature 100-layer donut features a cronut that is cooked, rolled in sugar, filled with cream, and adorned with glaze. Five Daughters Bakery offers plenty of other donuts with seasonal flavors as well as paleo options, so stop by for a decadent donut with the family!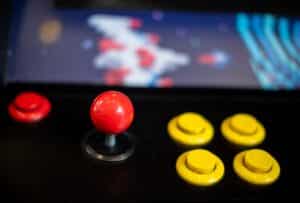 The Franklin Family Entertainment Center has 24 bowling lanes, 6 lanes of mini-bowling, an arcade, 3 billiard tables, and a full-service bar and grill. All of their bowling lanes offer bumpers controlled by their new scoring system, so kids of any age or experience level can play! The Franklin Family Entertainment Center is the perfect place for a night of indoor fun with family and friends!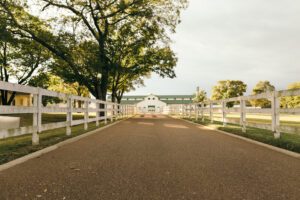 History is scattered all throughout Franklin, so there is always something new to learn and discover! The City of Franklin offers a self-guided audio tour of 16 historic sites including The Park at Harlinsdale Farm, Eastern Flank Battlefield Park, the Assault on the Cotton Gin, and many other national landmarks. If you are looking to get the kids out in nature while learning something new, this is a great activity!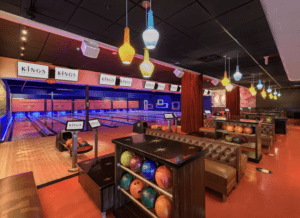 Kings Dining & Entertainment in Franklin, Tennessee  is the ultimate stop for dining and fun for the whole family! With a menu of appetizers, salads, burgers, wings, sandwiches, pizza, tacos, and desserts, even the pickiest eater is sure to find something they enjoy. Along with their delicious food, they offer bowling, billiards, arcades, and more!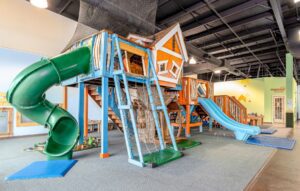 The Monkey's Treehouse in Brentwood provides children with enrichment time, socialization, and fun! Their open play area features a large indoor playground with a variety of sensory toys and they also offer a number of explorative play classes to choose from throughout the week! Children are entertained and engaged for hours while parents are able to work, run errands, or stop by their eatery!
The City of Franklin celebrates summer with Movies in the Park! Franklin's Pinkerton Park is home to this series of outdoor, kid and family-friendly movies taking place every summer weekend. Make sure to pack a chair or blanket to enjoy fun movies and food trucks with the Franklin community!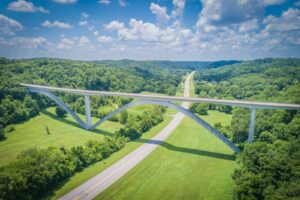 There are plenty of things to do with the kids in Franklin this summer on the historic Natchez Trace Parkway, including biking, camping, hiking, and even horseback riding! You can spend an afternoon walking Williamson County, Tennessee 's portion of the Natchez Trace or take a scenic drive to the wooded valley of Birdsong Hollow to view the scenic Natchez Trace Parkway Bridge!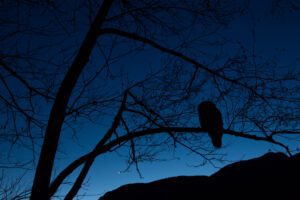 Owl's Hill Nature Sanctuary in Brentwood provides a safe space for over 2,000 local species to flourish! This 300-acre property of protected green space features creeks, ponds, forests, hills, and meadows where the Williamson County community can learn about and connect with native wildlife. Owl's Hill Nature Sanctuary offers a variety of kid-focused events and classes throughout the year, including Knee-High Naturalist for young kids, seasonal Owl Prowls, Music in the Meadow, Family Camp Outs, a variety of hikes (Firefly Hikes, Wildflower Hikes, Full Moon Hikes, etc.), events teaching about specific subjects (Wild about Raptors, Wild About Fungus, Wild About Bluebirds, Batty for Bats, etc.), and even more! Check out the Owl's Hill calendar to find out more about their kid-oriented activities in Brentwood!
Located in Franklin's Westhaven neighborhood, Paddle Dog offers food, music, boats, bikes, and more! You and your family can spend a whole day here cruising through the neighborhood with their bike rentals and riding the Harpeth River with their paddle boards, canoes, or kayaks before enjoying one of their variations of delicious hot dogs, brews, and paletas!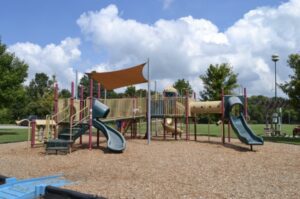 Parks
Williamson County, Tennessee has a range of parks where you can walk, run, hike, or bike with the family!
Crockett Park

is a 164-acre park in Brentwood, TN with a number of attractions including the Eddy Arnold Amphitheater, sports fields, nature trails, open meadows, and a playground. The playground features rubber paths for toddlers, slides, bouncy bridges, rubber tire obstacles, tire swings, picnic tables, and more!
Deerwood Arboretum

is located on 27 acres bordering the Harpeth River and hosts a variety of wildlife! Kids can encounter over 100 species native wildlife with their bike paths, jogging trails, ponds, and wildflower meadows.

Pinkerton Park

is the most used passive park in the Franklin park system! This 34-acre park features 3 pavilions, 2 playgrounds for separate age groups, grills, and a 1 mile walking trail with informational signs about Fort Granger. Each playground is complete with games and slides!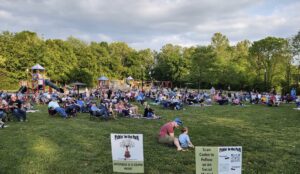 Pickin' in the Park is Spring Hill, Tennessee's monthly outdoor music series, taking place from May to October. This free, family-friendly event features live music from local musicians as well as local food trucks! Pack your chairs and blankets to enjoy some live entertainment at Pickin' in the Park with the Spring Hill community!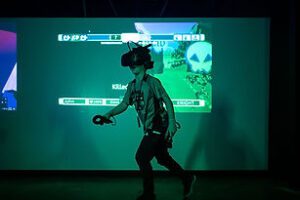 Located in Franklin, The Rabbit Hole is the largest virtual reality arcade in the Southeast. Their experiences include a VR arcade with over 15 games to choose from, a multiplayer free roam arena, and a VR escape room! If you are looking for an activity that will keep the whole family entertained, The Rabbit Hole is the place to be!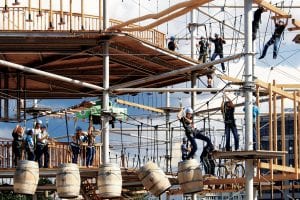 The SOAR Adventure Tower in Franklin features 4 levels of over 100 climbing obstacles designed to challenge you mentally and physically. They also offer an 18-hole music-themed miniature golf course and a bar! If you're looking for a local way for the kids to have fun and get active this summer, SOAR Adventure Tower is waiting to make your acquaintance!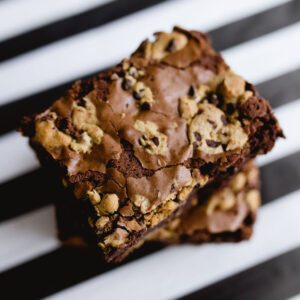 Sugar Drop is a local Franklin sweet supply shop that offers bakery items, classes, and more! If the kids are looking for something to do and wanting to satisfy their sweet tooth, try out one of Sugar Drop's classes where experienced teachers will show you how to make your own sugary treat!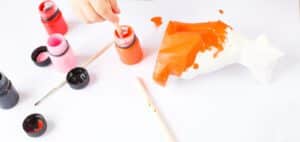 Located in The Factory at Franklin, this local business is open 7 days a week and offers a fun outlet for you and your kids to get creative! Third Coast Clay provides you with all the supplies you need including firing your finished work. Hand-painting pottery is a great way for you and your family to tap into your imaginations and leave with some fun pieces to decorate the home with!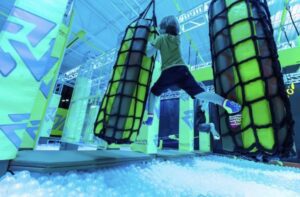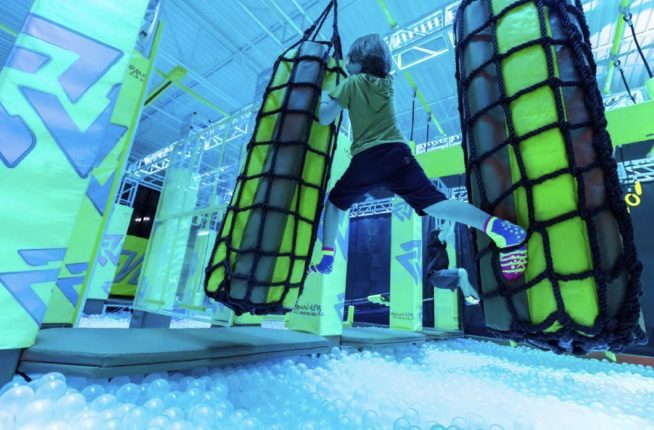 Urban Air Trampoline & Adventure Park in Cool Springs offers countless indoor games and activities for the whole family! From dodgeball and climbing walls to obstacle courses and battle beams, this adventure park has it all! With countless attractions and activities as well as a cafe, you and your family can have an entire day of fun at Urban Air Trampoline & Adventure Park! 
Looking for something fun to do this weekend? Shopping for antiques or curious about a
restaurant? Wanting to volunteer your time with a non-profit, or just stopping by
downtown Franklin, TN for the day? Access it all on FranklinIs.com. We encourage you
to browse through the Living, News, Entertainment, Family & Kids, Real Estate, Visit,
Resources and Events Calendar sections. There is something for everyone!
FranklinIs a website dedicated to all things Franklin, TN and Williamson County!
Supporting local non-profits, businesses, residents and visitors, FranklinIs the go-to
place for all your Franklin and Williamson County needs.