15 Family-Friendly Ideas for a Festive Fall in Franklin, Tennessee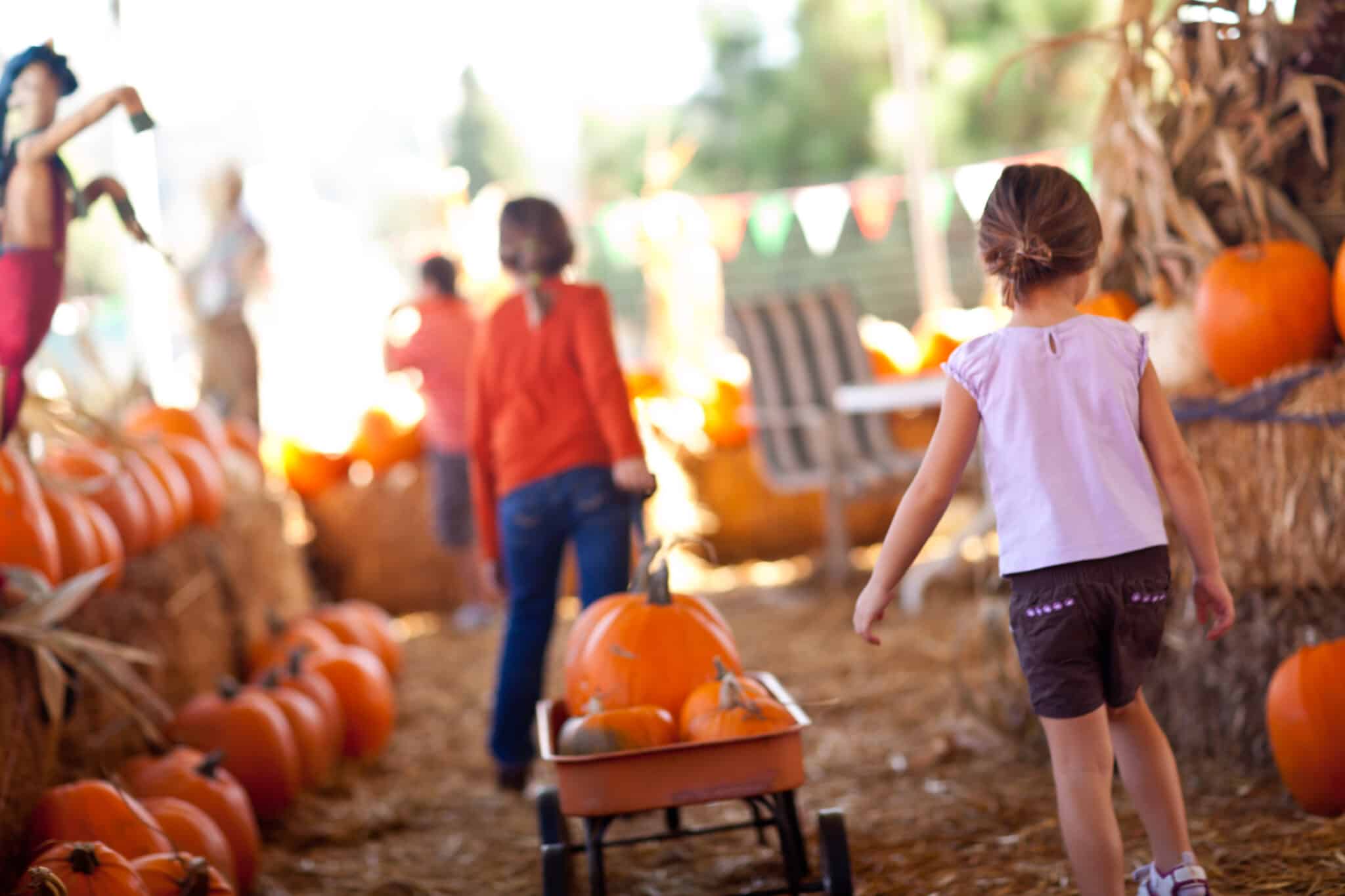 There's something special about Fall in Franklin, Tennessee. With beautiful foliage lining the streets and all of the fun annual events and festivals we have been looking forward to all year, there are plenty of ways to celebrate the season with friends and family. From pumpkin patches and corn mazes to gorgeous scenery and one-of-a-kind entertainment, keep reading for some suggestions on how to have a fun and family-oriented Fall in Franklin and Williamson County!
Learn about local dining experiences, entertainment, shopping, and more at FranklinIs.com.
Downtown Franklin
There are so many things to do and see this Fall season in Franklin's downtown, including antique stores, art galleries, book stores, and historic sites from The Battle of Franklin! You could even stop by Kilwins to check out their vast selection of over 75 types of handmade chocolates or visit The Franklin Theatre to catch a movie or live performance! Downtown Franklin is also home to a variety of family-friendly festivals – you could spend all day here with so many different things to experience!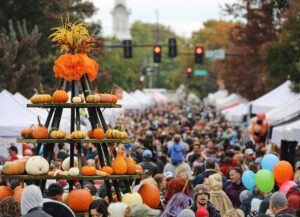 The Heritage Foundation of Williamson County's Annual PumpkinFest offers autumn-inspired food and drink, live music, and countless activities every October! Over 150 vendors line the streets, along with several restaurants and shops located downtown joining in on the festivities. Equipped with a KidZone, a whiskey lounge, interactive experiences, live entertainment, and costume contests for both people and pets, PumpkinFest will be sure to show you why it's the largest family fall festival in Middle Tennessee on October 28th!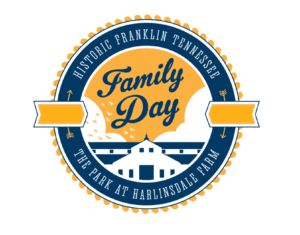 Franklin Parks' Family Day provides families with a day of fun at The Park at Harlinsdale Farm. This free annual festival in Franklin offers miniature train rides, hayrides, cane pole fishing, a petting zoo, local food vendors, live entertainment, and Touch-a-Tractor where kids can operate on small excavators and sit on large tractors. Family Day occurs on the first Saturday of every November, so make sure to plan on a day of memories with your family! 
Farmers Markets
Fall is the perfect season to explore local farmers markets. Williamson County's year-round farmers markets include The Franklin Farmers Market and Nolensville Farmers Market! You can find The Franklin Farmers Market every Saturday morning from 8am- 1pm behind The Factory at Franklin with numerous vendors offering fresh produce, baked goods, handcrafted items, and local art. The Nolensville Farmers Market will be taking place every Saturday from 8am-12pm at the Historic Nolensville School, where local farmers and artisans will offer fresh, seasonal foods and unique crafts! These weekly farmers markets provide the perfect opportunity to support local farmers, kitchens, and artisans.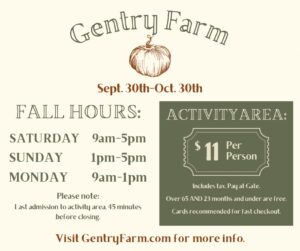 Gentry Farm in Franklin will be open for its fall season from Sept. 30th- Oct. 30th. This family-friendly farm hosts a number of fall-themed attractions, including pumpkin picking, a corn maze, hay rides, mini golf, tire swings, beautiful nature trails, plenty of games, and more! Start a new family tradition this fall and make some memories at Gentry Farm!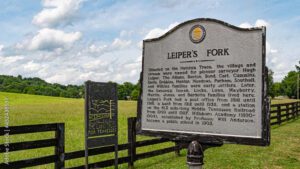 Leiper's Fork
Just 20 minutes from downtown Franklin, you will find the charming village of Leiper's Fork, and Fall is an amazing time of year to visit! This small town offers a down-to-earth feel as well as a selection of antique shops, art galleries, and local diners. Get away from the hustle and bustle of city life and enjoy an Autumn afternoon in Leiper's Fork!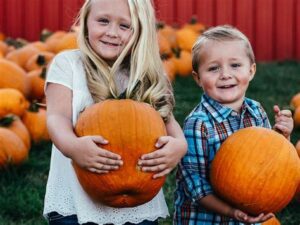 Lucky Ladd Farms in Eagleville is just 30 minutes from Williamson County and hosts a vast range of fall events and festivals! This unique pumpkin patch will be hosting their Fall Family Fun Pumpkin Festival until Oct. 29th, with a pumpkin patch, corn maze, a petting zoo, and more! 
Morning Glory Orchard is a local, family-owned peach and apple orchard in Nolensville. What's more fall-themed than an orchard? You can book a variety of activities including taste tours, mixology classes, picnics, tea parties, and more! All you need to do is gather your friends and family to show up and enjoy a fulfilling day with picturesque views in the crisp Autumn air.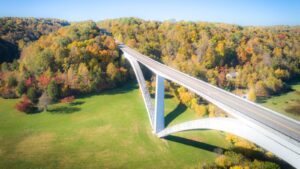 Natchez Trace Parkway
There are plenty of things to do this Fall on the Natchez Trace Parkway, including camping, biking, hiking, and even horseback riding! You can spend an Autumn afternoon exploring Williamson County's portion of the Natchez Trace or taking a scenic drive to the wooded valley of Birdsong Hollow to view the Natchez Trace Parkway Bridge among the Fall foliage!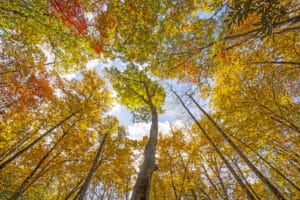 Owl's Hill Nature Sanctuary in Brentwood is a great destination for fall festivities, with events like Autumn Lantern Hikes, Fall Color Hikes, Music in the Meadow, and more! This gorgeous nature sanctuary provides a safe space for over 2,000 local species to flourish, and their 300-acre property features creeks, ponds, forests, hills, and meadows where the Williamson County community can connect with native wildlife. Owl's Hill Nature Sanctuary offers a variety of fun events throughout the seasons, so make sure to check out their calendar!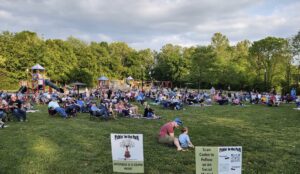 Pickin' in the Park is Spring Hill's monthly outdoor music series, with the last installment taking place October 7th! This free, family-friendly event features live music from local musicians as well as local food trucks! Pack your chairs and blankets to enjoy some live entertainment in the Autumn air with the Spring Hill community at Pickin' in the Park! 
Southall Farm & Inn is located on 325 acres of land and offers a plethora of fall-themed and kid-friendly experiences. You and your family are invited to spend a day picking apples in their orchard, exploring their apiary, foraging on the land, enjoying their farm-to-table food, or experiencing one of their various tours!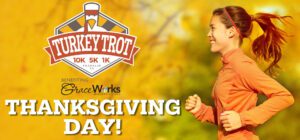 Join the community of Franklin in the Annual Turkey Trot on Thanksgiving day! This Thanksgiving tradition benefits GraceWorks, ensuring local families have food, shelter, and support. Over 3,000 participants come out every year to run/walk through Cool Springs with options of a $15 Kids Turkey Chase – Kids Fun Run (9 years old and under only), a $45 5k, or a $50 10k. Make sure to support this do-good, feel-good Thanksgiving event!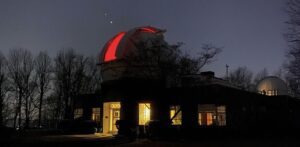 As the Earth rotates, we are continuously seeing different stars and constellations throughout the year, and Vanderbilt Dyer Observatory in Brentwood is a great place to gaze at the extraordinary and unique Autumn sky! Whether you are interested in attending one of their Live Telescope Nights, an educational Meet the Astronomer Evening, or scheduling your own tour, there is so much to see and learn about this season!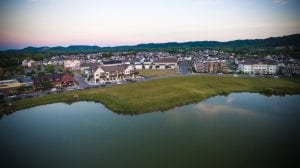 Paddle Dog can be found in Franklin's Westhaven neighborhood and has plenty to offer this Fall season! Visit Paddle Dog's Boat House for a yummy hot dog and cold brews while catching a game, playing weekly trivia, or enjoying live music! You can even rent out a paddle board, canoe, kayak, or bicycle to explore the Harpeth River as well as the streets lined with beautiful fall foliage! 
Looking for something fun to do this weekend? Shopping for antiques or curious about a restaurant? Wanting to volunteer your time with a non-profit, or just stopping by downtown Franklin, TN for the day? Access it all on FranklinIs.com. We encourage you to browse through the Living, News, Entertainment, Family & Kids, Real Estate, Visit, Resources and Events Calendar sections. There is something for everyone! 
FranklinIs a website dedicated to all things Franklin, TN and Williamson County! Supporting local non-profits, businesses, residents and visitors, FranklinIs the go-to place for all your Franklin and Williamson County needs.