10 Brunch Spots in Franklin, Brentwood & Williamson County, Tennessee
Looking for the perfect place to get together with friends and family or meet up with someone new? Or maybe you're just interested in some yummy food and coffee? You're in luck because Franklin and Williamson County, Tennessee have plenty of unique and high-quality local brunch spots to choose from!
Learn more about local dining experiences, entertainment, shopping, and more at FranklinIs.com.
Hours: Open daily 7am- 2:30pm
Big Bad Breakfast believes breakfast is the most important meal of the day. Award-winning chef John Currence wants to elevate your morning and afternoon dining experiences with brunch menus full of fresh Southern favorites, locally roasted coffee, and specialty cocktails! 
Hours: Open daily 7am- 3pm 
This family-owned and operated restaurant is located in Franklin's Historic Corn House, an 1800s home experienced in food and entertainment. Biscuit Love offers meals made from scratch with locally sourced ingredients! With a menu full of brunch classics and merchandise sales benefiting local non-profits, you can't go wrong with Biscuit Love!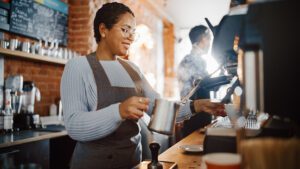 Hours: Open daily 10am- 3pm
Caffé Artisan is a local brunch spot with daily specials and a variety of sweet and savory foods! With an eclectic setting, handcrafted menu items, award-winning pies, and top-notch service, this eatery is ready to make your acquaintance.
Hours: Open daily 7am- 2:30pm
First Watch has a rotating menu based on each season and inspired by the current position of the sun! With their signature drip coffee, all-natural juice bar, creative cocktails, and traditional brunch specials, this is a one-of-a-kind brunch experience. Stop by one of their locations in Franklin or Brentwood to find out what's on this season's menu! 
Hours: Mon.- Sat. 7am- 4pm | Sun. 8am- 3pm
Franklin Bakehouse is a family-owned bakery, deli, bar, and market focused on bringing our community together! This one-stop shop offers fresh artisan baked goods and specialty foods made from locally sourced ingredients as well as curated wines, local craft beers, and everyday essentials.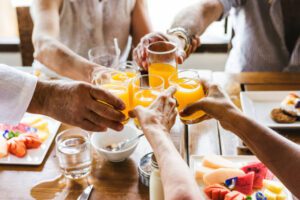 Hours: Open daily 8am- 2pm
Fondly referred to as "The Merc", Franklin Mercantile has been a staple in the community since 1999! With a casual environment consisting of well-loved furniture and local art as well as delicious Southern favorites and homemade desserts, this historic downtown Franklin deli is the go-to spot for brunch lovers.
Hours: Open daily 7am- 9pm
Located in downtown Franklin, this all-day cafe serves breakfast, lunch, and dinner with a full-service wait staff. If you visit and decide you can't get enough of their locally roasted coffee, they offer a free Frothy Coffee Perks program as well as a coffee subscription. Hosting a weekly Wine Down Wednesday and happy hours throughout the week, Frothy Monkey isn't short on deals. With locally sourced ingredients and an inviting atmosphere, this cafe will easily make its way into your weekly routine!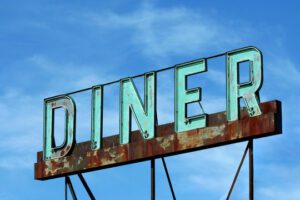 Hours: Tues.- Fri. 5:30am- 2:30pm | Sat. 6:30am- 2:30pm | Closed Sun.- Mon. 
Halfway Market and Diner is considered by locals as one of Franklin's many hidden gems. Offering an excellent variety of meals and a staff that treats you like family, you will leave feeling content and nourished! 
McGavock's Coffee Bar & Provisions
Hours: Open daily 7am- 3pm
Located in the Harpeth Hotel, this cafe and bar has it all! Their European-style bar features coffee beans made from Honest Coffee Roasters, local craft beers, signature food items, and more! In addition to their meticulously crafted selection of food and drinks, they offer an assortment of provisions from both local and regional artisans. 
Hours: Mon.- Thurs. 7am- 5pm | Fri.- Sat. 7am- 6pm | Closed Sundays 
With scratch-made bakery items and an ever growing list of accolades, Merridee's Breadbasket features a rotating menu of seasonal specials! With dozens of food and drink options, you are sure to find what you're looking for at this beloved bakery. 
Hours: Mon.- Fri. 7:30am- 2:30pm | Sat.- Sun. 8am- 2pm 
The Perch is a local cafe in Brentwood serving brunch options such as specialty coffees, Belgian waffles, sweet and savory crepes, and more! 
Looking for something fun to do this weekend? Shopping for antiques or curious about a
restaurant? Wanting to volunteer your time with a non-profit, or just stopping by
downtown Franklin, TN for the day? Access it all on FranklinIs.com. We encourage you
to browse through the Living, News, Entertainment, Family & Kids, Real Estate, Visit,
Resources and Events Calendar sections. There is something for everyone! 
FranklinIs a website dedicated to all things Franklin, TN and Williamson County!
Supporting local non-profits, businesses, residents and visitors, FranklinIs the go-to
place for all your Franklin and Williamson County needs.