WCAR presents results of Case Study on Williamson County's Population Growth & Economic Development
Franklin, TN – This morning at Franklin Tomorrow's Breakfast with the Mayors, the Williamson County Association for REALTORS® (WCAR) presented the outcomes of the study titled, "Population Growth & Economic Dynamics: A Case Study for Williamson County." This study examines the relationship between population and economic growth as it pertains to Williamson County and various counties in Tennessee. Sponsored by WCAR, the study was completed by the Business and Economic Research Center at Middle Tennessee State University.
"Our goal in sponsoring this study was to not only examine comprehensively the population growth and economic dynamics in Williamson County, but to also help create conversations on the future of our great county and what growth will look like," said Kyle Shults, 2019 Board of Directors President for WCAR. "The data collected allows us to establish benchmarks necessary in supporting future decisions regarding our continued growth."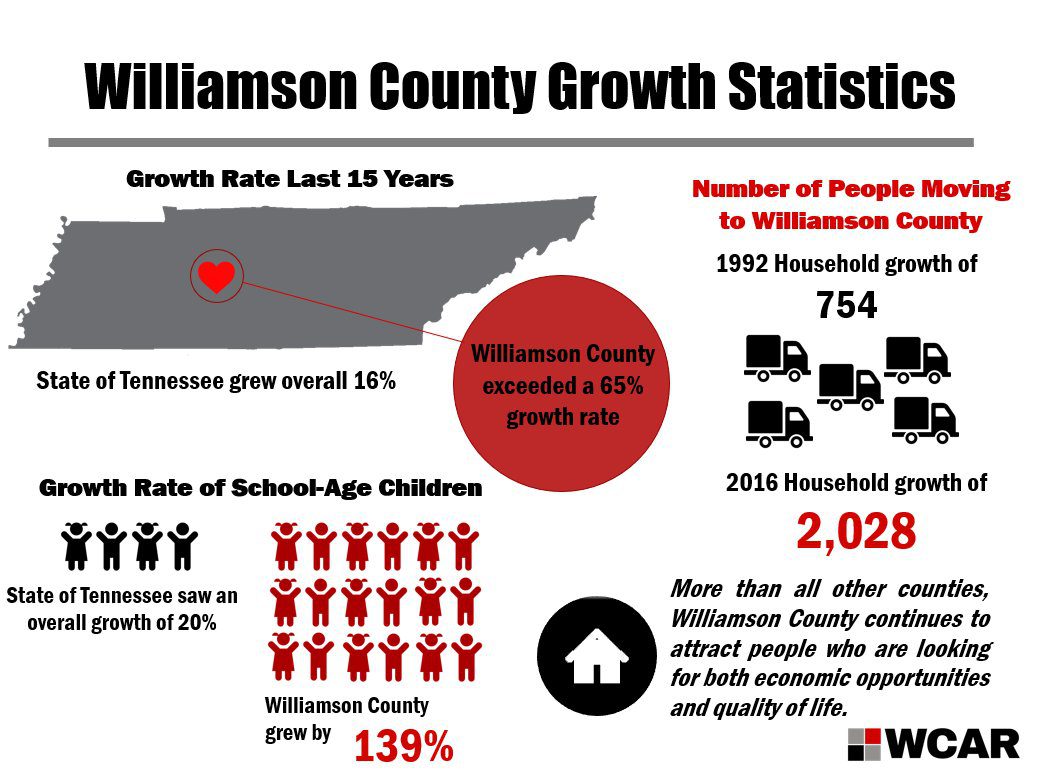 The results of this study have shown that Williamson County has been one of the most rapidly growing counties in the state. It's population has exceeded a growth rate of 65% in the last 15 years while the state of Tennessee has grown 16% overall.  The two fastest growing segments are the over 65 and under 18 populations. With this growth we have seen county revenues increase by 430% while expenditures have increased by 426%. An environment has been created in Williamson County with such benefits as a homeownership rate roughly 17 points higher than the state, 57% of the county's population over 25 has a bachelors degree or higher, Williamson County students average the highest ACT scores in the state at 25.2, and per capita income has grown 25%, making Williamson County the 7th wealthiest county in the nation.  In addition, MTSU's Economic Research Center was able to make overall population growth predictions for the county through 2027.
"Using resources from the National Association of REALTORS®, WCAR is thrilled to be able to offer up projects like this study to our community. If anyone would like details on the study, reach out to one of our nearly 3,000 members," said Bo Patten, Government Affairs Director for WCAR.
The Williamson County Association of REALTORS® is a business that represents the interest of Real Estate Professionals. We advocate for quality of life in the communities we serve, the protection of Private Property Rights and responsible legislation for the Real Estate Industry.
# # #
For additional information:                 Deb Varallo 615-367-5200, ext. 104 or deb@varallopr.com
Varallo Public Relations, Nashville