Waves Celebrating the Abilities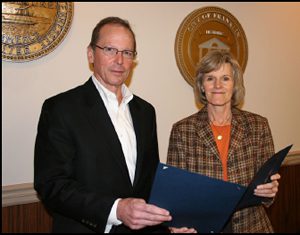 Franklin Mayor John Schroer and Williamson County Mayor Rogers Anderson have both proclaimed March as Mental Retardation-Developmental Disabilities Awareness Month. Mayor Schroer presented a Proclamation to Waves Community Services and Supports Executive Director Jennifer Krahenbill on March 4th. Mayor Anderson presented the county's proclamation to Krahenbill in his offices on March 10th.
Waves and other related organizations, are encouraging everyone in the community to consider the true meaning of this year's theme, "Celebrate The Abilities". Across the nation, organizations devoted to serving individuals with mental retardation and other developmental disabilities (MR/DD) are planning special events in March to raise public awareness of the many abilities people have, regardless of disability. "Celebrate The Abilities" encourages people to bring diversity to their communities by welcoming people with disabilities into local neighborhoods, workplaces, houses of worship and schools, and encouraging citizens to see the person, not the disability.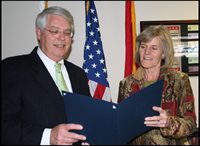 "This is a time when our organization focuses on encouraging the public to better understand the individuals we serve," said Jennifer Krahenbill, Waves Executive Director.
"Our goal is to help the community at-large see the merits and ability of the whole person – not simply a disability. Our focus has always been on what people can do," she added.
In making the proclamation, Mayor Schroer praised Waves and other similar community agencies for the work they do and said, "I encourage all citizens and businesses in Franklin to join me in recognizing and celebrating the abilities in all people with disabilities".
On behalf of the County, Mayor Anderson said, "Waves and Williamson County have been working together for the past 35-years to support and recognize people in our community with developmental disabilities. I salute Waves for their hard work, and encourage everyone in the county to join me in celebrating the abilities of this loving and vulnerable group of citizens."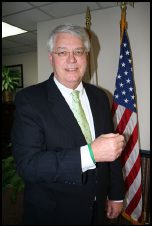 Waves is promoting recognition of March as MRDD Awareness Month by selling Awareness Bracelets. The green silicone bracelets carry the theme "Celebrate The Abilities". The bracelets are available for a donation of $5.00 and can be purchased on the Waves website at www.wavesinc.com, at the Waves offices at 125 5th Avenue South in Franklin, at the two Waves Adult Day Program Centers on Brookwood Drive in Franklin and at the Fairview Recreation Center in Fairview, and at several local retailers.
"We want to encourage everyone in the community to wear a bracelet, especially during the month of March," said Waves Director of Marketing and Development, Francis Eagle.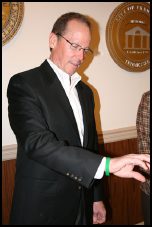 Another major Waves event scheduled in March is the Second Annual Art Contest and Exhibition for area artists with Developmental Disabilities, conducted in association with the Arts Council of Williamson County. The Art Exhibition and Patrons Party will be held on Friday, March 28th at The Factory in Franklin. Participating artists will be on hand to meet the public and discuss their creations. Many of the original art pieces will be available for purchase.
Tickets for the Patrons Party are $20 each and are available at the Waves website at www.wavesinc.com, by calling Waves at 794-7955, or at the event.
Waves, Inc. is a non-profit agency in Franklin, Tennessee that provides advocacy, support and programs for individuals with developmental disabilities and their families. Our goal is enable the individuals we serve to progress toward their full potential and live as active, contributing members of the Williamson County community.
Serving over 120 individuals on a daily basis, Waves presently operates ten homes in Franklin and Fairview that provide around the clock supported residential living and six apartments for more independent residents. The agency also has two adult day activity programs (in Fairview and Franklin) that provide a variety of community activities, life skills education (through our LifeFocus Program) and therapies based on personal preference and individualized support plans.
Waves Vocational and Employment Services Program provides job counseling, training and job placement in the community, and Waves Recycling Services collects recyclable office waste for over 30 businesses in Franklin, Brentwood and the Cool Springs area.
The Waves Early Childhood Learning Program provides a comprehensive approach to play-based learning and development for infants, toddlers and pre-school-aged children. The program provides additionalsupport services for children who are experiencing delays in speech/language, cognitive, motor or self-help skills. The Waves Early Learning Program has been singled out by the Tennessee Department of Education and the Division of Mental Retardation Services as a model program for its innovative approach to therapy services and for other community relationships.