Vintner's Tasting
Celebrating the release of its 20th vintage– the 1998– Opus One Winery held vertical tastings and gala events in both Tokyo and Hong Kong. Now, Franklin, Tennessee has the distinction of holding an Opus One Vertical Tasting Gala in celebration of the 8th annual Wine Down Main Street.
On Thursday, September 25, the Wine Down Main Street Vintner's Tasting will take place at Hallmark Volkswagen on Bakers Bridge Avenue in Cool Springs. A limited number of tickets are available for this event priced at $200 per person. When Opus One comes to Franklin the festivities will begin with Champagne and hors d'oeuvres followed by the rare opportunity of tasting Opus One vintages 2002, 2003 and 2004 along with a specially prepared menu to complement each wine. Tickets to the Vintner's Tasting are available only at www.WineDownMainStreet.com.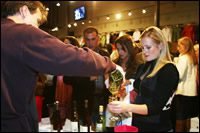 For the tasting in Franklin, Karen Matoian of Opus One will be one hand to discuss each of the wines being tasted. Opus One and Nashville-based Lipman Brothers distributors have joined forces to make this event possible. Proceeds from the ticket sales benefit the Boys & Girls Club of Franklin/Williamson County.
This exceptional evening will conclude with a very special surprise wine served in a Riedel wine glass. The glass, along with a personal place card holder crafted from the stone from the Opus One Winery, will be a gift to each attendee.
Baron Philippe de Rothschild, legendary proprietor of Château Mouton Rothschild, and renowned Napa Valley vintner Robert Mondavi, founded Opus One. By combining the great wine making traditions and innovations of both families, the founders' singular goal was to create an exceptional wine in the heart of the Napa Valley.
Asserting its independence and achieving a keen balance between its partners, Opus One remains dedicated to uncompromising quality. Opus One's sole purpose is to express the vision and passionate spirit of its founders for generations to come.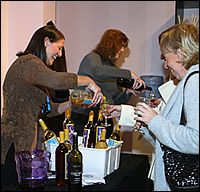 The partners agreed to choose a name of Latin origin, allowing for easy recognition in both French and English and any other language. Baron Philippe announces his choice, "Opus," a musical term. Two days later he proposes an additional word: "Opus One".
Since 2001, Wine Down Main Street has raised more than $550,000 for the Boys & Girls Club of Franklin/Williamson County. Last year's event was the seventh straight sell-out with 1,400 tickets purchased. For 2008, Main Street will be closed from First Avenue to Fifth Avenue with all the food providers being set up in the Public Square. More than 40 shops and businesses participated last year along with 25 restaurants.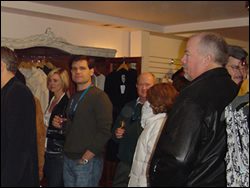 Tickets to Wine Down Main Street are currently on sale now only at www.WineDownMainStreet.com. Hard tickets will be available in the shops along Main Street beginning in September. Tickets remain $75 per person again this year.
Hallmark Volkswagen presents Wine Down Main Street again this year. Sponsors include Lipman Brothers Distributors, TS3, Green Bank, Meridian Cool Springs, Williamson A.M./The Tennessean, JLB Works, FranklinIs and One Woman Show Design.