Vintner's Dinner
Two very special events set for October are being added to
enhance and complement the Wine Down Main Street experience. Now in its seventh year, Wine Down Main Street, set for Friday, November 2, will present a Champagne tasting and trunk show featuring Chandon wines and Louis Vuitton luggage on October 10th and a special Vintner's Dinner featuring the wines of California's Wente Family Estates on October 17th. Both events take place at the Hallmark Volkswagen showroom on Bakers Bridge Avenue in Cool Springs. Proceeds all events benefit the Boys & Girls Club of Franklin/Williamson County.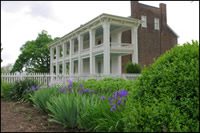 See, savor, smell, taste and test at this most unusual "Trunk" show and tasting on Wednesday, October 10. Six sparkling wines and three still wines
provided by Chandon will be tasted as patrons view various bags and accessories from Louis Vuitton as well as a compete array of Volkswagen automobiles. The wines will be paired with remarkable hors d'oeuvres from Lisa Coffman's Unique Flavors Catering. Tickets are $60 per person and may be purchased online at www.WineDownMainStreet.com. A complete menu for the evening may also be found on the website.

The Vintner's Dinner set for Wednesday, October 17 will feature world class
wines from Wente Family Estates paired with the distinctive and exceptional
cuisine prepared by Jason McConnell of Franklin's famed Red Pony Restaurant.
Christine Wente will be on hand to host the dinner and discuss the wines.
In addition, Nashville Scene just named Red Pony Restaurant "the best reason to cross the county line." Now you can experience Chef Jason McConnell in the intimate setting of a private Vintner's Dinner. Red Pony Restaurant has teamed with Christine Wente from Wente Family Estates, California's oldest and continuously family owned and operated winery, at a Vintner's Dinner on Wednesday, October 17th beginning at 7:00 pm.
Taste these exceptional wines paired with the incomparable cuisine of Franklin's famed Red Pony Restaurant. Seating is extremely limited for this dinner. Tickets are $125 per person at http://www.winedownmainstreet.com or call 599-9706. Proceeds from this event benefit the Boys & Girls Club of Franklin/Williamson County.

The wines for both the Champagne/Trunk show tasting and the Vintner's dinner
as well as for Wine Down Main Street are being provided by Lipman Brothers
Distributors, the oldest distributor of wine and spirits in Middle
Tennessee.

Hallmark Volkswagen presents Wine Down Main Street in conjunction with
Franklin's Main Street Merchants. Sponsors include Fifth/Third Bank, Lipman
Brothers Distributors, Tennessee Bank & Trust, Telco Solutions III, Publix
Supermarket Charities, Jamison Station, Carpet Den Interiors, The Williamson
Herald, Franklin Is and One Woman Show Design.