Turning the Tables Raises Nearly $40,000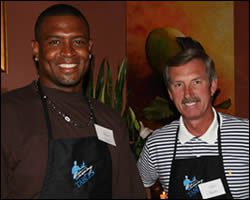 On Sunday, June 3, from 6:30pm unitl 9:pm, celebraties and local Williamson County residents flocked to Sandy's Downtown Grille, Merridee's and Gin-o to support Turning the Tables.  Approximately 350 guests attended the second annual year of Turning the Tables hosted by the popular Southern Exposure Magazine, and  nearly $40,000 was raised.  This year the money raised goes to benefit the Hard Bargain Mt. Hope Redevelopment.
According to the Turning the Tables website, the Hard Bargain Mt. Hope Redevelopment is,
"A project aimed at providing affordable homes for low-income residents of the Hard Bargain neighborhood, a historic African-American community in downtown Franklin."
Of all the events and fundraisers in Williamson County, this is the event of the year.  Guests were greeted at the door by Turning the Tables volunteers wearing Hard Bargain Mt. Hope Redevelopment shirts sold by Philanthropy to raise money for Hard Bargain Mt. Hope Redevelopment.  Then guests were able to mingle in and around Sandy's Downtown Grille, Merridee's and Gin-o.  Tables hung from the ceilings, live music drifted out of Meridee's and detailed ice sculptures decorated the venue.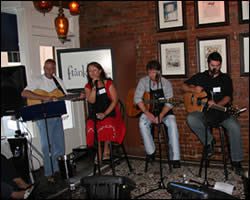 At Turning the Tables guests enjoyed drinks and delicious food all served from the hands of celebraties such as Michael W. Smith, Harry Chapman, Ericka Dunlap, Steve Gill, Robert Hicks, Mayor Tom Miller, Bob Mueller, Scott & Melissa Reeves, Jimmy Olander & Brian Prout of Diamond Rio.  At the martini drink station, guests enjoyed their martinis after it was poured through a glass sculpture.  In addition to the wonderful drink and food service, guests enjoyed the talented music of singer songwriters such as Brett James, Roger Cook and Ed Hill.
J.T. Landry, the intern at Southern Exposure Magazine says,
"A big thank you goes out to everyone that came out and supported this worthy cause!"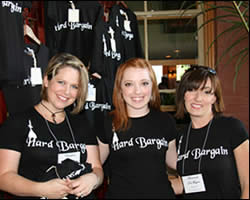 All of the hard work of Brandy Blanton and her staff, owner and publisher of Southern Exposure Magazine, Marianne DeMeyers and Christina Martin and the Philanthropy staff, the Turning the Tables volunteers, Sandy Ligon and his staff, Marilyn Kreider, Ginger Northcutt, all of the special celebraties and sponsors created an amazing event.  Turning the Tables is an exceptional event.  All of the organization and selfless hard work of others came together to be one of the most successful events of the year.
If you missed Turning the Tables and would like to find out how you can become involved with next year's event, please visit www.turningthetablesbenefit.com.
To view pictures from Turning the Tables, click here!